How to see WhatsApp status without knowing | Who can see my WhatsApp Status
Last updated on March 29th, 2022 at 08:32 am
In this post, you will learn about different ways to see someone's WhatsApp status without them knowing. If you want to set who can see your WhatsApp status, you will also learn how to do that.
WhatsApp is one of the most widely used messaging applications on the planet. The messaging application, which is owned by Meta, allows people to connect with one another regardless of their geographical location.It has gained widespread acceptance as a result of its clear and simple user interface and wide variety of features.
With the help of WhatsApp, it is now simple for us to send files, images, and videos to someone, as well as text, call, or even video call them. Over time, WhatsApp has added a status sharing feature that lets us share our stories with other people.We could simply post a status update, and our friends would be able to view it and respond.
Although the status will only be available for 24 hours, we will be able to view and respond to it during that time. In the beginning, WhatsApp only allowed users to share stories that were no longer than 15 seconds in length.
By looking at the Read Receipts, we were able to see who had visited our story. Others might be able to tell whether we were interested in their status or not.
WhatsApp is concerned about its users' privacy, and as a result, it has added a number of tools to assist protect their data.
See WhatsApp Status of Others
We might want to check on someone's status without them being aware of our presence.
Assume that you and your friend had a minor disagreement and that neither of you is currently on speaking terms. But you want to see his or her status without letting them know.
What's more, is there a way to view a WhatsApp status without notifying the sender that they've done so? You'll be relieved to know that there is a way for you to mistakenly view someone's and not be identified. It's even more risky because you can do it on purpose and avoid being caught.
There is, however, an easy way to accomplish this.
Trick 1: Turn off Read Receipts (Official Method).
First and foremost, the official method is to turn off Read Receipts.
Turning off read receipts is one of the simplest methods you may employ in order to examine someone's current state in an anonymous manner. Turning off read receipts gives you the ability to examine someone's current status in private.
If you don't mind not being able to see who has viewed your status update, this is the best technique for you to use.
How to disable the read receipt feature. Please follow the steps outlined below.
How to Turn off Read Receipts
WhatsApp itself has a provision to hide our presence. By turning off the 'Read Receipt' feature, we could easily tackle this issue.
If we disable this notification, others won't know we've seen their message or status.
To turn off the Read Receipts, follow the below steps:
1. Open WhatsApp on your Android or iPhone.
2. Click on the three dots seen on the top right of the home screen.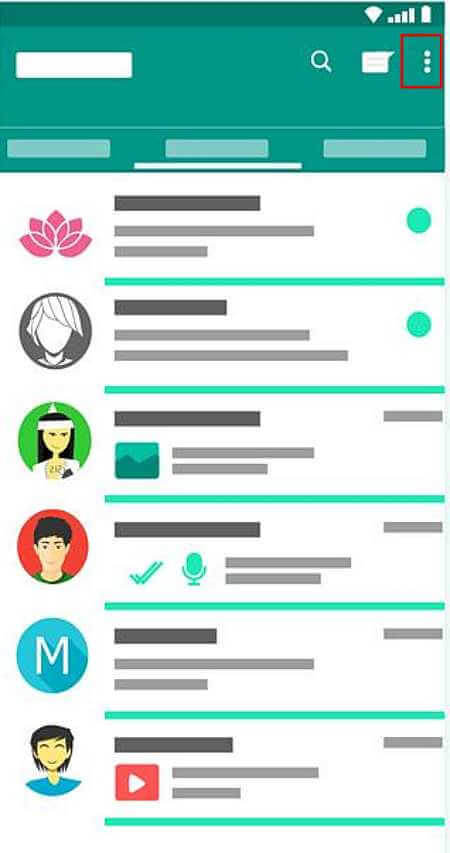 3. Tap on the 'Settings' option.
4. Select the account option.
5. Select 'Privacy' option.
6. Turn off the read receipt feature.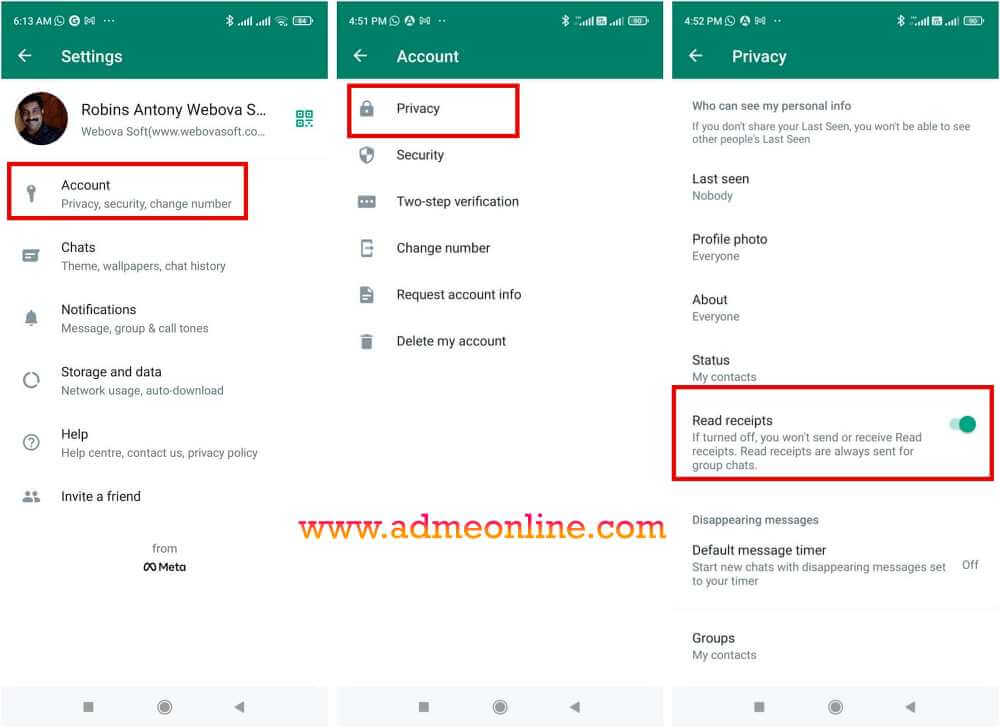 Now your read receipt will be disabled and you can view anyone's status and your name won't reflect on their viewer's receipt.
Then you can turn it back on.
Keep in mind that once we turn off the receipt, we won't be able to know if the other person had viewed our message or not and also, we won't know who all viewed our status.
There is another way to view someone's status without their knowledge on Android and iOS mobile devices.
For this,
You can then check on the status of any contact without letting them know that you've done so.
However, you will only be concealed for as long as you are not connected to the internet. Once you log on to the internet, the other person will be notified that you have viewed their current status.
If you really don't want the other person to know you have viewed their status, then there is a solution.
You won't have to be disconnected for an extended period of time.
Trick 3: From File Manager (Android Only)
When you open the Status tab, WhatsApp automatically downloads the status images and videos so that you can access them more quickly.
Each of these files is stored in a hidden folder on your phone's internal storage for future reference.
Follow the below steps to view it.
You can see all of the status images and videos that have been shared by your contacts on WhatsApp in this section.
It is impossible for the other person to know that you have already seen their status because you are not opening them directly in WhatsApp.
Not able to locate the directory?

In smartphones that run Android 11, the folder will be located in Internal Storage > Android > media > com. WhatsApp > WhatsApp > Media> Statuses.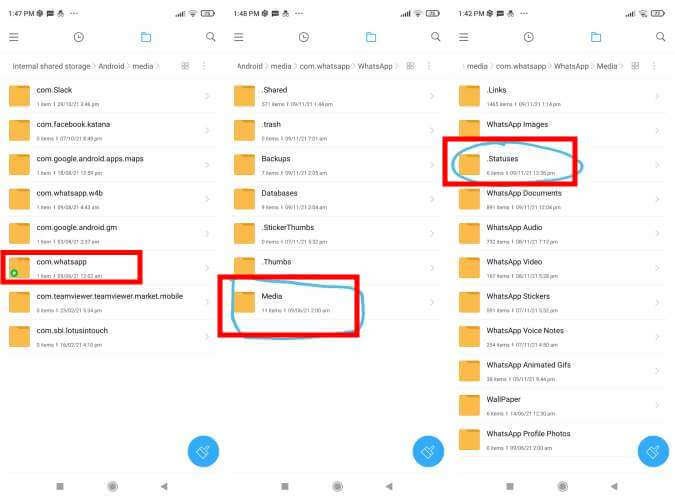 After you have completed the installation of the App, go to the upper left corner of the screen and select Settings.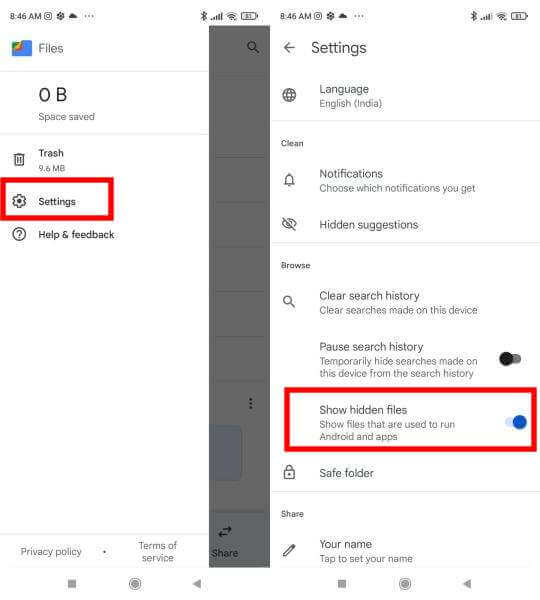 There you can find the 'Show hidden files' settings which will be Off by default. Tap on it to enable it.
You may now access the WhatsApp folder on your Android mobile by going to File Manager-> Internal Storage->WhatsApp.
How to Copy WhatsApp Status secretly
You can download or copy the WhatsApp status directly from your Mobile Phones File Manager by following the method explained above.
When you tab the View Status tab on your WhatsApp, whatsapp saves them on your phones internal storage. You can easily find them by opening Internal Storage > Android > media > com. WhatsApp > WhatsApp > Media> Statuses.
You can then copy the WhatsApp status from that location.
How to know who viewed my WhatsApp Status secretly
If you want to know who viewed your WhatsApp status secretly, and someone viewed your status by utilising any of the techniques listed above, you will not be able to find out who read your WhatsApp status secretly unless you use a third-party software.
To summarise, you can view your WhatsApp status in private.
Those were three simple methods for viewing someone's WhatsApp status without alerting them to the fact that you've done so on your Android or iPhone smartphone.
If you Like this Post, Please 'Like' and 'Share' it with your Friends.
Join Our Facebook Group : www.facebook.com/groups/admeonline

Subscribe Our YouTube Channel: Youtube.com/admeonline
Related Post
How to Link Aadhaar With PAN Card Online | Pan Aadhar link Status In this post, learn How to Link your Pan Card with your Aadhar Card online...
In this post, you will learn how to scan the Google Pay QR Code from your Mobile Phone Gallery. These days, the majority of us are familiar ...
Last updated on October 28th, 2022 at 09:24 amThis post will discuss the Indusind bank balance check number and IndusInd bank balance check ...