KYC Full Form in bank | KYC Full form in Hindi | The Complete KYC Guide
Last updated on March 29th, 2022 at 08:10 am
Find the KYC Full Form, What is KYC?, What are the documents required for the KYC Customer verification,  KYC Process, KYC full form in banking etc. Find below the Complete KYC Guide, which will help you to understand the process and What It Means in Your Business.
KYC stands for "Know Your Customer or Know your Client." It is a process of verifying a person's identity known as KYC. A process that business should follow in order to ensure that they are following all the laws and regulations related to money laundering and terrorism financing.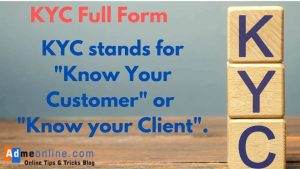 KYC Verification Meaning?
It is a way to make sure that a person is who they say they are. Financial institutions require it as a step in the verification process to make sure the person is who they claim to be.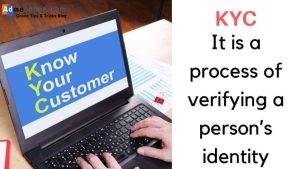 The customer and the institution are both involved in the KYC process. If a customer is not who they claim to be, the financial institution must verify that they aren't a criminal, terrorist, or someone who has been barred from the system.
ie; The KYC process involves collecting and verifying information from a customer to determine their identity and risk level.
KYC Full form in Banking & Meaning?
People who do business with banks and other financial institutions in India now have to show that they are who they say they are. The Reserve Bank of India made this rule.
Know Your Customer (KYC) verification is essential for individuals because it is a way to prove your identity when you are trying to open a bank account, apply for credit cards, or even get a job.
As part of the "Know Your Customer" process, banks can check the legal status of a company or organization, which also includes checking the customer's operating address and verifying the identities of their beneficial owners and authorized signatories.
It's also important for Initial Coin Offerings (ICOs) and cryptocurrency exchanges because it helps prevent fraud and theft. By providing an accurate and up-to-date form of identification, you can help both yourself and the organization.
How Does it Protect You?
The Know Your Customer (KYC) process is important because it can protect you from fraud and identity theft. It helps reduce the risk of money laundering and terrorist financing. In addition, it protects you from identity theft that can have a huge impact on your life.
KYC is also important for compliance with anti-money laundering regulations, which require banks to know their customers, monitor transactions, and report suspicious activity.
It also helps to protect the business from any legal liability that may arise from dealing with customers who are not who they claim to be.
It's also important to know what kind of job or business a person or company does, which helps to make sure that they or they aren't a fake person or company.
The benefits of KYC verification are many and varied, but the most important ones have to do with added trust and credibility. Knowing that someone is authentic can help you feel safe when doing business with them online.
Documents required for the KYC Verification
For KYC verification process, following documents required
Single and Joint bank account holders have to submit their recent photograph, address information, PAN card etc. Similar documents have to be presented before the bank in case of joint account holders also.
In case of non-individual customers the bank will obtain those data that verifies the legal status of that entity, its operating address, license details, beneficial owners, authorized signature's etc.
ie; In order to verify your company's identity, you need to provide a number of documents and information. This includes things like your company's name, address, phone number, and the names of the people who are authorized to represent your company.
This process can be done with a variety of tools from Google Business Tools to Amazon Seller Central.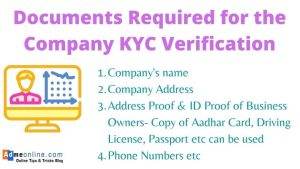 eKYC full form and Meaning
eKYC full form is Electronic KYC. It is also called called paperless KYC because it's done electronically to make sure that the customer is who he or she says she is.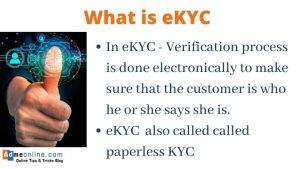 This is a requirement for everyone who wants to use any kind of financial institution's service. eKYC is also known as Aadhaar-based eKYC because your identity is checked electronically.
eKYC Verification Process
The service provider can get your Aadhaar number from the Unique Identification Authority of India (UIDAI) database. Thus, this gives the service provider your proof of identity and address right away, so there is no need for a long, time-consuming in-person verification process.
The information given by an individual to UIDAI in order to get the unique 12-digit Aadhaar number is used in Aadhaar-based eKYC. Any licensed service provider can then verify a consumer using this method.
eKYC or Aadhar eKYC Process
In India, there are two types of eKYC that use Aadhaar, and they are both called Aadhaar based eKYC .
1. Using Biometrics: In this case, you must provide your 12-digit Aadhaar number as well as bio-metrics such as fingerprints or an iris scan.
2. Using OTP: In this case, you must enter your Aadhaar number, and an OTP will be sent to your registered mobile phone, completing the transaction process.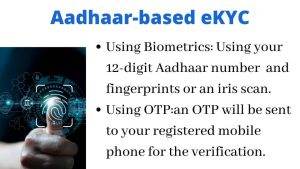 What is the Difference between Aadhaar eKYC and Aadhaar authentication?
There is a big difference between Aadhaar authentication and Aadhaar eKYC:
Authentication with Aadhaar and KYC with Aadhaar are not the same thing. In Aadhaar eKYC, the service provider has access to your data from the UIDAI database.
In Aadhaar authentication, the service provider only confirms your credentials.
Basically, it doesn't matter if you give demographic information to get your Aadhaar number authenticated.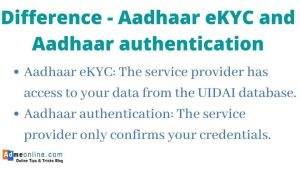 Offline eKYC Verification Options
Paperless offline KYC: Here, the customer doesn't need to submit a photocopy of their Aadhaar card. Instead, they can download the KYC XML from UIDAI's website.
There is no need to give out your Aadhaar number for this process to work. Instead, a "reference ID" is passed around instead of a name. It doesn't need to check your biometrics.
QR Code Scan: The service provider can use a smartphone to scan the QR code on your Aadhaar card to gain access to demographic information without having to consult the UIDAI's Aadhaar database.
KYC (केवाईसी) ka full form in Hindi: Know Your Customer (नो योर कस्टमर)
KYC (केवाईसी) का फुल फॉर्म या मतलब Know Your Customer (नो योर कस्टमर) होता है।
Related Post
How to Link Aadhaar With PAN Card Online | Pan Aadhar link Status In this post, learn How to Link your Pan Card with your Aadhar Card online...
In this post, you will learn how to scan the Google Pay QR Code from your Mobile Phone Gallery. These days, the majority of us are familiar ...
Last updated on October 28th, 2022 at 09:24 amThis post will discuss the Indusind bank balance check number and IndusInd bank balance check ...