How to Free up WhatsApp Storage | Manage Storage and Free up Space on WhatsApp
Last updated on November 8th, 2019 at 12:37 pm
WhatsApp new feature (Storage Usage ) lets you Free up storage by deleting all type of stuff of a particular account At Once.
'Data and Storage Usage' section in the Settings menu of the Android App, is providing option to select and delete specific type of Messages (Videos, Audios, Images, Messages, GIF ) etc from an account.
WhatsApp Saves all Images, Videos and other media files in the Internal storage or SD Card of your phone and which takes up precious space.
With almost every friends being on the application, there is a steady flow of texts, images and even videos, especially silly multimedia files from different WhatsApp Groups you joined, will eat up your storage.
This guide has everything you need to know about 'How to Free up WhatsApp Storage'. So if you want to Manage your phone Storage and Free up Space on WhatsApp, you're in the right place.
Keep reading…
Also Read: How to add Multiple Gmail Account in Android Phone | Gmail App
Effective ways to Free up WhatsApp Storage
Open WhatsApp and tap on the menu button.
Click on 'Settings'
Tap 'Data and Storage Usage'
Click on 'Storage Usage'
Select the WhatsApp Group or Account you want to delete the unwanted files.
Click on 'Manage Messages'
Select the File type (Photos, Videos,Audio Messages, Documents) etc
Click 'Clear Messages'
Read Also: How to Enable Fingerprint Lock on WhatsApp
Lets see the Step-by-Step Procedure.
Hit the play button to see how it's done:
Please Support us by Subscribing Our YouTube Channel ( Click the Subscribe Button on YouTube Channel), Like and Share the Video.
WhatsApp's new 'Storage Usage' feature lets you delete all the pictures and videos from a specific chat, but still keep all the text.
In order to Free up storage, earlier you have to clear entire chats, or delete the  media files from Individual accounts or select and delete media files from the File Manager of the Phone. This process takes lot of time.
But now the 'Storage Usage' list all accounts in descending order of chats that take up the maximum storage on your phone.
Read Also: How to Delete Your Phone Contacts from Facebook
How to clear WhatsApp Storage - Android
Step 1: Open WhatsApp and tap on the 'Menu' button in the top right. Then Click on 'Settings'.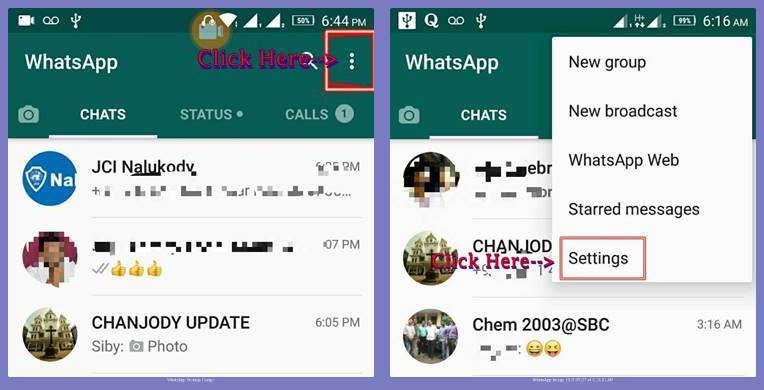 Step 2: Tap 'Data and Storage Usage' and then click on 'Storage Usage'.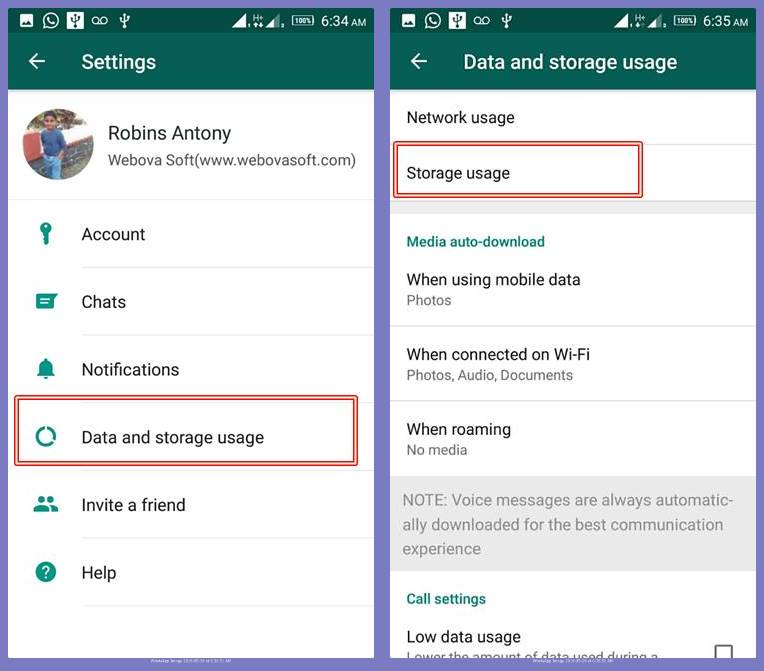 Wait now…WhatsApp will Calculate and Show the storage usage details of all Accounts and Groups.
It may take some time.Depends on your WhatsApp files size (Images, Videos, GIF, Documents etc).
Step 3: Now you can see the Total spaces used by each Accounts in the descending order of Storage usage.
ie; The WhatsApp Group or Account that used maximum file size will show up first.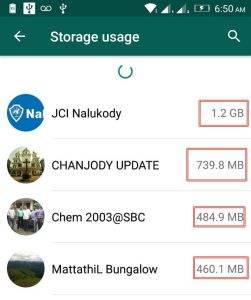 Click an account to see the storage usage details.You can see the Total spaces used by Photos, Videos, Audio Files, Documents, GIFs etc in the Selected Account.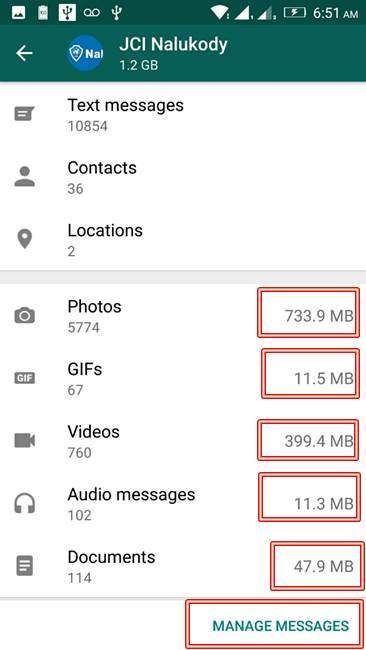 Step 4: Click on 'MANAGE MESSAGES'.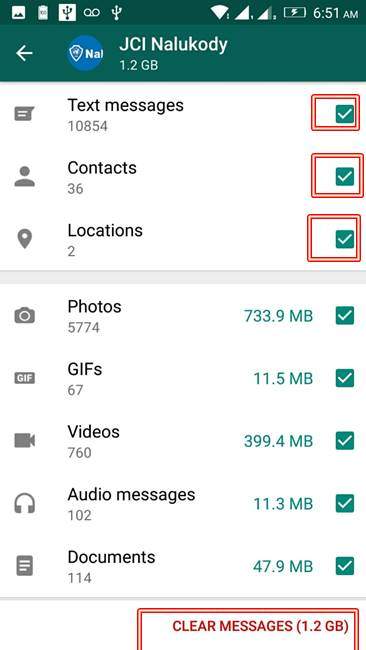 Remove Tick Mark if you don't want to delete files in that category. Now click on 'Clear Messages'.
Now WhatsApp will show you a confirmation Message.
Select 'CLEAR MESSAGES' to proceed.
Now wait until WhatsApp deleting all selected files. It may take some time depends on the selected file size.
The selected files will be deleted and Your WhatsApp Storage usage is reduced.
Repeat the same procedure with all other accounts or WhatsApp Groups you want to delete the unwanted files.
By using this option, you can easily Free up storage space in your Mobile. This is helpful when you are running out of storage on your Phone.

Read Also : Gmail Backup | How to Download Gmail Emails to Computer (Complete Guide)
If you Like this Post, Please 'Like' and 'Share' it with your Friends.
Join Our Facebook Group : www.facebook.com/groups/admeonline

Other WhatsApp Tips:
Related Post
ലോകത്തിലെ ഏറ്റവും കൂടുതൽ ആളുകൾ ഉപയോഗിക്കുന്ന മെസ്സ...
ഇന്ത്യയിൽ ഏറ്റവും കൂടുതൽ ആളുകൾ ഉപയോഗിക്കുന്ന മെസ്സ...
Last updated on November 12th, 2021 at 04:07 amവാട്ട്‌സ്ആപ്പ് മെസ്സേജിങ് ആപ്പ് എ...