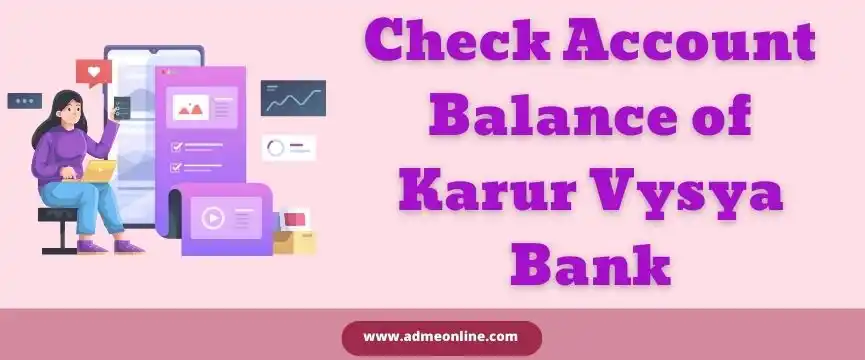 KVB Bank balance Check
Explore the different options for the KVB Bank balance check. Karur Vysya Bank, often known as KVB, is one of the most well-known banks in India. It provides a wide range of services to its customers, which includes fund transfers, mini statements, KVB balance checks, loans, credit cards, ATM cards, online submission of KYC and other applications, and other services closely tied to finance.
We can check the balance of our KVB account by using a variety of methods, such as Missed Calls, Internet banking, Mobile Banking, Passbook, ATM, KVB e-Book, and so on.
Karur Vysya Bank lets its customers check their account Balance through Missed call Balance check. Customers of KVB bank can call the missed call balance enquiry number, 09266292666, from the Mobile number registered with the bank.
After a few rings, the call will be disconnected and you will get your KVB bank balance through SMS immediately.
For KVB missed call balance enquiry, register your mobile number with the bank. You can visit the nearest Karur Vysya Bank branch and update the Mobile number in your account if the phone number is not updated.
Karur Vysya Bank (KVB) Account Statement through Missed Call
You can send a missed call from your registered phone number to the Karur Vysya Bank (KVB) account statement missed call number: 09266292665. You will get a text (SMS) message with the last three transactions on your account.
KVB Customer ID Missed Call Number
Send a missed call to KVB customer id Missed Call Number 08882101234 from your registered mobile number to get your Karur Vysya Bank Customer Id. You will get the Customer ID through an SMS.
For blocking UPI services, please dial 08750682682 from your registered phone and leave a missed call. On the successful completion of the hotlist, you will receive an SMS.
With KVB SMS banking, you can see the balance in your account right now.
If your mobile number is already in the customer master list, you won't need to go to the branch to register for the KVB SMS enquiry service on your mobile phone. You can use it instead. You can also log in to the KVB website and turn on the service from there.
You have to fill out an application form to use the SMS alert service.
Follow the below steps for the KVB Balance check through SMS.
You will get your account balance as an SMS shortly.
You can also use the below keywords for the SMS Banking service enquiry.
KVBREG – To register for KVB at the Mobile facility.
KVBTXN – Transaction enquiry.
KVBCHR – Request for a new cheque book.
KVBCHQ – Cheque status enquiry.
KVBCHS – Request to stop the payment of a cheque.
KVBTDQ – Term Deposit enquiry.
KVBACC – To change the default account number.
KVBHLP – Help (to get a list of keywords).
KVBESTAT XXXX REG – Activation of e-Statement.
KVBESTAT XXXX DEREG – De-Activation of e-Statement.
KVBESTAT XXXX FREQ y – Frequency change of e-Statement.
KVBESTAT XXXX INQ – e-Statement inquiry (to know the last statement dispatch date by the bank).
KVBSTAT XXXX REG – Activation of Physical Statement (Only for selected products).
KVBSTAT XXXX DEREG – De-activation of Physical Statement (only for selected products).
Where XXXX – denotes the Account Number of the customer.
y – Indicates how often the information should be updated. M means monthly, B means bimonthly, W means weekly, and D means daily.
KVB Bank Balance Through Internet Banking
You can use the KVB Bank Net Banking facility to check your account balance.
You can visit the Karur Vysya Bank net banking portal and log in with your user ID and Password.
From the Dashboard, you can find your account balance.
Check KVB Bank Balance Through Mobile Banking
With KVB's mobile banking apps, it's easy to find out your account balance at any time.
Proceed in the following manner:
You can get the KVB DLite, KVB e-Book, or BHIM KVB Upay Mobile Banking Application from the Android or iOS store, and then download and install it on your device.
To log in to the application, enter your credentials in the appropriate fields.
After you have successfully logged in, the app will display the current balance that is accessible in your Karur Vysya Bank account.
Bank Balance Through UPI Apps
You can use UPI apps like Google Pay, PayTM, Phone Pay, Amazon Pay, etc. to check your KVB bank balance.
Here are the steps to take:
Download any UPI app from the Play Store.    
Activate your UPI app by entering your details.
Sign in to your UPI app after you've activated it.
Go to the section for your account and click the "check balance" button.
Now, the screen will show you how much money you have in Karur Vysya Bank.
Check KVB Bank Balance Through USSD
Account holders at Karur Vysya Bank can use USSD to check the balance of their bank accounts. The steps to take are as follows:
To begin, you must provide the bank with your phone number and register it. After that, and only then, will you be able to use the USSD service.
After you have finished registering, you will need to dial the number 9975#.
Now, choose the language that you feel most comfortable communicating in.
The next step is to enter your first three account numbers, the IFSC code, or the bank code, which is only two digits long.
You are now able to obtain your account balance.
KVB Bank Balance Through ATM
Through the use of an ATM, the account holder is able to check the current balance. Visit your nearest ATM. Put your ATM card into the machine that accepts them.
You should now see a number of different options shown on the screen of the ATM. After selecting the Balance Enquiry option from that menu, followed by entering your personal identification number (PIN), you will see the current amount of money in your account displayed on the screen.
Bank Balance Through Passbook
When customers open new bank accounts at Karur Vysya Bank, they are given a welcome package to thank them for their business.
This comes complete with a debit card and a passbook. If you keep your passbook up to date with all of your transactions, you will be able to view the current amount of your bank balance there.
Related Post
How to Link Aadhaar With PAN Card Online | Pan Aadhar link Status In this post, learn How to Link your Pan Card with your Aadhar Card online...
In this post, you will learn how to scan the Google Pay QR Code from your Mobile Phone Gallery. These days, the majority of us are familiar ...
Last updated on October 28th, 2022 at 09:24 am This post will discuss the Indusind bank balance check number and IndusInd bank balance check...