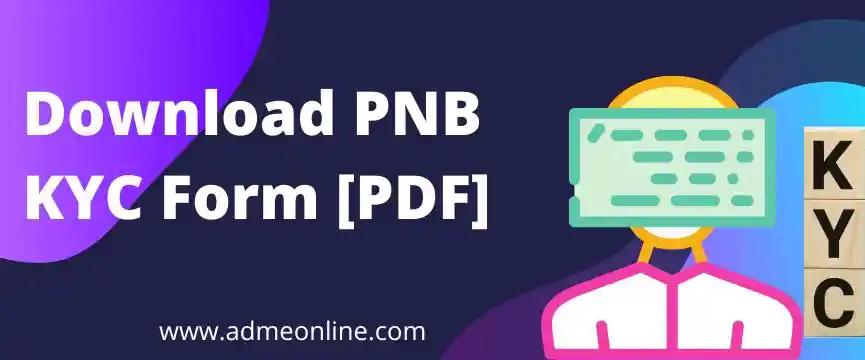 PNB KYC Form PDF Download
Download the PNB KYC Form PDF format. Through the URL provided further down in this post, you will be able to download the PNB KYC Form.
The account holder can use this KYC form to complete the KYC process for their Current & Savings account held with the Punjab National Bank.
You need to fill out the KYC form to make any changes to your personal information, such as updating your Aadhar card number or changing your mobile phone number, if you already have an account with PNB.
The Account holder has to go to their local PNB branch to obtain the KYC form.
In addition, the form is available for download on the website. Be careful when you fill-up the form. Follow the below steps to learn how to fill the PNB KYC Form and submit it to the branch.
Documents required for the PNB KYC Form Fill Up
You need the below documents handy to fill out the PNB KYC form.
Aadhar Card Number
PAN
Proof of Identity and Address (You can Passport Number, Driving License Number, Voter ID Card, NREGA Job Card etc)
Mobile Number and Email Address
Punjab National Bank Kyc Form Fill Up 2022
To fill out the Punjab National Bank KYC form, you must enter the details below.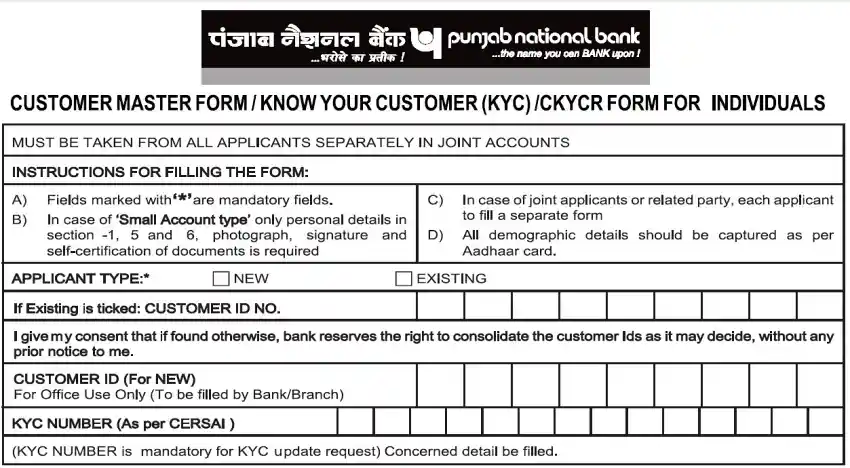 Note: If you are a Joint Account holder, then you have to submit the KYC form separately.
ie; To update the KYC details on your Joint Account, each applicant must fill out the form with their Photograph and Signature.
If you are an Existing Customer, then Enter your Customer ID No (CIF No) in the column provided.
KYC Form Fill Up Personal details
Enter your personal details like Name (Same as Aadhar), Father Name, Mother Name, Guardian Name, Date of Birth, Marital status etc.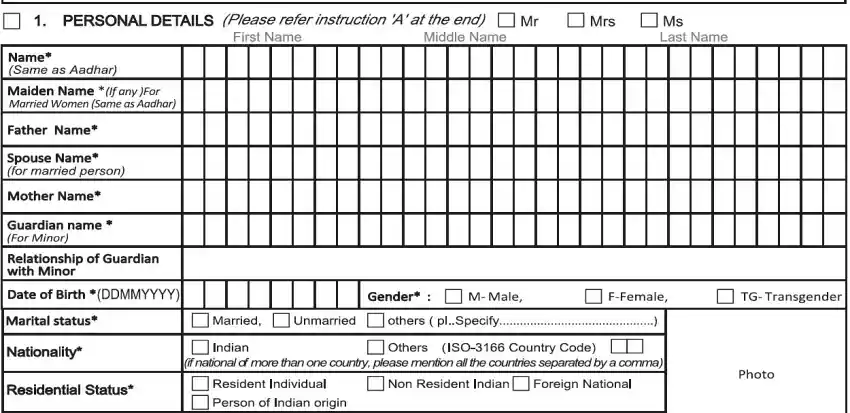 Then Enter your Aadhar Card Number and the details of your E-KYC.
Then Enter your Contact address, Mobile Number, Email address etc.
You will be able to hand the completed KYC form to the clerk at the counter once you have completed all of the required fields on the form and signed it.
After a few days have passed, you can check with the bank to see if the KYC information has been updated.
It is essential for the bank to do KYC updates in accordance with the rules provided by the RBI. Additionally, our phone number should be kept up to date as and when it is demanded, in order for the bank to be able to get in touch with us for any updates or if any information needs to be communicated to us.
Related Post
How to Link Aadhaar With PAN Card Online | Pan Aadhar link Status In this post, learn How to Link your Pan Card with your Aadhar Card online...
In this post, you will learn how to scan the Google Pay QR Code from your Mobile Phone Gallery. These days, the majority of us are familiar ...
Last updated on October 28th, 2022 at 09:24 am This post will discuss the Indusind bank balance check number and IndusInd bank balance check...