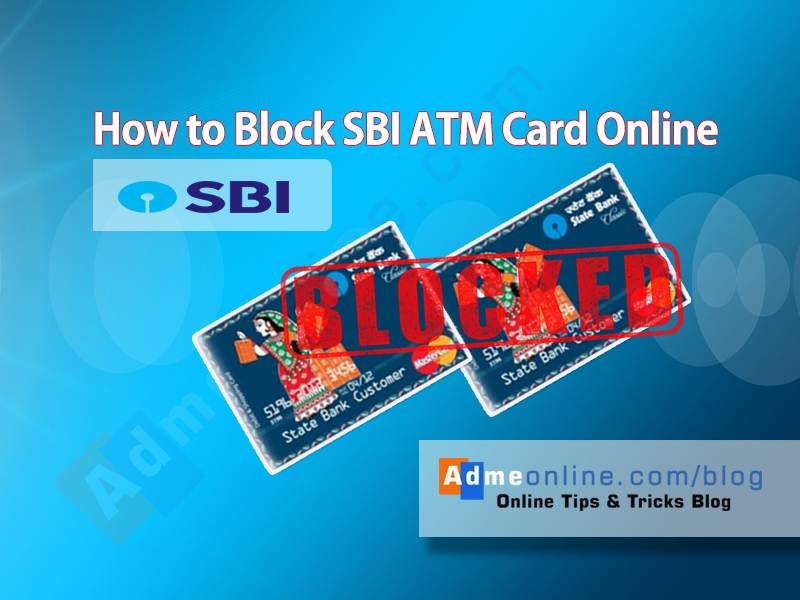 How to Block SBI ATM Card Online | SBI ATM Card Lost Toll Free Number
Learn How to Block your SBI ATM Card  Online.Have you lost your SBI ATM Card…? If yes you have to block the ATM Card immediately to avoid misusing it by some one else to withdraw money from your SBI Account.

Watch the Video:
Please Support us by Subscribing Our YouTube Channel (Click Here), Like and Share the Video.
You can block your SBI ATM card immediately by following any of the below methods.
How to Block SBI ATM Card Online
If you are using Online SBI, Follow below steps to Block your SBI ATM Card online.
Step 1 : Login your SBI Internet Banking Account (https://www.onlinesbi.com).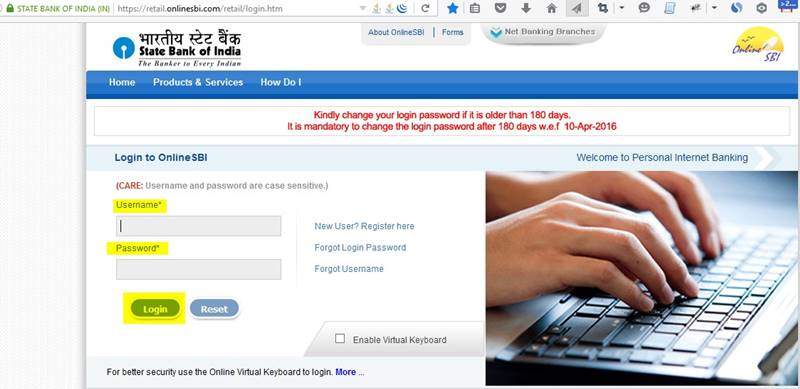 Step 2 : From the Home page, Select "ATM Card Services>Block ATM Card" link under the "e-Services" tab (Top Menu). See the Screenshot below.e-services-atm
Step 3 : Select your SBI Account Number for linked ATM Cards and click the 'Continue'. You can see all your SBI Account Numbers there.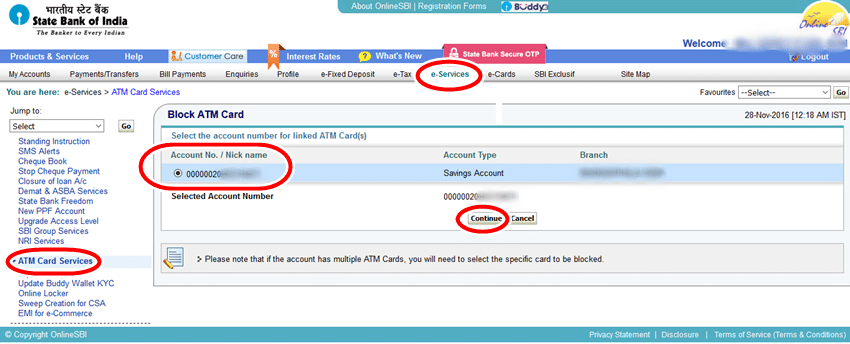 Step 4 : Select the ATM card number to be blocked.If your account has multiple ATM cards, then you have to select the specific ATM card to be blocked. There you can see the first 4 Digit and last 4 Digit of your ATM card. Then select the Reason to block (Lost/Stolen). You can enter optional remarks there. Then click on 'Submit'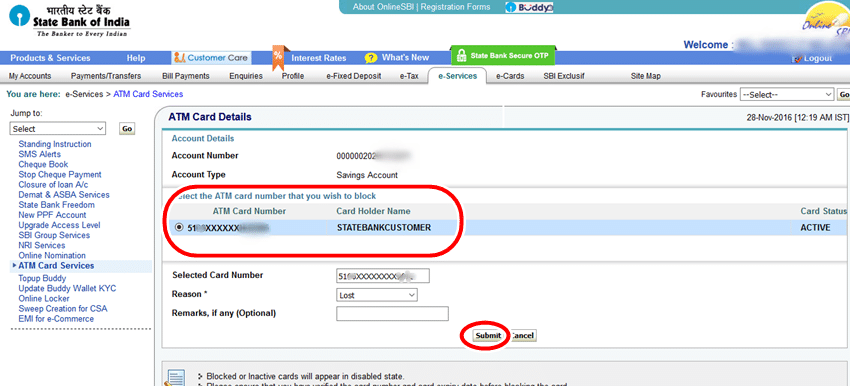 Step 5 : Select the mode of AUthentication to block the ATM from SMS OTP (One Time Password) or Profile Password. You will get an OTP in your SBI Account registered Mobile Number, if you have selected the OTP option.Otherwise you can select the 'Profile Password' option.
Enter the OTP/Profile password and then click the 'Confirm'.
Step 6 : Now you will get a success message with a Ticket Number. You can use this ticket number for future references.
Block SBI ATM Card using Toll FREE Number
You can block your SBIt ATM card number by calling the 24 * 7 Toll Free Number.
SBI Toll FREE Number to Block the ATM Card
1800 425 3800

1800 11 2211

080-26599990
When you call the SBI Toll Free Number, they will ask your Name, Address, Date Of Birth etc to confirm your identity. Once the Card is blocked, you will get a Ticket Number. You can use this Ticket Number to Contact your SBI branch, informing them the loss of your ATM card.
Block SBI ATM Card by SMS
You can easily block your SBI ATM Card by sending an SMS in the below format from your SBI registered Mobile Number.
SMS BLOCK XXXX
Number : 567676 (Send the SMS to this NUmber)
Where XXXX is the last four digit of your ATM card number.
How to find SBI ATM Card Number
You can find the SBI ATM card Number from any of your Previous Card Statements or Login the Internet Banking Account "e-Services" > ATM Card Services.
How to Block SBI ATM Card Online Without SBI Online Banking Account
You can block your ATM card online even if you don't have an online SBI (Internet Banking Account). You need your SBI registered Mobile Number and Account Number to block the ATM card by using this method.
Follow below steps.
Step 1 :Clik the Link (Block your SBI ATM Card Online) and Click the 'Next Step'.


Step 2 : Enter your Account Number and Registered Mobile Number, Select the Country and then enter the Captcha text.

Step 3 : Click on 'Submit' to block the ATM card.
Please note that once a Card is blocked, it cannot be unblocked online.
It is very important to block your ATM card, once it is lost. You can use any of the above methods to block the ATM card. Share this useful tip to your friends.
Like this Article? Subscribe to Our Newsletter! Check Related Posts below.
Get more Tips & Tricks in your Inbox
Related Posts:
Save
Save
Related Post
First time you sign in on your phone to Facebook App and Facebook Messenger, they are asking your permission to upload your contacts from th...
Google allows us to Backup and Download complete Google Data Including Gmail, Drive, Contacts, Calendar etc. By downloading all emails from ...
Learn with the step-by-step procedure How to Activate SBI Debit Card Online for the first time and generate the SBI ATM PIN. When you open a...