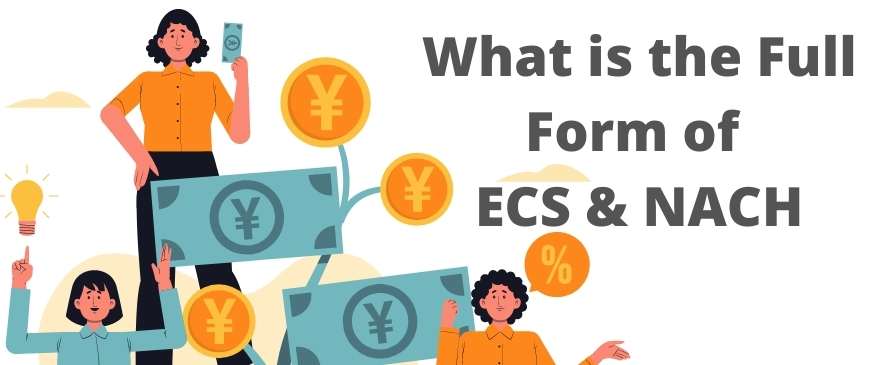 NACH Full form in banking | What is ECS Full Form
Last updated on June 26th, 2022 at 08:24 am
What is the Full Form of NACH?
Find out everything you need to know about NACH and ECS right here in this post.
The NACH payment system will carry out a debit transaction for the payment on a monthly basis in an automatic fashion.
If you have a history of forgetting when you are supposed to pay your bills, this function may be the best choice for you as it will pay from your bank account automatically.
ie; The NACH payment system will automatically deduct the payment from your account on the due date of each month.
The National Payments Corporation of India (NPCI) devised it in order to eliminate the need for a two-factor authentication requirement for electronic inter-bank transfers and to automate the processing of recurring high-volume transactions of varying monetary amounts.
For instance, if you purchased a car today using a loan and also signed up for the NACH facility offered by your bank, your monthly premiums will be deducted from your account automatically, and you won't have to worry about starting the payments or keeping track of them.
What are the benefits of making use of NACH?
The following are a few of the advantages of using this payment system, which is primarily employed for the purpose of collecting payments in bulk. Bills such as those for electricity, water, and telephone service, as well as investments in mutual funds, loan EMIs, and insurance premium payments, can fall into this category.
NACH will have the ability to process file-based transactions in addition to robust and secure transaction processing. The NACH platform is comprised of more than 82000 bank branches located throughout India.
NACH will have the same-day presentation and settlement, including return processing, and has a clearly defined dispute management system. Additionally, NACH will have an electronic platform for problem-solving and troubleshooting.
The testing of the mandate is based on the physical causes of the problems with confirmation and the delayed timelines.
Because NACH allows for bulk payments, it is increasingly being used by private companies and corporations to pay salaries, pensions, and dividends, and to ensure that these payments are delivered without delay on the dates that have been predetermined.
Since August 2021, it has been legal for payments to be made on any day of the week, including bank holidays, and the money will be taken out of the payer's account automatically by the bank.
Electronic clearing service (ECS) operations have been initiated by the Reserve Bank of India.
ECS was created with the primary intention of streamlining the process of transferring significant sums of money to and from various bank accounts. This was the driving force behind ECS's inception.
and it is a type of electronic money transfer system that facilitates the processing of a wide variety of financial transactions,
including the settlement of pensions, the payment of dividends, the payment of salaries, and the payment of interest.
Allowing for a smooth transfer of funds from one bank account to another. They will use ECS to deduct the borrower's monthly EMI payments from their bank account in order to repay the loan.
What is the Main Difference Between the ECS and the NACH?

In order to facilitate periodic payments, the Reserve Bank of India (RBI) mandated the use of electronic clearing service (ECS).
Even though the services provided by NACH may appear to be comparable to these, there are a number of significant differences between the two.
Reach: At this time, the Electronic Clearing System (ECS) is only available at a select few centers across the country, including those run by the Reserve Bank of India (RBI) as well as commercial banks, while the NACH platform is accessible across a diverse set of banking networks in India.
Model of operation: While the ECS platform makes use of manual processes and contends with challenges such as incompatible timelines surrounding post-transaction query management and servicing, the contemporary NACH platform is designed to unify multiple existing ECS systems by removing any geographical barriers.
Presentation and Settlement Period: NACH's goal is to cut the activation time of mandates from the standard 30 day process for activating ECS mandates down to just 10 days. This is a significant reduction in time.
In addition, while the ECS can complete the presentation and settlement process in three to four days, the NACH can do it in twenty-four hours.
The NACH system is completely web-based and automated.
It only takes one business day to settle NACH payments.
The NACH employs a specialized system for the management of disputes.
You will be provided with a Unique Mandate Reference Number (UMRN), which can be referred to in the future for various purposes.
The NACH registration process is completed and finalized before the day's end.
The application process for NACH is very straightforward and requires only a small amount of paperwork.
Due to the fact that ECS relies on manual labor, the transaction-settlement process is slow.
The settlement of ECS payments can take as long as four days.
The ECS requires a substantial amount of paperwork and has a high probability of being rejected.
ECS does not provide a reference number and ECS has no dedicated dispute management.
The process of registering for ECS can take anywhere from 25 to 30 days to complete.
What are the Different Categories of NACH?

NACH Credit
The performance requirements for NACH credit are very similar to those for ECS. It is possible to conduct up to 10 million transactions continuously over the course of one day.
Authorized businesses are able to make payments directly into the bank accounts of a large pool of beneficiaries when they use the NACH credit system.
NACH Debit
Both the ECS Debit and the NACH Debit can be found on the same line.  This makes it possible for a large number of transactions or investments to be made into a single account.
A significant number of financial institutions are able to take payments in bulk from any outside party.
ECS Credit
ECS is utilised in the process of distributing credit funds.
As a general rule, a great number of large companies make use of this facility in order to send credit to a great number of their recipients.(All recipients irrespective of the branch will have an active account in the same bank).
In addition, the firm's bank account will be debited for the total amount of all of these transactions in a single transaction.
ECS Debit
When it comes to ECS debit, it is utilised to take money out of a variety of different bank accounts.
It functions in a manner analogous to that of ECS credit, in which the consumer entity collects money from a number of different bank accounts.
For instance, customers who borrow money or invest in mutual funds or SIPs, as well as customers who use utility services, make consistent monthly payments to the same user organisation account.
It is possible to pay bills with it, invest in various mutual fund schemes, and make payments on EMIs using it.
The payment system in India is rapidly becoming easier to use as the country moves toward becoming a cashless society.
The introduction of NACH was designed to serve as an updated version of ECS and make life simpler for everyone, from individuals to institutions that make bulk payments and settlements each month. NACH was designed to serve as an updated version of ECS.
How to cancel ECS Mandate or NACH Mandate?
For the cancellation, you can approach the financial institution and withdraw the NACH or ECS mandate. In addition, you have the option of withdrawing the mandate directly from the bank rather than going through the consumer institution.
For more updates, Follow us on Facebook and YouTube.
Related Post
How to Link Aadhaar With PAN Card Online | Pan Aadhar link Status In this post, learn How to Link your Pan Card with your Aadhar Card online...
In this post, you will learn how to scan the Google Pay QR Code from your Mobile Phone Gallery. These days, the majority of us are familiar ...
Last updated on October 28th, 2022 at 09:24 amThis post will discuss the Indusind bank balance check number and IndusInd bank balance check ...