How to change SBI ATM PIN Number online [2023], SBI Debit Card Pin change Online
Last updated on November 4th, 2023 at 08:10 am
Learn to change your SBI ATM Card (Debit Card) PIN Online. SBI Online banking allows us to reset SBI ATM PIN Numbers easily. If you forgot your SBI ATM PIN number, don't worry, you can generate the SBI ATM PIN Online. You are not required to visit SBI ATM for the new pin generation.
State Bank of India Debit Card Pin change Online
You are aware that a PIN for the ATM is necessary to withdraw money from an ATM, make transactions online, etc. But if you forgot the SBI card pin, you have to reset it urgently.
But if you have an active online banking account, then  No need to turn in the "New ATM PIN" request application form at the bank, and there is no longer any need to wait for the PIN to arrive in the mail.
Make use of the SBI green pin option to generate an SBI Card Pin.
Also Check: SBI Debit Card Pin Generation Through SMS, SBI Green Pin process
Exclusive Bonus: Download SBI ATM (Debit Card) PIN Number Online Change Process (PDF Version)
How to change SBI ATM PIN through Internet Banking

To Change the SBI ATM PIN online through internet banking, you need the following details.
Online SBI Login User Name and Password.
Online SBI Profile Password.
SBI Registered Mobile Number.
SBI Debit Card Pin change online
Follow the below steps to change the SBI ATM Pin Online:
Step 1: Login Online SBI (https://www.onlinesbi.sbi) using your User Name and Password.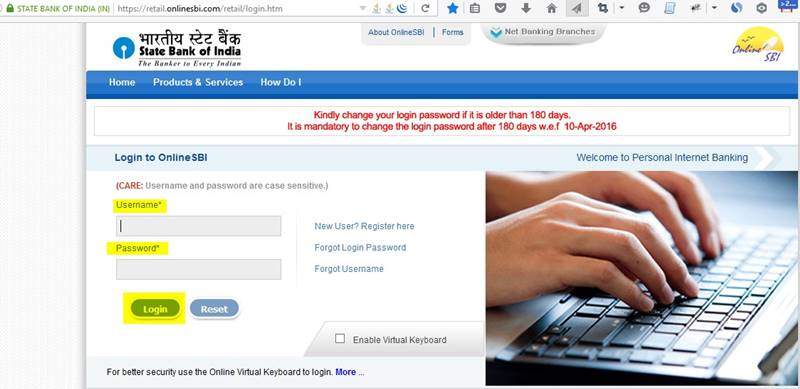 Step 2: Click on 'e-Services' on the top Menu and Then click 'ATM Card Services' (Left Menu).

e-Services => ATM Card Services
On the 'ATM Card Services' page, You can Block your ATM / Debit Card, Activate a New ATM / Debit Card, Generate a new ATM PIN, etc if required.
SBI Balance Enquiry without Internet Banking – SBI Quick Missed Call Banking
Step 3: Now click on 'ATM PIN Generation'.
Step 4:  Choose an option to Validate SBI Debit Card or ATM PIN Generation.
You Can Validate the new SBI Debit card pin Generation by selecting One Time Password (OTP) or Using Your Profile Password. In this demo, I've selected the 'Using Profile Password option. If you have selected the OTP method, you will get an OTP in your SBI-registered Mobile Number.
If you have chosen the OTP method to validate the new Debit Card PIN, then all you need to do is enter the OTP that was sent to the registered mobile number on your bank account into the field that has been provided.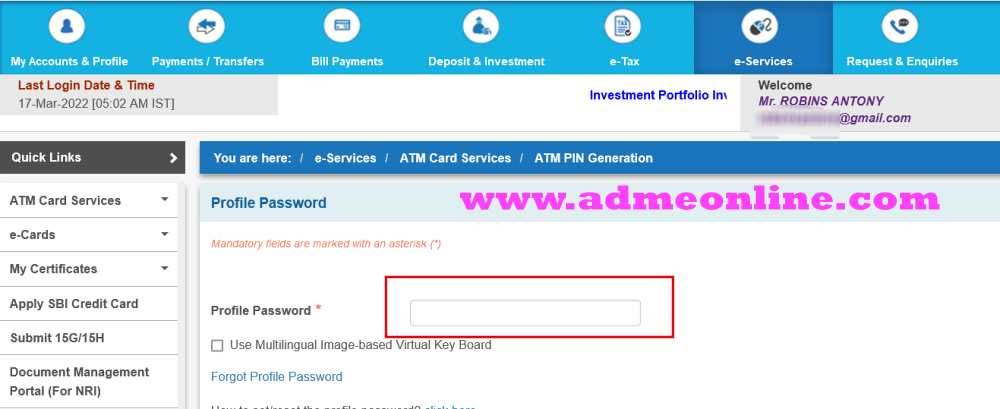 Step 5: Enter the SBI Account Profile Password or the OTP received in your Mobile number and click 'Submit'.
If you have not received the OTP on your Mobile Number, make sure your registered Mobile Number is correct. If not you can change your Mobile Number online in the SBI Internet Banking account.
After completing the Mobile Number updation, try again the SBI card pin generation.
Step 6: Now you will be prompted to select the bank account that the debit card is linked to. Select the SBI Account Number and click 'Continue'.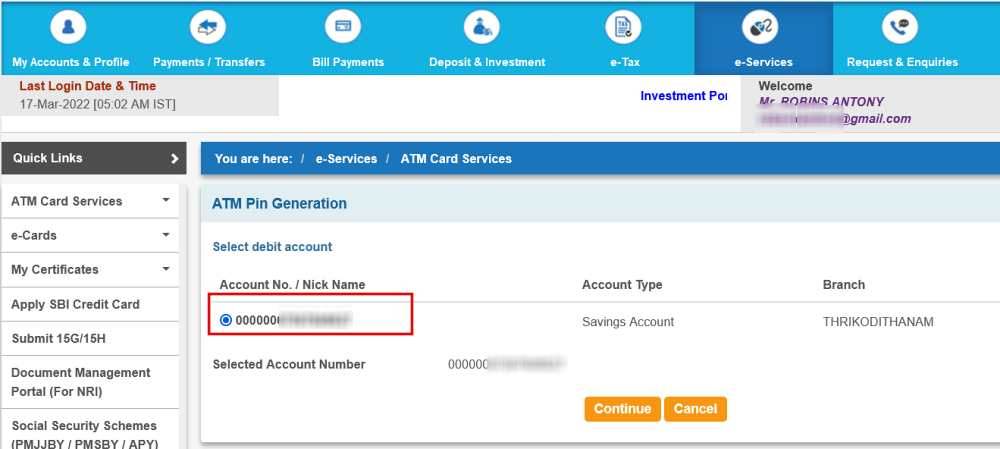 Step 7:   After that, choose the card for which you wish to reset or generate a new PIN, and then click the Submit button.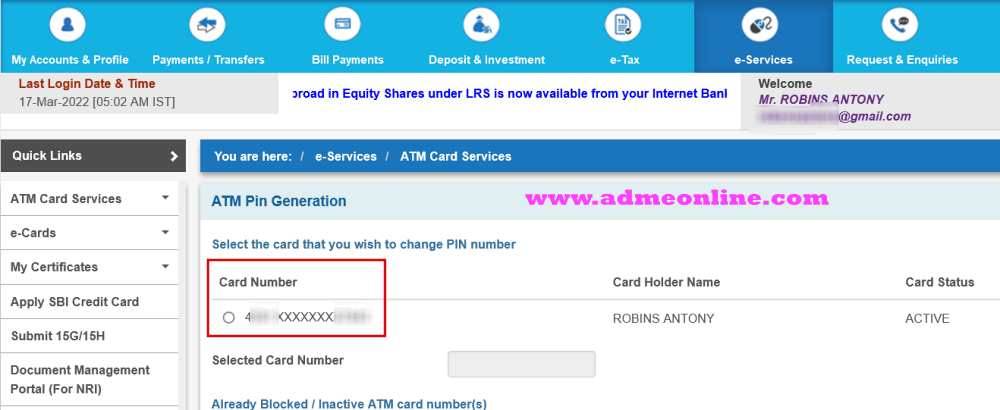 Step 8: Enter the first two digits of the new PIN you want to create and click 'Submit'. The remaining two digits will be sent to you through SMS.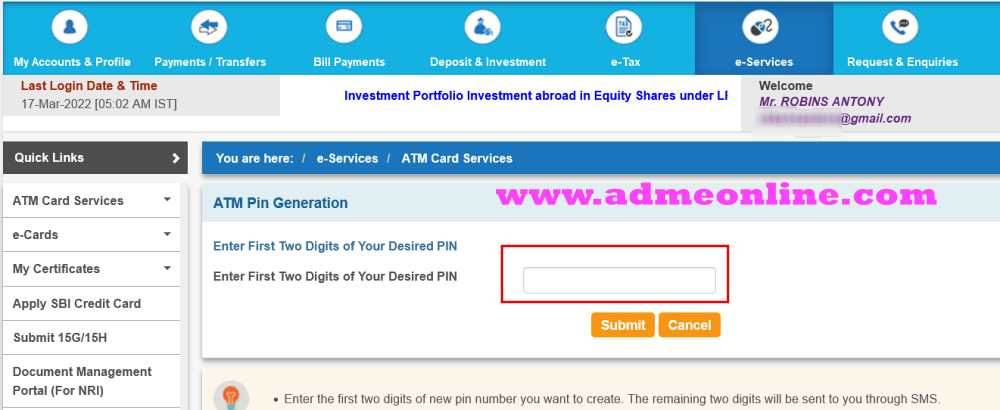 How to Block SBI ATM / Debit Card easily (Online and Offline Methods)
Step 9: Now you will get an SMS with the last 2 digits of the PIN. Enter four digits of the New Pin. Enter the first two digits created by you followed by two digits sent to you through SMS and click on 'Submit'.

After the successful submission, you will get a confirmation SMS on your registered Mobile Number. Your new SBI ATM PIN Number is ready for use now.
If you do not have access to SBI Internet Banking, then you may be required to fill out an application form to change the SBI Debit card PIN. Once the form has been submitted, your new PIN will be mailed to your residence address within the stipulated duration of time.
You can modify your PIN by going to any SBI ATM. You can visit the nearest SBI ATM with your ATM card, passbook, and registered mobile number if it is inconvenient for you to go to the bank that is closest to your home.
Choose the "PIN Generation" option when prompted by the ATM. Your bank account number can be found in your passbook;
If you want to change the PIN that is associated with your SBI Credit Card, you can utilise the sbi card mobile app to make the change quickly and effortlessly.
Watch the SBI ATM Pin Generation Online Video Tutorial:
With these simple steps, you can reset your SBI ATM PIN Online. Any questions…? feel free to post them as a comment below.
SBI Mobile Number Registration for SMS alerts (Step-by-Step Registration Process)
How to change atm pin online?
If you have an active SBI Net banking account, you can generate ATM PIN / Debit Card PIN online without visiting your home branch. Log in to your Online SBI account and go to the ATM Card Services Menu. There you can find the ATM Pin Generation option.
and Get More Great Tips :
Read Also: SBI Debit Card Types, Benefits and Charges

Also Read SBI Related Posts