SBI CIF Number List | How to find the CIF number of your SBI Account
Last updated on September 5th, 2022 at 01:43 pm
Find CIF No (Customer Information File) number of your SBI Account. Every SBI Bank account holder will have a unique CIF number, which will have all the details of a customer in digital format.
In SBI, Customer Information File number is a 11 digit unique number, which has all the important details of a customer. By using the CIF number, bank can find all the details of their customers like transactions, account type, balance, loans etc.
How to find the CIF number of your SBI account
CIF number of SBI can be find Online or Offline.
Let's see the Online options first.
Online Banking Account (Net Banking): by using SBI online banking account, we can easily find our Customer Information File Number.
Follow below Steps:
Step 1: Login to your SBI Online banking account, using your SBI Online User Name and Password.
Step 2: Click on the Account Summary Menu on left. There you can see your SBI Account Number, Branch etc

Step 3: Click on 'View Nomination and PAN Details'
Step 4: There you can see your Account Number, PAN Number and CIF Number.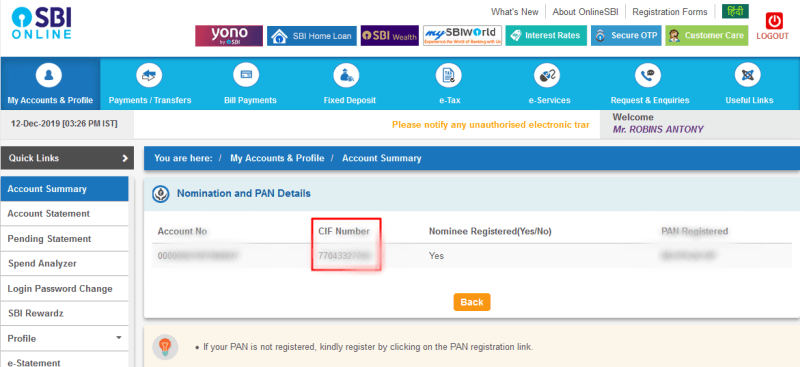 2. SBI Customer Information File (CIF ) number by Account Statement
You can find your SBI CIF number by generating an account statement through your Online Internet banking Account.
Follow below Steps:
Step 1: Login to your SBI Online banking account, using your SBI Online User Name and Password.
Step 2: Click on the Account Statement menu on left Side.
Step 3: Select last 6 Months and Click on view Statement.
There you can see your CIF Number.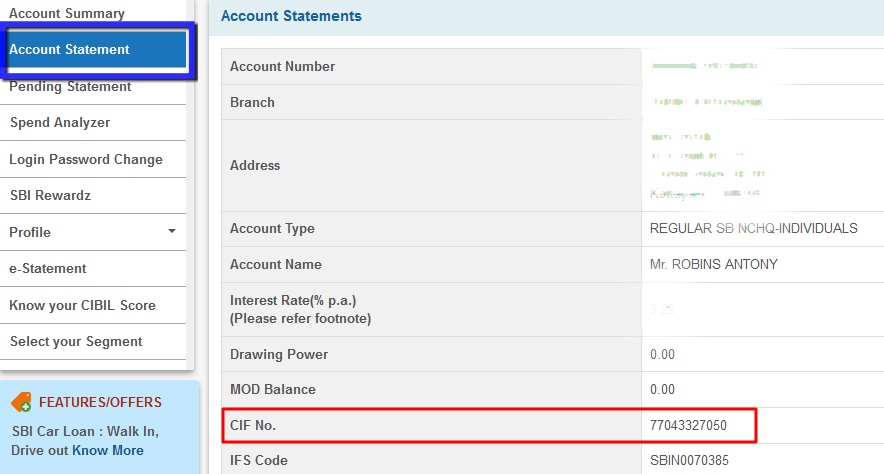 You can find you CIF number using below Offline methods:
1. Cheque Book: You can see your CIF Number Printed in your SBI Cheque Book.
2. State Bank Of India Bank Passbook: CIF number may be printed in the first page of your Passbook.

3. Use SBI Customer Care Service: You can Contact any of the SBI Customer care Numbers( 18004253800 , 080-26599990, 1800112211 ) and verify your identity by telling your Account Number and other details.
Then they will help you to get your SBI CIF Number.
What is CIF Number in SBI?
The Customer Information File, or CIF, number of an SBI Account is one that is exclusive to each individual bank customer. This number maintains account details in digital format, including KYC details. It is a file that is kept in the computer system of the bank. All of a customer's information will be stored in a digital manner within their CIF number.
How can I find the CIF Number of SBI Bank?
The SBI CIF No, also known as the Customer Information File, is a one-of-a-kind 11-digit number that stores all of the vital information that pertains to that specific individual. You may look up the CIF number for SBI either online or offline. Customers of SBI have a number of options available to them for locating their Customer Identification Number (CIF), including using their online banking accounts (Net Banking), their account statements, their cheque books, their passbooks from State Bank of India Bank, and by contacting SBI Customer Care Service.
Where can I find the CIF number on my cheque?
In your checkbook, you will see your CIF Number printed for your reference. Chequebooks issued by some banks often include a space for the Customer Information File Number. It is usually located on the very first page of the chequebook.
How to find SBI CIF Number by SMS?
You cannot find the SBI CIF Number through SMS.Your Passbook, the YONO app, your Online Banking Statement, or SBI Internet Banking are all good places to look for the SBI CIF number.
If you Like this Post, Please 'Like' and 'Share' it with your Friends.
Join Our Facebook Group : www.facebook.com/groups/admeonline

Subscribe Our YouTube Channel: Youtube.com/admeonline
Also Read SBI Related Posts
Related Post
How to Link Aadhaar With PAN Card Online | Pan Aadhar link Status In this post, learn How to Link your Pan Card with your Aadhar Card online...
In this post, you will learn how to scan the Google Pay QR Code from your Mobile Phone Gallery. These days, the majority of us are familiar ...
Last updated on October 28th, 2022 at 09:24 amThis post will discuss the Indusind bank balance check number and IndusInd bank balance check ...