How to track SBI ATM Card delivery status | SBI ATM Card Speed Post Tracking
Last updated on September 15th, 2019 at 06:28 pm
Learn How to Track SBI ATM Card delivery status Online. If you have applied for the new SBI ATM Card, SBI will dispatch the Debit card through Speed Post with in 7 -10 working days. You can Track the SBI ATM card delivery Status by visiting the SBI ATM Card Status Website.
SBI ATM Card Status | How to Track SBI ATM Card delivery Status
You can easily Track SBI Card dispatch details by using the Speed Post No ( Consignment Number ) received via SMS.
Note that you can Apply for the New SBI ATM Card Online, without visiting your home branch, if you have an online SBI Account.
If you don't have an Online SBI Internet Banking Account, don't worry. You can apply online and Activate it without visiting your Home Branch.
If your SBI ATM card is lost, Stolen, or you want to upgrade your ATM card, then you can Block your SBI ATM card and Apply for the new ATM Card Online.
Let see How to track SBI ATM card status online.
SBI ATM Card Speed Post Tracking
After requesting new SBI ATM Card through online or via Branch, SBI will send you the ATM Card through Speed Post. They will send you the courier details as SMS, which contains the Tracking Number, once the ATM card is dispatched.
See the SMS Message below:
"Your SBI Debit Card ending with xxxx dispatched on 26-04-2018 thru Speed No. EB4549xxx53IN. Please follow instructions on welcome letter to generate your PIN".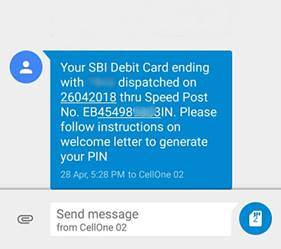 You can find the Courier company details in the SMS. If the ATM Card is dispatched via another courier company, then you can track the status by visiting their website.
Follow below steps to Track the SBI ATM Card delivery status.
Step 1 : Visit https://www.indiapost.gov.in and find the Consignment Tracking page (Track N Trace) in the home page.
Step 2 : Enter the Speed Post Number (Consignment  Number) received in the SMS and then enter the verification code shown.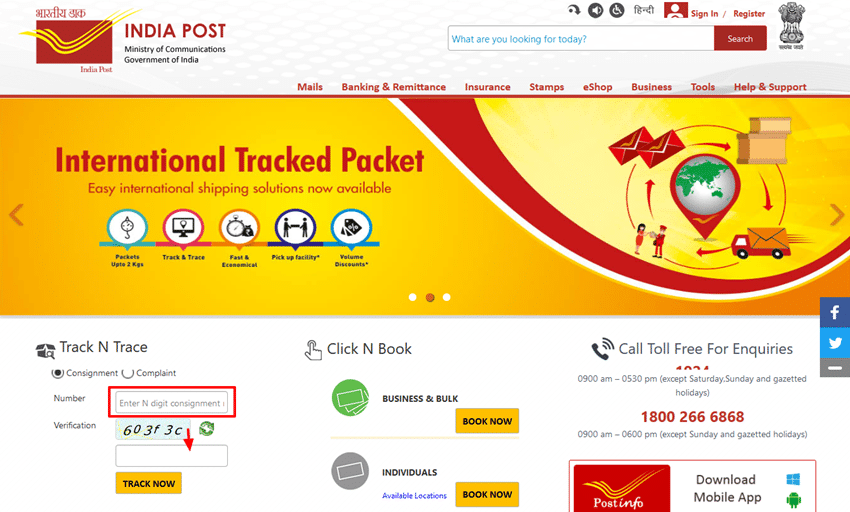 Step 3 : Click on 'Track Now' button.
Now you will be redirected to a page with your SBI ATM card dispatch details.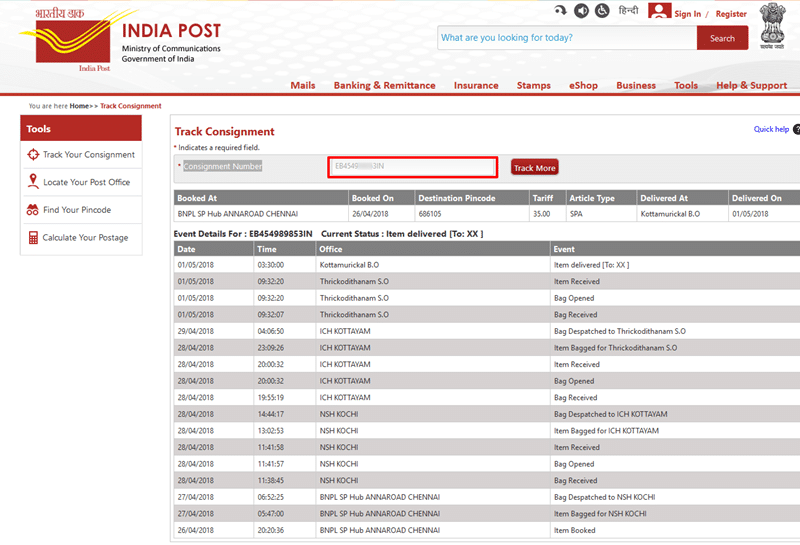 You can find your SBI Debit card delivery status (current Location and expected delivery date)  here.
The SBI ATM Card can be activated Online, without visiting your Home branch, after the card is delivered.
You can Generate SBI ATM PIN using SBI Green PIN Process without Visiting the SBI Home branch.
If you have any Questions, Post it as comment below.