How to Download SBI Credit Card Statement Online and Offline [Step by Step]
Tagscredit card statement sbi online, e statement sbi credit card, how to download sbi credit card statement, online credit card statement sbi, online sbi credit card statement, sbi credit card email id, sbi credit card number, sbi credit card online statement, sbi credit card statement, sbi credit card statement download, sbi credit card statement password
Last updated on September 5th, 2022 at 01:09 pm
In this post, find State Bank of India Credit Card Statement Download options.
SBI Card Online send SBI Credit card statement to its customers every month. SBI Credit Card statement will have all the information about your last one month Credit card transactions, your last payment details, how much you spent in different categories etc. SBI Card Online provides several options for the SBI Credit Card Statement Download.
SBI Credit Card Statement
If you own an SBI Credit card, you must check the credit card statement monthly to verify your transactions and make sure that no unauthorized transactions are done in your credit card during the last billing cycle. If your Credit card is enabled for the international transactions, then checking the card statement regularly will help you to track the transactions as no OTP is required to complete the credit card transaction.
You can easily get your SBI credit card statement Online, through SBI Card Mobile Application, through SBI Card Interactive Live Assistant (Chatbot), SMS, Customer care etc.
How to Download SBI Credit Card Statement Online
You can easily generate the SBI Credit Card Online statement and Download it through the SBI card online account.
Follow the below steps.
Step 1: Visit https://www.sbicard.com/ If you already have an account in the SBI Card Online portal then click on the Login button and Login using your SBI card User ID and Password.
Note: You cannot use your SBI Net Banking User ID and Password to log in here.
If you don't have an account, click on the 'Register Now' button.

Step 2: After the login, click on the My Accounts menu on the left side, Then click on the 'Card Statements'.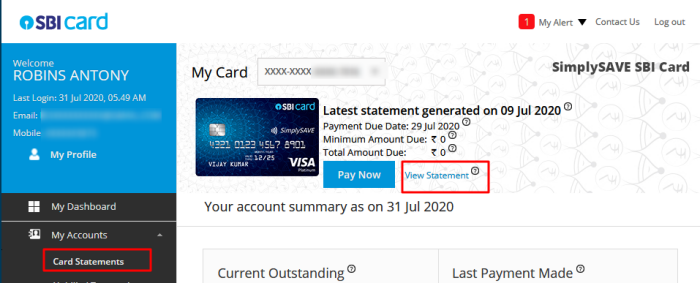 Step 3: In the next window, you can select the Statement Date and then click on the 'Download' button.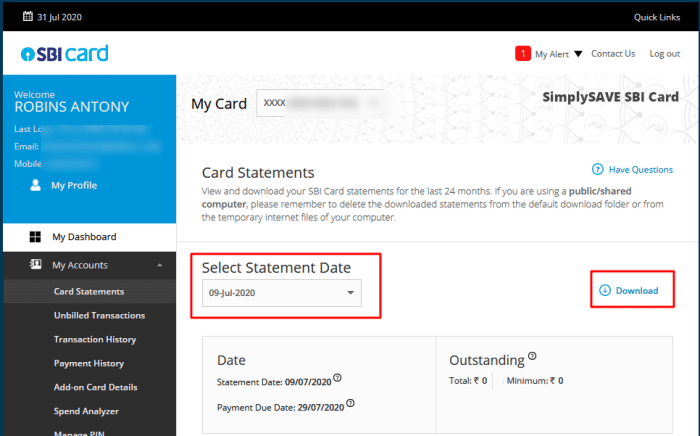 If you have registered for the E-mail statement, SBI Card Online will send you a monthly statement every month.
"Dear Cardholder
Attached herewith is the monthly statement of your SBI Credit Card ending with XXXX XXXX XXXX XX11. Also given below is the summary of your statement for a quick reference."
In the SBI Credit Card statement, you can find the Total amount Due, Minimum Amount Due, Payment Due Date etc.
SBI Credit Card Statement Password
To view the password protected SBI Credit card statement received in your inbox, you have to enter the 16 digit credit card number as the password.
Now SBI is providing an easy option to view the statement by entering a combination of your birth date and last four digits of your card number.
View SBI Credit Card Statement through SBI Card Mobile App
SBI Card Mobile app available in both Google Play Store and App Store is an easy option to view your monthly Credit card statements and other details.
After installing the App follow the below Steps
Login with your SBI Card User Name and Password. You can also use the Touch ID (Finger Print) or MPIN to login to your account in the app.
Choose the 'My Account' option from the main menu on the screen.
You will be able to see all your card related details on the screen including total due, minimum due, available limit, current outstanding, expenses, and much more.
Choose the 'Account Details' option and then select the 'Card Statement' option.
Click on the 'View Statement' option and select your preferred time duration to view your statement.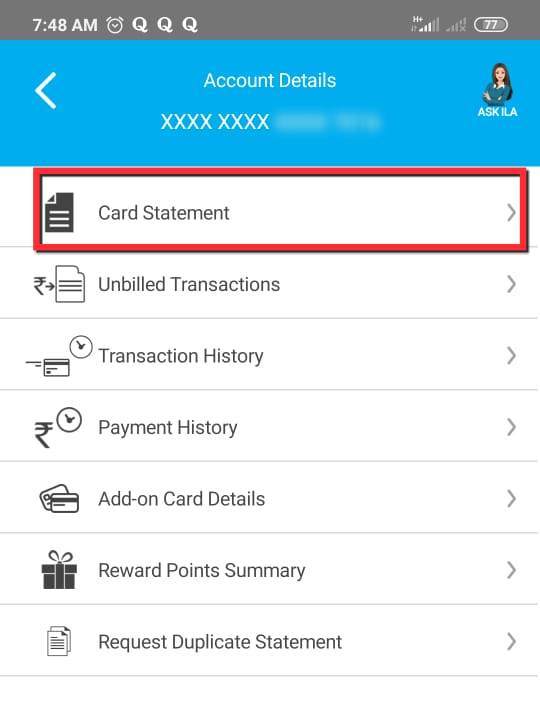 SBI Credit Card Statement through Chatbot ILA
The SBI Card Interactive Live Assistant (Chatbot ILA) is providing a lot of information through the chat.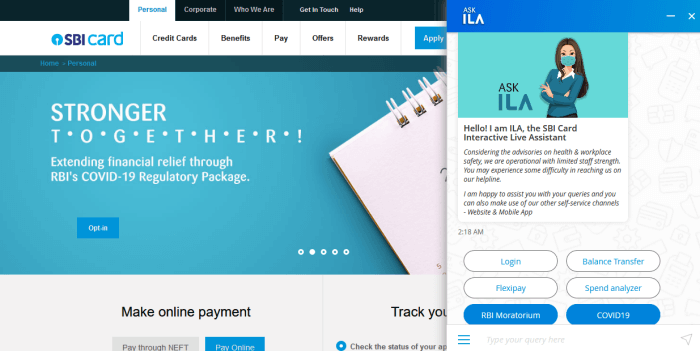 Follow the below steps to get the SBI Credit Card Statement.
Go to the official website of SBI Card.
Choose the 'Ask ILA' option given on the bottom right corner of the screen.
Log in using your SBI Card website Online User ID and Password.
Ask your query in the chatbox and the Live Assistant will help you to view your credit card statement and all the other card related details.
SBI Credit Card Online Services - Comparison
Credit Card Services Available
Website
Mobile App
Chatbot ILA
Know your outstanding balance
Yes
Yes
Yes
Payment modes details
Yes
Yes
Yes
Make Payment of your

card

Yes
Yes
Yes
Last Payment details
Yes
Yes
Yes
View Statement
Yes
Yes
Yes
Download Statement
Yes
No
Yes
Request for Duplicate Statement
Yes
Yes
Yes
Update/Change your Credit

Card

pin
Yes
Yes
Yes
Transaction history
Yes
Yes
Yes
Unbilled Transactions
Yes
Yes
Yes
Request to block & reissue of

card

Yes
Yes
No
View Reward Points
Yes
Yes
Yes
Redeem your Reward points online
Yes
Yes
No
Manage your

Card

usage Limit
Yes
Yes
No
SBI Credit Card Statement through SMS
SBI Credit cardholders can get the monthly statement through SMS also. Follow the below steps to get the Credit card statement through SMS.
Send SMS to the SBI Credit Card SMS Number: 5676791 in the below format.
DSTMT JJJJ SS to 5676791
Replace JJJJ with the last 4 digits of your Credit Card Number and SS with the Statement Month.
Eg: DSTMT 1234 07 to 5676791   (07 – July)
Send this SMS from your registered Mobile Number. You will get your Credit Card statement as SMS.
SBI Card Statement through Credit Card Customer Care
You can contact the SBI Credit Card Customer Care on 1860 180 1290, 1860 500 1290, 39 02 02 02  or 1800 180 1290 and request for the credit card statement.
.
The SBI Card Customer care representative would ask for a few cards related details like the card number, Credit Limit, Date Of Birth etc.
After completing the authentication, the bank will provide you with your credit card statement.
Credit Card Statement through Branch
Follow the below steps:
Visit your nearest State Bank of India branch.
Request your credit card statement.
You should have your bank details like your passbook or credit card to view your statement.
The representative will then give you the credit card statement of the duration you need.
How can I see my SBI credit card statement?
You can see your SBI Credit card online or Offline. You can view or download your SBI credit card statement through SBI Card Online. If you have subscribed for the e-statement, you will get the monthly credit card statement in your registered email.
What is the password of SBI credit card statement?
SBI Credit card password is your 16 digit credit card number.
How can I view my SBI credit card statement online?
To view your SBI credit card statement online, visit sbicard.com and login with your User ID and Password. Then click on 'My Accounts' menu and then 'Card Statements'. You can view/download the Credit Card statements from there.
Join Our Facebook Group : www.facebook.com/groups/admeonline

Subscribe Our YouTube Channel: Youtube.com/admeonline
Also Read SBI Related Posts
Related Post
How to Link Aadhaar With PAN Card Online | Pan Aadhar link Status In this post, learn How to Link your Pan Card with your Aadhar Card online...
In this post, you will learn how to scan the Google Pay QR Code from your Mobile Phone Gallery. These days, the majority of us are familiar ...
Last updated on October 28th, 2022 at 09:24 amThis post will discuss the Indusind bank balance check number and IndusInd bank balance check ...