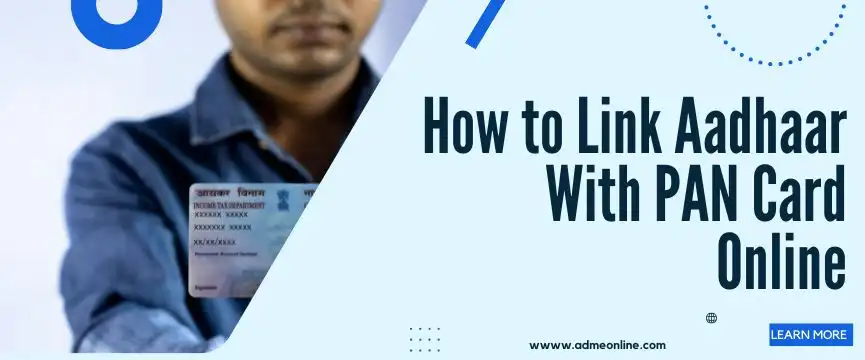 Pan card Aadhar Card link
How to Link Aadhaar With PAN Card Online | Pan Aadhar link Status
In this post, learn How to Link your Pan Card with your Aadhar Card online and Check Pan the Aadhar link status. The new deadline for linking a person's Permanent Account Number (PAN) with their Aadhaar card in India is the 31st of March in 2023.
In order to link your Pan card with your Aadhar number, you will need to pay a cost of Rs. 1000.
PAN stands for Permanent Account Number. Aadhaar is a UID (Unique Identification Number). PAN card number is issued to all taxpayers. But Aadhaar UID, the primary purpose of Aadhaar is to create a database of every citizen residing in India as his identification document.
Income Tax Act Section 139AA, on 1st July 2017, it was announced that every person with PAN will be required to link their PAN with his/her Aadhaar number within a specified date notified by the Government.
Read More: Full Form of PAN Card
Benefits of Linking Aadhaar With PAN
Your income tax return will not be processed if your Aadhaar is not linked with your PAN, so linking the two is a need.
If your Aadhaar is not linked with your PAN, you will be fined.
In addition, if you need to conduct a financial transaction that is worth more than Rs. 50,000, you are required to link your PAN card and Aadhar card together.
An Aadhaar number is required for all transactions nowadays. So by linking PAN with Aadhaar, the Income Tax Department can track all transactions.
PAN card linking with Aadhar will help to reduce persons having more than one PAN card. Therefore, they cannot conceal their taxable income.
When a person has more than one PAN Card is a possibility of creating a fake identity. Then, has the chance of illegal activities such as drug trafficking with fake identities. Once a PAN card is linked to an Aadhaar there will be an elimination of the chance of these activities.
It helps in filing income tax returns and other related activities with Aadhaar e-verification.
How To Link Your PAN with Aadhaar Online
There are several ways to link your PAN with your Aadhaar Card. You can link your PAN with your Aadhaar Card online by visiting the Government of India website. For those who don't know how to do it online, there is a way to link via SMS.
Linking PAN with Aadhaar Online
Find below the step-by-step guide to link your PAN with your Aadhaar card.
Step 1: Pay the Pan Card – Aadhar Card Link Fees.
e-Pay Tax is a service that is provided on the e-filing Portal, and it is required that the fee payment for PAN-Aadhaar Linkage be done through that.
Please follow the instructions below if you have accounts at the following banking firms:
Axis Bank, Bank of India, Bank of Maharashtra, Canara Bank, Central Bank of India, Federal Bank, ICICI Bank, Indian Bank, Indian Overseas Bank, Karur Vysya Bank, and Kotak Mahindra Bank.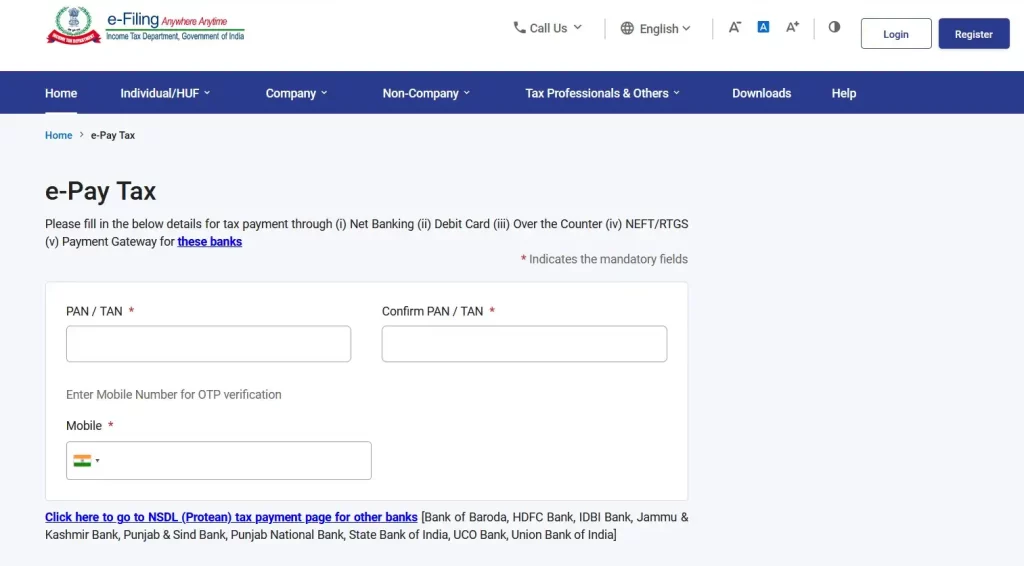 Step 1: Please provide your Permanent Account Number (PAN), as well as your mobile phone number, in order to get an OTP.
Step 2: After the OTP has been verified, you will be routed to a page that displays various payment options.
Step 3: To move forward with filing your taxes, select the Proceed tile.
Step 4: Continue after selecting AY and the Type of Payment option that reads "other Receipts (500)"
Step 5: Proceed with the remaining stages after entering the amount as Rs. 1000 in the field labelled 'Others' in the tax break-up.
Please follow the steps below if you have an Other bank account (a bank that is not listed for payments made through e-Pay tax).
On the e-Pay tax page, locate the link that reads "Click here to proceed to NSDL (Protean) tax payment page for other banks." After clicking that link, you will be taken to the Protean (NSDL) portal.
OR go directly to https://onlineservices.tin.egov-nsdl.com/etaxnew/tdsnontds.jsp
Select "Other Receipts" under "Type of Payment" and then click "Proceed" under the "Challan No./ITNS 280" heading (Minor Head)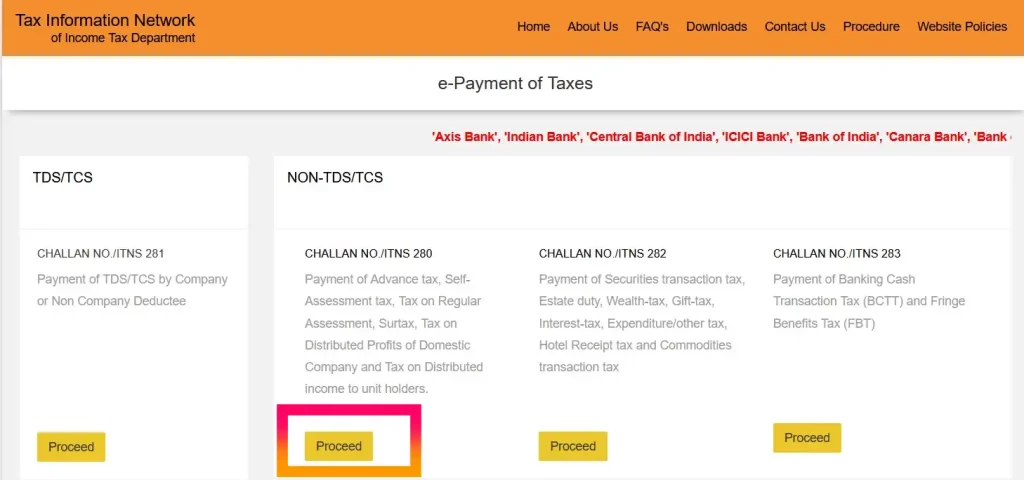 After 4-5 working days have passed since the time that payment was made on the NSDL (now Protean) portal, the Aadhaar linking request must be submitted on the e-Filing portal.
Follow the below steps to check the Pan Aadhar link Status and link the Aadhar with Pan if it is already not linked:
Visit the Income Tax e-filing portal to Link your Pan with your Aadhar.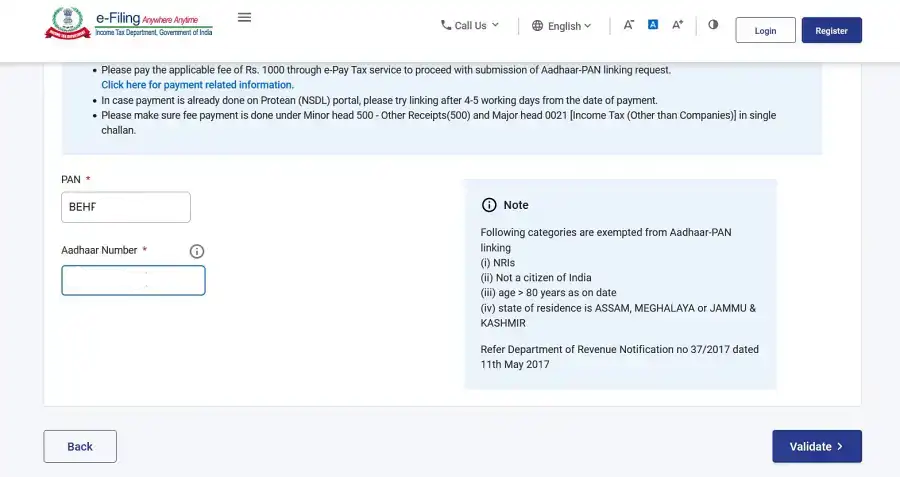 Enter your Pan Number and Aadhar Card number and click on the 'Validate' button. If the Pan Card is already linked with the Aadhar, you will get a popup confirming the same.
Otherwise, if you have already completed the Fees Payment as mentioned in the Step above, you will get a Fee payment confirmation message on the screen.
"Your payment details are verified". To submit your request to attach your Aadhaar card, click "Continue" on the pop-up message.
Then enter the required details. You will get an OTP to confirm the link. After validating the OTP, you can see a confirmation message.
After that, you can check the Pan Aadhar link Status by following the steps above.
Linking PAN with Aadhaar Via SMS
Following are the steps to link PAN with Aadhaar through SMS
Take your mobile phone, and type the following code
UIDPAN<12 digit Aadhaar >10-digit PAN>
After typing the content, send the message to the number 567678 or 56161
One thing is to send the SMS from your registered mobile number
Example to sendUIDPAN 987654322097 DFCHU2345L send to 567678 or 56161
PAN-Aadhaar Linking Deadline 2023
As per the law, those who do not have their Aadhaar linked with their PAN card cannot trade or invest in any segments including exiting open positions or holdings after March 31, 2023.
If your PAN is linked with your Aadhaar it may take up to 1 week to update IT records.
The linking PAN with the Aadhaar deadline has been extended from March 31, 2022, to March 31, 2023.
Procedure For update Linking Aadhaar card And PAN Card
Mismatch of PAN and Aadhaar information makes some linking processes difficult. The revenue department offers ways to have the same details for Aadhaar cards and PAN cards or to change them and link the card later.
Aadhaar and PAN card information can be updated using the NSDL website and the UIDAI website.
Correction Make Using NSDL Website
You can change the updated information by using the NSDL website page.
Homepage, select the "name correction" option
Then submit signed documents online to change PAN card details.
The updated information will be checked by the NSDL through an email address.
Correction Make Using UIDAI Website
Move to UIDAI's official website
Now, the system will send an OTP to your registered mobile number.
OTP received in case of name change can be used.
Documents need to be uploaded to prove other details like date of birth, gender, etc.
Cards can be linked after documents are verified and confirmed
Linking PAN with Aadhaar Through the E-filing Website
Following are the steps to linking PAN with Aadhar via the E-filing website.
Move to the official Income Tax Department e-filing website
Then Click on the 'Link Aadhaar' Option from the home page
Enter all the details required
Enter your date of birth is mentioned same as your Aadhaar card
Then tick the next box, now you enter the captcha code and click on the 'Link Aadhaar'option
You will get a message Aadhaar linked to your PAN Card
Did you fail to Link your PAN with your Aadhaar? Don't worry
If you failed to link your PAN with your Aadhaar? Then you visit your nearest PAN centre and submit your signed Aadhaar and PAN Card seeding form. Along with the Aadhaar seeding form documents like PAN cards and Aadhaar cards also need to be submitted. Physical seeding of Aadhaar using your PAN is a chargeable service.
Related Post
In this post, you will learn how to scan the Google Pay QR Code from your Mobile Phone Gallery. These days, the majority of us are familiar ...
Last updated on October 28th, 2022 at 09:24 am This post will discuss the Indusind bank balance check number and IndusInd bank balance check...
Find Karnataka Bank balance check number and other Balance enquiry options. Karnataka Bank provides several options for customers to check t...