SBI Mobile Number Registration for SMS alert Online | SBI SMS Alert Number
in Blog, SBI Tutorials
Tagsdownload sbi mobile number change request form in pdf, SBI Bank SMS alert Number, sbi mobile number change form pdf download, SBI Mobile Number Registration for SMS alert online, SBI Mobile registration for alerts, SBI SMS Alert, SBI SMS alert form, SBI SMS Alert Number, SBI SMS alert registration, SBI SMS alert registration no
Last updated on September 5th, 2022 at 01:32 pm
SBI SMS alert registration – You can register your Mobile Number with SBI for SMS Alerts, so you will get up to date transaction alerts as SMS notification in your SBI registered Mobile Number. SBI SMS alert Registration can be done online through the internet banking site onlinesbi.com and directly through the Home branch by downloading SBI Mobile number change request form in pdf and submitting it.
When you register your Mobile Number with SBI for SMS alerts, you will get SMS notifications for the events like POS transaction, Cheque book Issue, Cheque Stop and Dishonor, Balance threshold etc
ie; You will get SMS alerts when your account is Debited/Credited for an amount above the  Debit / Credit threshold and when your SBI Account balance falls below the threshold limit.
Note that your Mobile number must be registered with SBI to get the SMS alerts.
If you have not registered your Mobile Number with SBI, you can Register or Update the Mobile number through any SBI ATM or through Internet Banking Account (www.onlinesbi.com). You can also download and submit SBI Mobile number change application form pdf in your home branch for the Mobile Number registration.
Read Also: How to Register Mobile Number in SBI For Balance Enquiry
Find below the step by step process to activate sbi sms alert service through the SBI Internet banking account.
How to activate SMS alert in SBI Account Online
Login onlinesbi.com
Click on 'e-Services' menu on top.
Select 'SMS Alerts Service'.
Select the SBI Account and Proceed
Select the 'Events' to get the SMS alerts and Click on 'Update'
Let's Check the Step by step SBI SMS alerts registration process with screen shots.
Step 1 : Login your Onlinesbi.com (SBI Internet Banking) account with your Internet Banking User Name and Password.
Step 2: Click on 'e-Services' menu on top. Now you can see all e-services available in SBI through Internet Banking.
Select 'SMS Alerts Service'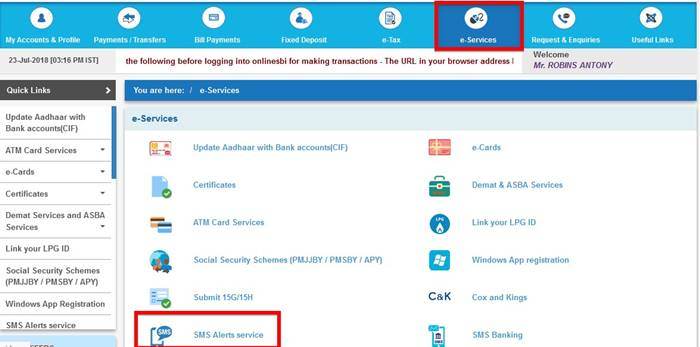 Step 3: Now you will get a screen with a list of your SBI Accounts in that branch. Select the Account you want to register or update the SMS alert and then click on 'Proceed' button.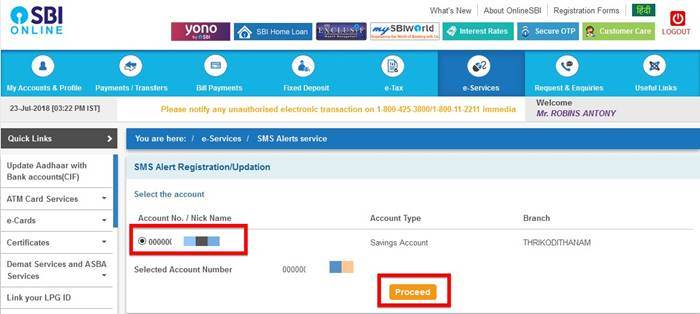 Step 4: Now you will get an option to select the Events you want to get the State bank of India SMS alerts. You can also set limits to trigger the alerts here.
Check the screen-shot.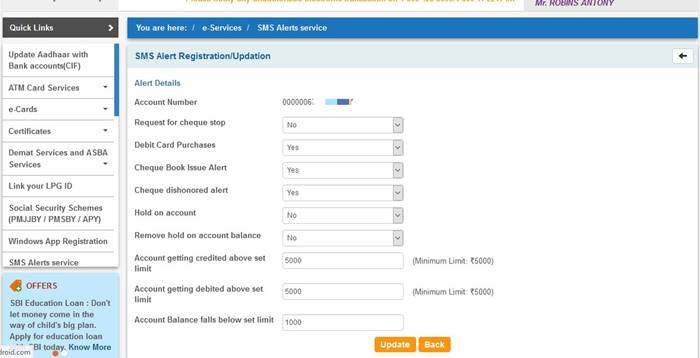 After setting the alert details, click on 'Update' button. Now you can see a confirmation Message.
Your Mobile Number is registered for SBI SMS Alerts or SMS alert details onXXXXXXX1X9 ,updated successfully.
Read Also: How to Register and Change SBI Registered Mobile Number Online
Now on you will get the SMS notifications in your SBI registered Mobile number whenever an event occurred in your SBI Account.
If you want to disable the SBI SMS alert service, you can update the alert settings in the above page by clicking the 'disable' link.
To get SMS alerts for other SBI accounts, you need to manually configure the same SMS alerts in the Internet Banking Account.
SBI SMS alert form | SBI Mobile Number Change form PDF Download
SBI SMS alerts will be only be sent to mobile number registered at your Home branch. But if you want to change your mobile number, You can download SBI Mobile number change request form in pdf  (SBI SMS Alert form) from here.
This form can be used for any addition, deletion or modification of your SBI account details like Address, Bank details, Mobile Number, Email etc. You can specify your existing account details like your Old Mobile Number and New details Eg: New Mobile number in the columns provided.
If you need any help, chat with us or post your questions as comment below.
If you Like this Post, Please 'Like' and 'Share' it with your Friends.
Join Our Facebook Group : www.facebook.com/groups/admeonline