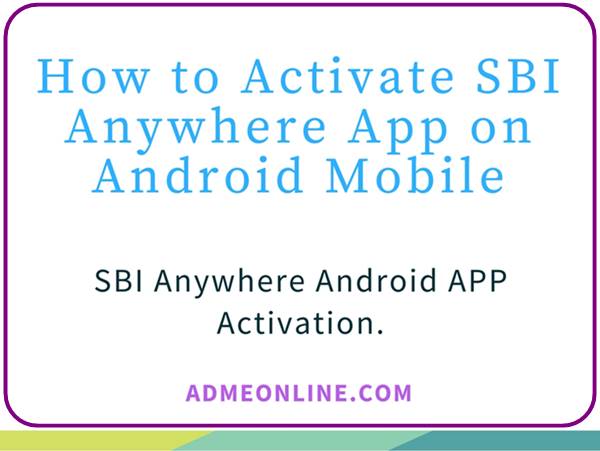 How to Activate SBI Anywhere App – Registration Process
Last updated on August 5th, 2018 at 12:44 pm
State Bank (SBI) Anywhere APP is State Bank of India's retail internet banking based application for your smartphones.
It helps SBI Online Banking Customers to handle the financial transactions from their Mobile Phones.SBI Anywhere App is available at Google Play store, Apple App store and Blackberry App World for Android, Apple and Blackberry smartphones.
Requirements for accessing SBI Anywhere APP
To access the SBI Anywhere App,
You need a smart phone with Android (OS 4.2 or above) and/or Apple (with IOS 4.1 or above)
SBI Online Banking User Name and Password (Valid Internet Banking Account)
Please Support us by Subscribing Our YouTube Channel (Click Here), Like and Share the Video.
How to register for State Bank (SBI) Anywhere App?
All SBI Internet Banking (OnlineSBI.com) Customers can avail this service with the same OnlineSBI User Name and Password.
New users can register for the Internet Banking (Onlinesbi) account through the registration form in the App.
Currently this app supports only State Bank of India Retail Internet Banking customers. Associate Banks' internet banking users will not be able to use this app.
How to activate SBI anywhere app on Android mobile
Step 1 : Download State Bank Anywhere Android App from Google Play Store and Open it.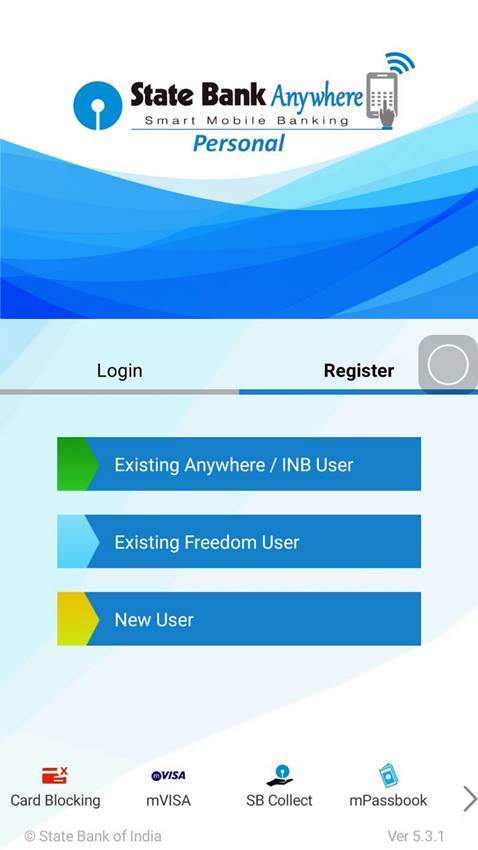 For added Security, The user needs to complete a One time Activation process to use the State Bank Anywhere App in a device.
Step 2 :To start the Activation Process, Click on 'Register' . There you can see 3 options
Existing Anywhere / INB User
Existing Freedom User
New User
Step 3 : Login with your Existing Online SBI / Mobile Banking Account.
Click on 'Existing Anywhere / INB User' if you already have the SBI Internet Banking (OnlineSBI) Account.
Login with your OnlineSBI User Name and Password, if you have an Online SBI (Internet Banking) Account.
Click on 'Existing Freedom User' if you already have a Mobile Banking Account.
Use your Mobile Banking User ID and MPIN, if you have a Statebank Mobile Banking Account.
Step 4 : Now you can see a Screen with State Bank Anywhere Terms and Conditions. Click on 'Accept' to proceed with the Activation process.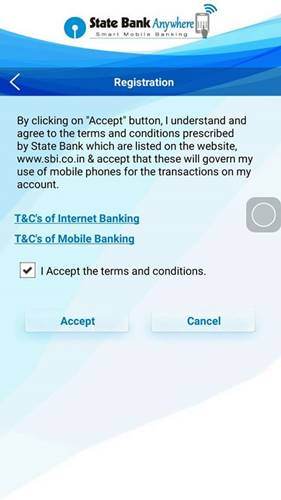 Step 5 : Now you will get an Activation Code in your SBI registered Mobile Number to authenticate the device.
ie; You can use the State Bank Anywhere APP in any other Mobile or device. It is not mandatory to use it in the same device with the SBI registered Mobile Number.
Enter the Activation Code received in your registered Mobile Number to complete the Activation process and click on the 'Submit'.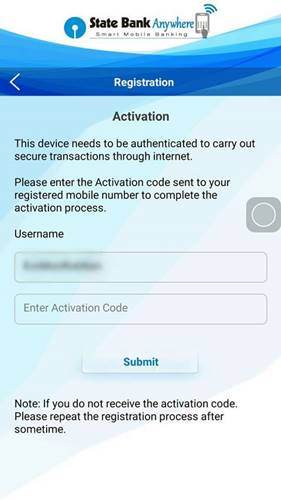 If you have not received the Activation Code, you can repeat the same process again.
If you lost your Mobile Number or you want to Change the SBI registerd Mobile Number, you can do it online easily .
Click to Learn Step by Step Procedure to Change SBI Registered Mobile Number Online
Step 6 : Upon successful Activation, a message will be displayed 'User activation successful'.
Click the 'Ok' button to go to the Login Page.
Note:
If you want to use the State Bank Anywhere App in another Mobile, you need to complete the above activation procedure again.
State Bank Anywhere New User Registration
Step 1: Click on 'New User', if you don't have an OnlineSBI (Internet Banking) and Mobile Banking account and have a State Bank Debit Card. You will get a temporary Username and Password.
Step 2: Now you will get a screen with 'Steps for Registration'. Read the Instructions and Click on 'Proceed'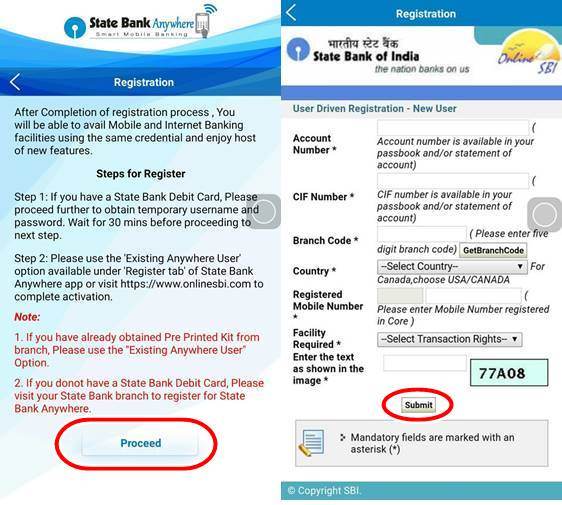 Step 3 : Fill the 'User Driven Registration' form and Click on Submit.
Please note that you need your SBI Account Number, CIF Number, SBI registered Mobile Number etc to complete the registration process.
Like Onlinesbi, State Bank Anywhere APP is free  of any charges.
With State Bank Anywhere APP you can do the Following:
Banking
• Funds Transfer (Own A/c)
• Third Party Transfer (Within SBI)
• Inter-Bank Transfer (RTGS/ NEFT/ State Bank Group Transfer)
• Quick Transfer using QR Code to Beneficiaries without registration
• IMPS Transfer (Person to Person/ Person to Account)
• Transfer to mobile number or email id using mCash
• Instant Opening / Closing of Fixed and Recurring Deposits
• Credit Card (VISA) Transfer
• Schedule Transactions
Bill / Merchant Payments
• With Bill
• Without Bill
• View Biller
• Postpaid Bill Payments
• Schedule Bill Payments
• State Bank Collect
Top-up and Recharge
• Mobile Top-up
• DTH Recharge
• Transaction Enquiry
• Top-up of State Bank Wallets
• Top-up of Pre Paid Cards
Updated version of State Bank Anywhere Application is more secure and you can do almost all operations in the Online SBI Account.
If you have any Questions / Need help in Activating the SBI Anywhere Android App, Post your Comments below.
Also share this useful information with your Friends. For more updates, Follow us on Social Media.
Save