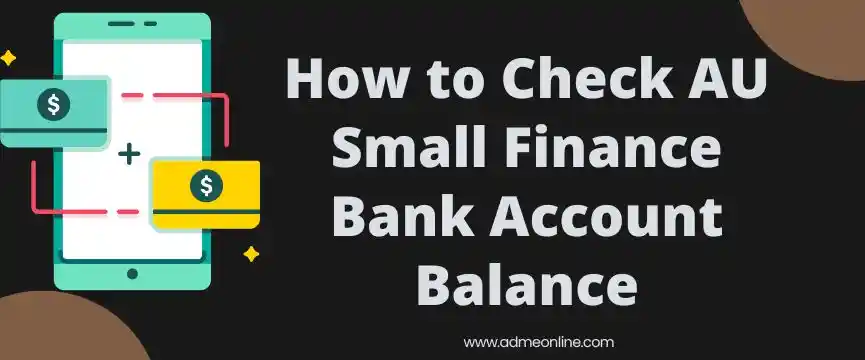 AU Bank Balance check Number | How to Check AU Small Finance Bank Account Balance
Find AU Small Finance Bank Balance Check Number. AU Small Finance Bank offers missed call banking as well as other ways for checking your balance (SMS, ATM, Mobile & Net Banking).
Customers who live in rural areas can take use of the financial products and services provided by AU Small Finance Bank, including insurance, retail loans, personal banking, and wholesale banking.
To view, the balance of the AU Small Finance Bank account Chooses from one of the choices listed below.
With AU Bank's missed call service, customers have immediate access to their account Balance information.
Just send missed call to AU Small Finance Bank Toll-Free Missed Call balance check Number 1800-120-2586 from your registered Indian Mobile Number.
The Call will be disconnected after few rings and you will get your AU Small Finance Bank Account balance instantly as an SMS.
With the toll-free AU bank Missed Call service, you can obtain information about your mini statement as well as your account balance with just a missed call from your registered Indian mobile number.
You will get an SMS with the mini-statement shortly.
AU Small Finance Bank WhatsApp Banking
You can check the balance of your account at any time by using the AU Bank WhatsApp Banking feature.
You will get your account balance and can view other account-related information via WhatsApp. Just select the options from the list (given as WhatsApp Message).
Even on Sundays and Public holidays, the AU WhatsApp banking option will continue to function normally.
The following are the services included when you use AU WhatsApp Banking.
You can obtain your Account Statement, as well as know your Customer ID, your account balance, the information of your most recent five transactions, FD/RD details, Loan details, and the status of a service request, all through the use of this service.
AU Bank Customer Care Toll-Free number 24x7
You can get assistance with general questions and requests for services like Balance checking, by calling the toll-free number 1800 1200 1200, which is provided by AU Bank.
This number is available 24 hours a day, seven days a week.
After calling the customer care number, pick the "language" and "banking choice."
After that, you are prompted to input the number of your debit card or Bank Account .
Then you will get your account balance.
Note: If prompted, enter the PIN associated with your ATM or debit card.
Check Balance using AU Small Finance Bank Net Banking
Through AU Bank Net Banking, you will be able to view the full balance of your account.
In order to do it, you need to have an active Internet banking account that is linked to your Mobile Number.


Enter your user id and password for AU Net Banking to log in.
After you have successfully logged in, the dashboard will have a list of information pertaining to your account, including your account balance, your most recent account statement, and other information.
Check Balance using AU Small Finance Bank Mobile Banking
Another easy option for the AU Balance check is to install the AU 0101 Mobile App. You can perform your banking whenever, wherever, and whatever you like with the AU Mobile app, which is available on both the Google Play Store and the Apple App Store.
You may check the current balance of your account by downloading and installing the AU Mobile Banking app.
To log in, all that is required of you is to enter your username and PIN; after that, the current balance of your account will be displayed on the screen immediately.
You are able to make UPI payments, set up bill payments, book a cab, bus, or flight, manage your debit card, apply for a car and personal loan, invest in IPO and mutual funds, and do a great deal more by using the AU Mobile Banking App. You can open a Zero Balance Savings Account, manage your account, book Fixed Deposits, make service requests, and transfer cash by using our one-of-a-kind Video Banking service.
Check Balance using AU Small Finance Bank ATM
If you have an active AU Bank ATM Card, then you can visit any near-by ATM to check the account Balance.
Follow the below steps:
Visit your nearest ATM of any bank
Then insert your AU Bank ATM card to the ATM machine.
Now , so many options are listed. You select the "Balance Enquiry" option.
Now your bank balance will be displayed on the ATM screen.
AU Passbook Balance Checking
Your passbook is the most convenient way to check your bank balance. The customer will receive a welcome kit from each bank that contains your passbook, debit card etc.
It is very simple to know your balance if you update the passbook with every transaction you do. You must update the transaction in Passbook before you may access your balance using the passbook.
Related Post
How to Link Aadhaar With PAN Card Online | Pan Aadhar link Status In this post, learn How to Link your Pan Card with your Aadhar Card online...
In this post, you will learn how to scan the Google Pay QR Code from your Mobile Phone Gallery. These days, the majority of us are familiar ...
Last updated on October 28th, 2022 at 09:24 am This post will discuss the Indusind bank balance check number and IndusInd bank balance check...