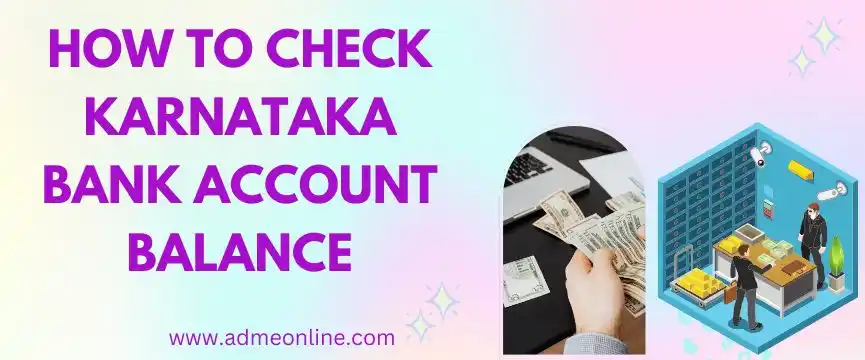 Karnataka Bank Balance Check Number [2023], SMS, Missed Call
Last updated on December 9th, 2023 at 02:22 am
Find Karnataka Bank balance check number and other Balance enquiry options in 2023. Karnataka Bank provides several options for customers to check their account balances remotely, eliminating the need to visit the bank.
Are you a customer of Karnataka Bank interested in learning how to check the balance of an account you have with Karnataka Bank? Then you are in the right place.
Checking your Karnataka Bank balance can be done in several ways, including using Missed Call Banking, Mobile Banking, SMS Banking, Net Banking, ATM, Customer Care Service, passbook, etc.
Karnataka Bank Balance Check Missed Call Number
Missed Call Banking:
This is perhaps the simplest and most convenient method. Simply give a missed call to the toll-free number 1800-425-1445 from your registered mobile number with Karnataka Bank. Within a few seconds, you will receive an SMS with your current account balance.
You can use the Karnataka Bank Missed Call Banking service to check your account balance and get a mini statement without going to an ATM, or branch, or using the internet or mobile banking. You can get the information right away on your mobile.
Customers can use this service 24 hours a day, 7 days a week.
To check the account balance Karnataka Bank customers can send a missed call to the Toll-Free Balance check Number 1800 425 1445 from their registered Mobile Number.
After a few rings, the call will be disconnected, and you will receive an SMS with your account balance in a short while after that.
You can use the Missed Call Balance checking and Mini statement option up to three times a day.
Note: If your Mobile Number is not registered with your account, then you cannot use the Missed call banking facility to check the account balance.
You have to visit the nearest branch to update the Mobile Number in your account.
Karnataka Bank Balance Check through SMS
Checking your account balance with Karnataka Bank can also be done using SMS banking.
Customers will need to visit the branch that is most convenient to them in order to register for SMS banking.
After the successful SMS banking registration, you can send the SMS to the Karnataka Bank Balance checking SMS No: 9880654321 from your registered Mobile number in the below format.
You will get an SMS with the latest balance shortly.
Karnataka Bank Balance Enquiry through Net Banking
Customers of Karnataka Bank who have an active Net Banking account can check their balance at any time by going to the bank's Internet Banking portal and entering their login information.
When creating an account with the bank, customers have the option of signing up for internet banking.
Customers of Karnataka Bank are required to log in with their username and password in order to see their account balances. After that, go back to the menu and select the account summary option.
Instantaneously, the screen will present the balance that is currently available in the account.
Customers can sign up for the E-Statment using the Internet Banking Portal, which will provide the most recent balance in your account.
Karnataka Bank Balance Check Via Mobile Banking
Karnataka Bank offers several mobile banking applications to its customers which includes KBL Mobile Plus App, BHIM KBL UPI App, KBL Apna App, KBL mPassBook App
One of the mobile banking App provided by Karnataka bank is called the BHIM KBL UPI App.
The application can be downloaded from the Google Play store for installation.
After you've downloaded and installed the app, the next step is to log in using the provided credentials and create an account using your banking information.
After that, you need to go to the homepage and click the option labelled "Balance Enquiry" from there.
The current balance of your account will appear on the screen at this time.
You can use the KBL Mobile Plus App to check the balance of your Karnataka Bank account as well.
Apps can be downloaded by account holders through the Google Play store or App Store.
As was just mentioned, you will need to register for an account using your information and select a login password.
This app allows you to check your bank balance, as well as your mini statement and the status of your cheques, among other things.
Simply pick the option to do so from the homepage, and then input your personal identification number.
After that, you will be able to view the amount of your bank balance.
Check Balance using Other UPI Apps
You are able to look up the amount of your Karnataka Bank Balance on any of the Popular generic UPI Apps, such as Google Pay, Phone Pay, Paytm, Amazon Pay, or BHIM UPI Pay.
Launch the UPI app from the Mobile Dashboard.
Enter the assigned Pin or Password to log in.
Now, choose which of your bank accounts you want to log into, and do so.
Select the option to check your balance.
Input the security Pin for the Transaction.
The current balance will be shown on the screen at this time.
Check the Balance through ATM
You can Check Karnataka bank balance via ATM also.
Visit your local Karnataka Bank ATM. If you want to find the nearby Karnataka Bank ATM, then send an SMS in the below format to 9880654321.
Eg: KATM 560003 – will return Malleshwaram, Bangalore ATM address.
To check the current balance of your account, insert your ATM card into the machine at the bank.
Choose the option that's labelled "Balance Enquiry."
The balance of your account will now be displayed on the automated teller machine.
Karnataka Bank Balance Check Via Passbook
If none of the above balance checking options not worked, you can visit the nearby branch and update your passbok. Then you can find the latest balance in your account.
To find the nearest branch in your area, you can send the SMS in the below format to 9880654321
Eg: KBRN Malle or KBRN 560003 will provide you with the Malleshwaram, Bangalore branch address and phone number.
Karnataka Bank Minimum Balance
Monthly average balance required in the Karnataka Bank Savings account is:
With a Cheque Book: ₹2000 (M/U), ₹1000 (SU/R/FI).
*M-Metro *U-Urban *SU-Semi Urban *R-Rural *FI-Financial Inclusion
Related Post
Please Share If you've forgotten your SBI YONO login password, don't worry! You can easily reset it using the following steps Ho...
Please Share The State Bank of India (SBI) is one of the largest banks in India, with over 24,000 branches and ATMs across the country. If y...
Please ShareLast updated on November 17th, 2023 at 05:14 am In an age of digital transactions, safeguarding your financial assets is paramou...