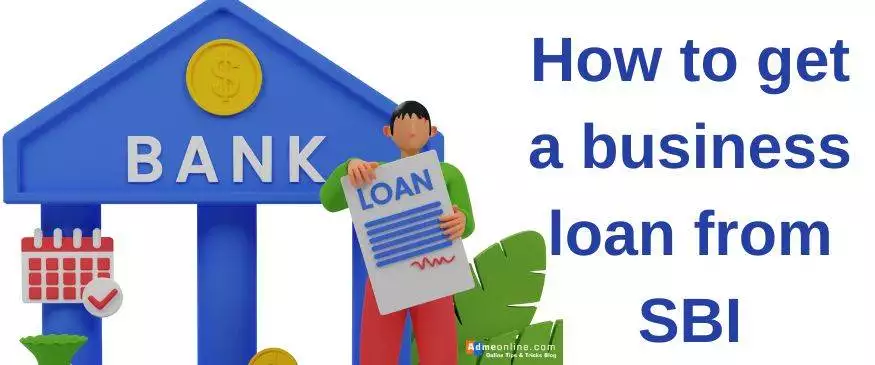 SBI Simplified Small Business Loan – Features & Eligibility
in Banking, Blog, SBI Tutorials
Tagsbusiness loan 5 lakh, how to take personal loan from yono sbi, s b i business loan, sbi bank business loan documents required, sbi business loan eligibility, sbi business loan for women's eligibility, sbi business loan online apply, sbi business loan rate of interest, sbi business loan without collateral, sbi commercial property loan
Last updated on September 5th, 2022 at 01:00 pm
In this post find more details about SBI Business loan, Rate of interest, Eligibility criteria, Documents required for the loan application etc
The simple loan of SBI is classified as Small Business Loan. The banking sector would be incomplete in India if there were no SBI. SBI is one of the largest banks in India and has an average customer base and branch size.
The State Bank of India provides loans to large corporations as well as small-scale and medium-sized businesses engaged in manufacturing, services, and wholesale/retail trade.
The loans can be used to purchase the existing assets of the businesses or the fixed assets that are required for the businesses to expand.
SBI Business loan is offered in the context of current accounts. This loan ranges between 10,00,000 Rs to 2500,000. The repayment duration may last 5 to 10 years.
In addition to this, SBI provides large loans via government programs such as the Mudra Loan, the PMEGP, and the Stand-up-India program.
The range for the medium corporate loans offered by SBI is from 50 crores to 500 crores. And a maximum term of 15 years.
These products and services from the Bank can reportedly be considered the most preferred option because it is highly economical and can easily be customized to meet Indian customers.
The financial institution makes available to its clients a diverse selection of commercial loans, both secured and unsecured business financing, with interest rates beginning at 11.20 percent per annum and a repayment period of 15 years.
SBI Business Loan Features
Low-interest rates: You can get a small business loan from SBI at low-interest rates. The interest rate on an SBI business loan is based on the funds' marginal cost-based lending rate (MCLR).
Low EMI: Loan for businesses from the SBI Bank NoEMI per lakh starts from ₹ 2,594.
Easy Application Process: The application procedure for applying for an SBI Business Loan is simple and fast. You can complete the whole process without any hassle in less time.
Flexible Repayment Term: Repayment tenure of a loan can be anywhere between 12 and 48 years. State Bank of India offers its lenders a flexible loan repayment period of one year for working capital and up to 15 years for cash loans.
Diversified Loans: SBI offers a wide range of business loans to cater to a wide range of customer needs. SBI Bank Business Loan amount varies from Rs. 10,000 to Rs. 500 crore as per business profile and requirements.
Business Loans for Women: Women can enjoy the benefits of an SBI Business Loan specially curated. Businesses or businesses owned by women entrepreneurs with more than 50% stake in their company can avail of a special grant from the State Bank of India under the 'Stree Shakti Package'.
Eligibility: Loans are offered to both self-employed professionals and non-professionals. The SBI business loan is available to borrowers who are between the ages of 21 and 65 years old.
Processing Fee charged: This processing fee is amongst the lowest fees in the industry. Processing fees have to be paid upfront.
No Hidden Cost:
You can make use of the SBI small business loan to expand or modernize your company, buy assets, set up new units, and do other similar endeavors.
Women entrepreneurs will get a
SBI Business Loan Eligibility Criteria
Any Indian citizen who owns a business has residual income, and the ability to repay the loan is eligible to apply for the SBI Business Loan.
In order to be eligible for a business loan from the SBI, you will need to satisfy the eligibility criteria that are listed below:
Business Purpose: The Small and Medium-Sized Enterprise (SME) Business Loan Program is open to applications from companies that meet the criteria for the SME category.
Typically, these companies are involved in either the retail trade, the manufacturing industry, or the employment of independent contractors.
Business Experience: Applicants for an SBI Bank Business Loan must demonstrate that they have been actively engaged in the same line of
Age of the Business loan applicant: When applying for the loan,
Annual Income & Turnover: The company ought to have an annual income tax return (ITR) of no less than one and a half lakhs of rupees.
Average monthly balance: The minimum average monthly balance in the account should be
more than Rs.1 lakh throughout the past 12 months.
Good Credit Information Report: The score on the Credit Information Bureau of India (CIBIL) is an important eligibility criteria. A strong credit history (Credit Score) is required of all applicants.
When a borrower applies for a loan at a bank, the bank is required to conduct a credit check (Credit Information) to ensure that the borrower has not defaulted on any of their previous loans to any other financial institution.
Bank will use the report from the Credit Information Bureau for this purpose. SBI will check your repayment history for all current and previous loans and credit cards.
Loan Amount: The amount of the loan that you can receive from SBI can range anywhere from 5 Lakh to 100 Cr based on your eligibility for the loan.
Apply for a loan amount that you can easily afford to pay back so that you can increase the likelihood that it will be approved.
ITR and Banking: The State Bank of India will not give you a loan until they have reviewed both your income tax return and your bank financial statements.
Factors affecting SBI Business Loan Rates
When calculating the interest on the SBI, it takes into account a wide variety of parameters.
Loan amount: The interest rate on a business loan from SBI varies with the amount of the loan that is requested.
The greater the amount of the loan, the lower the interest rate will be.
The bank will lend money starting at ₹ 5 Lakh to up to ₹ 100 Cr.
It is possible for the interest rate to be lowered for larger loan amounts, which would result in lower EMIs.
CIBIL Score: If your CIBIL score is low, the SBI, which is a business lender, will charge you a high-interest rate for the loan.
The higher your CIBIL Score, the better your chances will be of obtaining a loan at the most favorable terms possible.
Revenue: If your monthly revenue is higher, SBI may be willing to provide you with a business loan at a lower interest rate.
Duration in Business: It is an important factor affecting the business loan interest. If you have a significant amount of business experience, SBI will offer you loans at rates that are lower.
Documents Required for SBI Business Loan
In order to submit an application for a business loan from SBI, you are required to submit the following documents:
Address Proof: Aadhaar Card, Voter's ID Card, Bank Statement, Registry Copy, Rental Agreement (valid tenant agreement), and Utility Bills are all Acceptable Forms of Proof of Individuality.
Identity proof : Documents such as a passport, driver's licence, PAN card, Aadhaar card, and voter ID card are required.
Proof of business existence: It includes a Permanent Account Number (PAN), a copy of the partnership deed, a trade licence, a certificate of practise, and a registration certificate issued by the Reserve Bank of India or the Securities and Exchange Board of India (SEBI).
IT Return Proof & Bank Statement:
Copy for the past 24 months of income tax filings and
Bank statement for the most recent half-year is also required.
SBI Business Loan Interest Rates India
A business loan from SBI offers surprisingly good interest rates and offer excellent customer support.
SBI Business loans are available at 11.20% interest rate and may vary according to the credit score.
The eligibility for the sbi bank business loan depends on several factors.
Borrowers may avail SBI business loans customized according to eligibility and include SBI business loans for entrepreneurs without collateral. Business loan holders are also able online to obtain SBI loans. Look for the most attractive offers available online.
How to Apply SBI Business Loan Through Online.
You are able to submit an application for this loan electronically by going to the official website of the State Bank of India (SBI) and selecting the Business option from the drop-down menu there.
Their representative will get in touch with you about the business loan, and they will help you with the paperwork and any other procedures.
You can apply for a loan by contacting customer service:
You can contact the toll-free number of SBI Customer Service to request a callback regarding the loan procedure.
You can visit your nearest branch and apply for SBI Business Loan offline.
BI has an excellent range of business loans available to companies from manufacturers to trader and service sectors. The type of loan varies depending upon organization needs such as work capital needs, project financing needs, expansion of business or product lines and so much more.
Financial working capital The bank provides working capital funds to meet business operations' working capital needs.
SBI Business Loan Calculator
SBI business loan calculators, EMI calculators or SBI SME lending calculators are tools that help people determine EMI payable monthly to customers.
This is the sum the borrower paid for a repayment period. Easily calculatable. The users simply need to fill out a mortgage amount, a tenure amount, and a loan rate in the calculator. The calculator shows EMI amounts and total repayments.
SBI Offers Rs 5 lakh Collateral-Free Loan at Low Interest.
SBI Kavach Personal Loan:
Loans under the Kawach Personal Loan are unsecured. Borrowers are not required to pledge any assets as security when applying for loans under the SBI Kawach Personal Loan Plan.
In addition to the low-interest rate and flexible maturity, the borrower also receives a three-month loan moratorium.
"This unique product is offered under the collateralize personal loan category, which comes at the lowest interest rates under this segment," the bank said.
Customers can apply for this loan to cover their past medical expenses. "Reimbursement of expenses already incurred for Kovid-19 related medical expenses will also be provided under the scheme."
Eligibility to Apply for SBI Kavach Personal Loan Scheme.
Borrowers can apply for loans through SBI Online Banking Portal.
"Through this strategic loan scheme, our goal is to provide access to financial assistance – especially to those affected by the unfortunate Kovid in this difficult situation," Khara added."At SBI, we are constantly striving to create financial solutions that suit the needs of our customers."
SBI Business Loan for Women's (Stree Shakti Scheme)
Eligibility :
A business loan is focused on promoting entrepreneurship among women. The Ministry of MSMEs of India defines a woman entrepreneurial business as "a small business unit / industry-related service or business venture controlled by one or more women entrepreneurs, either individually or jointly with a minimum share capital.
Women-owned business : Accordingly, the eligibility criteria for obtaining this business loan is that the enterprise must have more than 50% female shareholding.
EDP ​​Partnership  :  In addition, women entrepreneurs are required to follow the Entrepreneurship Development Program (EDP) organized by the State Agency to avail loans under this scheme.
Applicable :  Loans will be extended to small business units engaged in retail trade, manufacturing activities and services. Self-employed professional women such as doctors, architects and CAs are also eligible for business loans.
The Stree Shakti loan scheme has empowered women financially, especially in rural areas. Some of the popular small business segments that this scheme application finds are:
Manufacture of dairy products, ready made garments, marketing of agricultural products such as seeds,
Manufacture of unbranded local soaps and detergents, Cottage industries such as the manufacture of spices and incense.
SBI Business Loan for Women – (Stree Shakti Scheme)
The interest rate depends on your business profile.
Loan amount up to Rs. 20 lakh
Share capital owned by women 50%
Collateral Not required for loans up to Rs. 5 lakh
Margin Lowered by 0.5% for separate categories
State Bank of India offers pre-approved instant personal loans at a rate of 12.80% p.a to selected customers.
Loan up to Rs 8 lakh with just 4 clicks through Yono app.
SBI Yono App is an end-to-end digitized product available 24 * 7 without a personal loan, documentation, an application fee or branch visit.
How to apply for the SBI Personal Loan through YONO App?
Below are the steps to apply for SBI Personal Loan through Yono App:
Log in to the YONO app
Look at the pre-approved personal loan offer available in your account
Select the loan amount and maturity
Submit the application by giving the OTP received at the registered mobile number
The loan amount will be instantly credited to your account
SBI Yono Personal Loan:
The interest rate is 12.80% p.a. (For non-CSP customers) Loan amount up to Rs. 8 lakhs.
Process for the loan approval
Checks of one's credit limit are part of the needs assessment performed by the bank. There is no necessity for this to be included in the financial statement of the company. On an annual basis, the cash balance should typically fall somewhere between Rs. 10 lakh and Rs. 25 lakh on average each month.
ie; Business should have an average monthly balance of around 1 lakh.

Also Read SBI Related Posts
Related Post
How to Link Aadhaar With PAN Card Online | Pan Aadhar link Status In this post, learn How to Link your Pan Card with your Aadhar Card online...
In this post, you will learn how to scan the Google Pay QR Code from your Mobile Phone Gallery. These days, the majority of us are familiar ...
Last updated on October 28th, 2022 at 09:24 amThis post will discuss the Indusind bank balance check number and IndusInd bank balance check ...