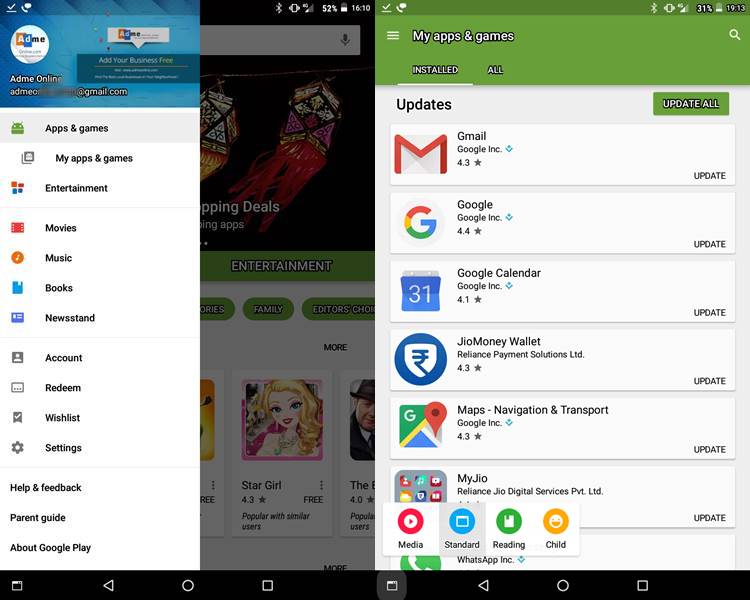 How to stop auto update of Google Play Store Apps
When you connect your Android Mobile to Wi-Fi, you might have noted that Google Play store start updating all the Apps one by one. When the apps auto update runs, you cannot use your Mobile to make a call. You have to wait until the Google Play auto update is completed. This is really problematic when you have low disk space in your Mobile and if you have limited data plan.
HOW TO STOP APPS UPDATING AUTOMATICALLY IN GOOGLE PLAY
We will show you how to stop Google Play Store Apps auto updating. But once the auto updating option is disabled, you have to update each app manually when you want the latest version of that app. Google Play will auto update all apps to improve its performance, when the Auto-Update option is selected in the Google Play Store Settings.
Follow below steps to disable auto updating in Google Play.
Step 1 : Open Google Play Store App in your Mobile and click on the Menu (3 straight lines) on Top left. See marked area in the below screenshot.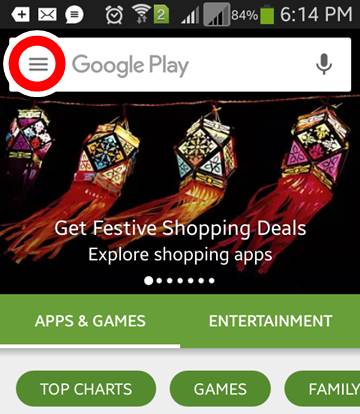 Step 2 : Click on the 'Settings' menu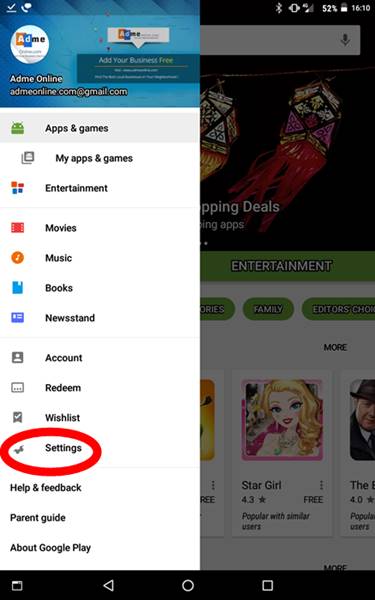 Step 3 : Click on the 'Auto -update apps'. A small popup will open now. You can see 3 options there.'Do not auto-update apps', 'Auto-update apps at any time. Data charges may apply' and 'Auto-update apps over Wi-Fi only'.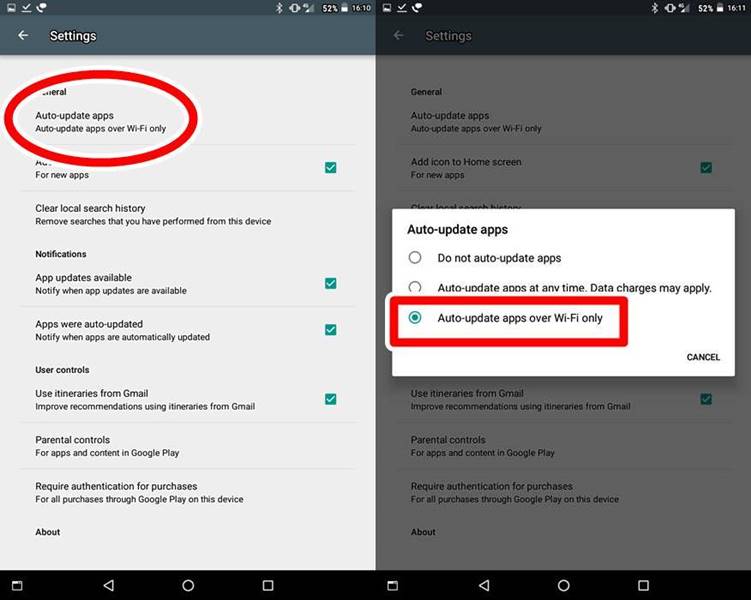 Step 4 : If 'Auto-Update apps over Wi-Fi only' is selected, then select the 1st option 'Do not auto-update apps' and click on 'Ok' button to save it. Your apps will not auto update again and you need to manually update it.
HOW TO MANUALLY UPDATE APPS IN GOOGLE PLAY STORE
To Manually Update the Apps, follow below steps.
Open Google Play store and Click on 'My Apps & games'. Now you can see the list of all installed apps in your Mobile/Tab.
If an update is available for any of the Installed App, you can see 'UPDATE' button against that app in the My Apps list in the Play store, as seen in the below screenshot.
Click 'UPDATE ALL' button if you want to update all installed apps. Other wise click the 'UPDATE' button against the App you want to install the updates.This is very useful if your Mobile has low disk space.
By using this method, you can manually select and update only the most important apps and save disk space and Data.
If you know any other tips to disable the auto-updating of apps in Google play store, share your tips in the comment below.
If you like the post, please share it with your friends and follow us on Social Media.
Subscribe To Our Youtube Channel and Get More Great Tips :
Share this useful information with your Friends and for more updates, Follow us on Social Media.
Save
Save
Save
Related Post
Home Tester Club is The World's Biggest Grocery-Product Testing, Reviewing & Sharing Community, where you can signup and get FREE ...
You can open a Post Office Savings Account easily and operate it like regular Banking Account. Department of Post now offers different banki...
You can apply for the new SBI ATM Debit card Online without visiting the Branch, if you have an OnlineSBI Account. You can use your SBI Prof...