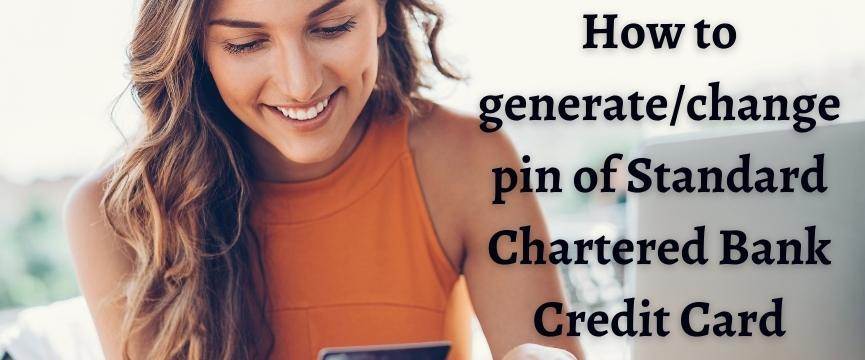 How to generate your Standard Chartered Credit card Pin
How to get a personal identification number for your standard chartered credit card
This guide will walk you through the many options available to generate the Credit Card PIN for Standard Chartered Bank. You can use these options for the SCB Credit Card PIN change also.
SCB Credit Card pin and Activation
If you have applied for a credit card with Standard Chartered Bank, the bank will send the card to you quickly, and it will be delivered to the address that you have provided.
The new credit card will be in the activated state after it has been issued. Because the card is already active when you receive it, there is no need to go through a second activation process in order to use a credit card issued by Standard Chartered Bank.
However, in order to protect their customers' personal information, Standard Chartered Bank will not include the Credit Card PIN in the mailing of the credit card.
The moment you get a credit card from Standard Chartered Bank, the first thing you have to do is select a personal identification number (PIN) so that you can use the card at retail terminals and on internet websites.
Standard Chartered Bank offers various types of credit cards that give you numerous advantages in your shopping trips, restaurants, and payments in stores. These credit cards provide users with a varied choice of solutions. Titan credit cards are just a few choices available to people who want to buy them.
Your new Standard Chartered account credit card requires a 4-digit pin code for transactions in online and offline banking. Also, you make sure that the PIN should remember to access your account.
Given below some guidelines that help you secure your Standard Chartered Credit Card pin.
Standard Chartered Bank Credit Card PIN—Generate/Change CC PIN
Once you have a SCB credit card, you must provide a PIN. Use this card at any retailer or online site. Standard Chartered Bank typically delivers credit cards by mail. The card is activated immediately after it is received, so it is not required to complete a separate process. However, the credit card pinning number needs to be manually entered when using an ATM or merchant teller machine.
Different ways to generate Standard Chartered Bank Credit Card PIN
You can simply generate your Standard Chartered Credit Card PIN in two methods:
Pin generation through Internet Banking
Generate Credit Card pin Via Customer Care
Standard Chartered Bank Credit Card PIN generation using SCB Internet Banking
To use the Internet Banking option for the Credit Card Pin generation, you need a valid SCB bank account with an active net banking account. Also, your Mobile number must be registered with the bank.
It is required that you have a credit card that is still active. For the OTP to be sent to your mobile phone, there must first be an active SMS pack.
Follow the below steps to generate a new Credit Card PIN for your Standard Chartered Bank credit card through Internet Banking.
Log in to your internet banking account with the SCB internet banking account User name and password.
Then go to the 'help and services' option
Then choose the 'Card Management' menu
Select the Credit or Debit card PIN change option from the 'Card Management' menu
Enter the new PIN number of your choice for the Credit Card.
You will receive an OTP (One Time Password) on your registered mobile number
Now, enter OTP received on your Mobile Number.
Your new Credit Card PIN number will be successfully generated or changed.
Standard Chartered Credit Card Pin generation through Customer Care
Calling one of Standard Chartered Bank's customer care services is another option for credit cardholders who do not have access to the bank's online banking platform and who wish to generate a PIN for their credit card.
You can change the PIN (personal identification number) on your credit card by calling the number on the back of your card between the hours of 7 a.m. and 11 p.m., any day of the week.
Contact the customer care department of the bank and generate your Standard Chartered PIN Can be done. You can contact the bank executive from 7 am to 11 pm to solve your doubts. Standard Chartered Bank Helpline Mobile Number:
Find below the helpline number to generate the Pin.
6601 4444/3940 4444 (Available between 7:00 a.m. – 11:00 p.m.)
66011500/39401500/1800 425 1000/1800 345 5000 (Available 24×7)
66012424/39402424/6601242/3940242/1800 525 8390 (Available 24×7)
Note: You must call the above helpline number from your registered mobile number.
Above information about Standard Chartered Credit Cards and its different types of Credit Card PIN number generation.
About SCB Debit Card and Debit PIN generation:
Standard Chartered Debit Card offers great convenience in payments. Helps to reduce the amount of cash you need to carry. After accessing your own funds to make payments, purchases and withdrawals, you can spend only what you have. So you always stay in control of your finances.
Charges charged each time a debit card is used ?
All SCB ATMs have free access. You are eligible to withdraw cash from any Visa network ATM in India free of charge. Charges will be levied for more than 5 non-SCB ATM transactions in a month unless an average monthly balance of Rs.25,000 is maintained.
Outlets accepting Standard Chartered Debit Card
The Standard Chartered Debit Card is accepted at all merchants and ATMs in India and abroad that accept Visa Electron. Get instant cash through the Visa network at over 20,000 ATMs across India and over 10,00,000 ATMs worldwide. Lets you shop at over 3,26,000 outlets in India and over 14 million outlets worldwide.
SCB Debit Card PIN—Generate
You can easily generate the Debit Card PIN number through Online. Follow the below steps for debit card PIN change.
Step 1: Log in to your Online Banking or SC Mobile
Step 2: Select the "Help and Services" option
Step 3: Go to "Card Management" option.
Step 4 : Then to select "Debit/ATM Card PIN Change"
Step 5 : Now you can generate a debit card PIN by following the on-screen instructions
Please note: In case of renewed card, PIN number will not change. However, if a card is replaced, you can generate a new PIN number by following the steps above.
FAQs on Standard Chartered Bank Credit Card/Debit Card Pin Generation :
How often Standard Chartered Bank Credit Card Pin can be changed?
There is no bank limit for changing your Standard Chartered Credit Card PIN. However, it is recommended not to do this daily.
How often can I change my debit card PIN number?
The PIN should be changed every three to six months. Bankers and cyber experts suggest changing ATM PINs every three to six months. Many banks have already asked their customers to change their card security details and stick to their own ATM networks.
Can I generate Standard Chartered Bank Credit Card PIN using an ATM machine?
No, you cannot generate CC PIN number through ATM machine, however you can change your PIN using an ATM
What to do if debit card is lost?
Call the phone banking staff and immediately report about loss of the card . Also send a letter to the bank on the address / fax number.
Related Post
How to Link Aadhaar With PAN Card Online | Pan Aadhar link Status In this post, learn How to Link your Pan Card with your Aadhar Card online...
In this post, you will learn how to scan the Google Pay QR Code from your Mobile Phone Gallery. These days, the majority of us are familiar ...
Last updated on October 28th, 2022 at 09:24 amThis post will discuss the Indusind bank balance check number and IndusInd bank balance check ...