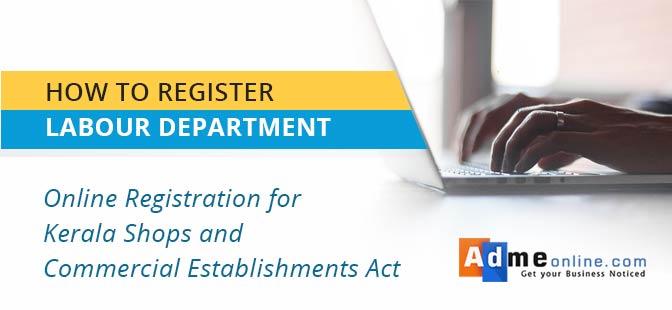 Online Registration For Kerala Shops and Commercial Establishments Act
Kerala Shops and Commercial Establishment Act
In Kerala, All Shops &  Commercial Establishments have to be registered under Kerala Shops and Commercial Establishments Act irrespective of the number of workers.
ie; All Shops &  Commercial Establishments have to be registered under this Act even it has number of workers is Nil (Only Owner). The employer of every shops and commercial establishments shall apply for registration in Form B-I with prescribed fee to the competent authority (Assistant labor officer-Grade III) within sixty days from the date on which the establishment commences its work.
Every employer shall renew the registration every year at least 30 days before the expiry of the registration for the previous year.
Procedure for registration of Establishments under Kerala Shops and Commercial Establishments Act
Application in form B1 for Labour Registration
Original Copy of the Chalan receipt having remitted the prescribed fee at the nearest treasury of the office of the Asst. Labour Officer
Submit the form B1 and original chalan receipt at the office of the Asst. Labour Officer having jurisdiction over the area with in 60 days from the date of commencement of the establishment
| | |
| --- | --- |
| No. of Employees   |     Fee |
| Nil   | Rs.10 |
| Up to 5   |  Rs.50 |
| Above 5 & up to 10 | Rs.50 |
| Above 10 and up to 20 | Rs.200 |
| Above 20 and up to 30 | Rs.300 |
| Above 30 and up to 50 | Rs.500 |
| Above 50 and up to 100 | Rs.1000 |
| Above 100 | Rs.2000 |
Kerala Shops and Establishment Online Registration
Now the Department of Labour Commissionerate offer various online services through its portal. You can now Register, Renew, Download Application & License etc through this portal.
Let's check the steps involved in Registering the Labour Department (Shop Registration in Kerala) through this portal under Kerala Shops and Commercial Establishments Act.
Step 1 : Visit : http://lc.kerala.gov.in
Step 2 : Click 'Online Registration'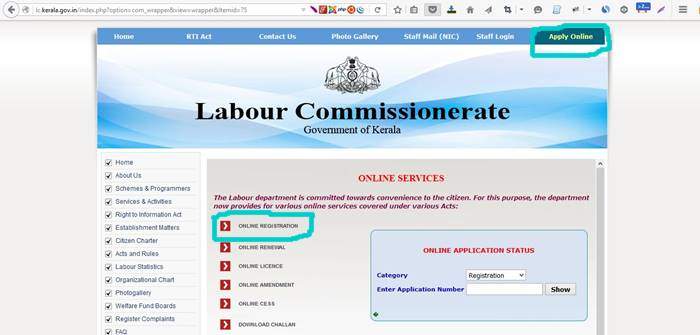 Step 3 : Read Online Registration Instructions  and Click the box near the text 'I have read the instructions' and then click 'Proceed'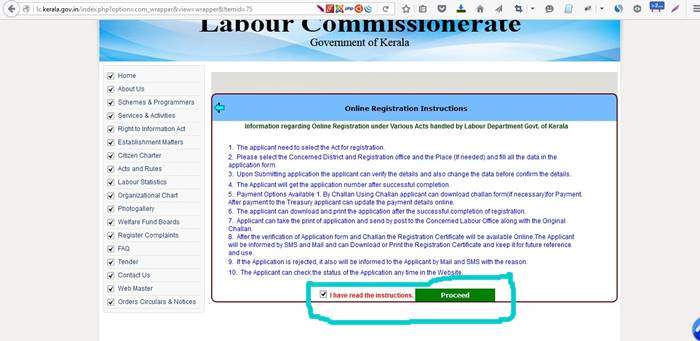 Step 4 : Select the Act of Registration (Click 'Kerala Shops and Commercial Establishments Act 1960')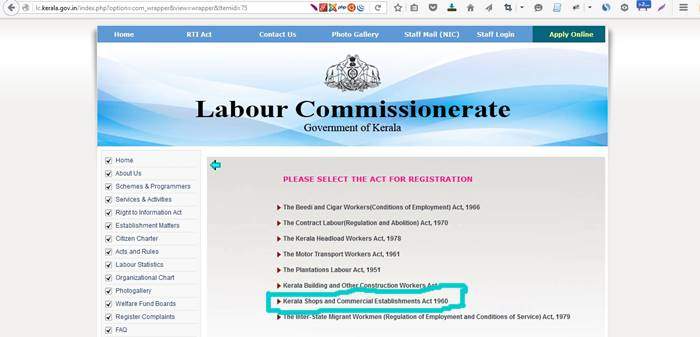 Step 5 : Select the 'District Name' & 'Registration Office' then fill the details. Fields marked with * are Mandatory.
Name of the Employer and the Manager, if any
Name & Postal address of the establishment
Name of Employement & Type of Business
No of Male & Female Workers
Business Owner Mobile No
Step 6 : Click 'Download Employees Details Format' and save the Excel sheet in your computer.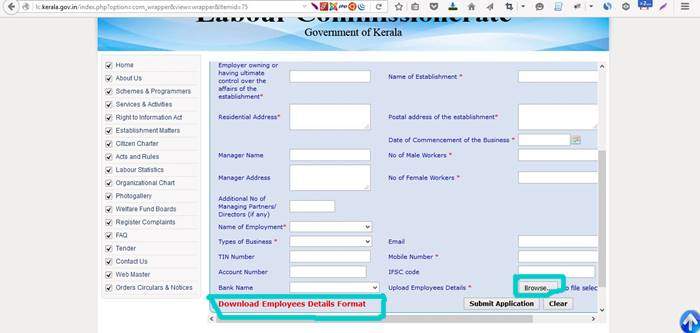 Open the Excel Sheet & fill it with Employee Name & Address, Designation, Age, Year of Joining etc and 'Save' it.
Step 7 : Click Upload Employees Details 'Browse' button and select the 'Employees Details Excel sheet' we saved in the step 6
Step 8 : Verify all the details & Click 'Submit Application'
Step 9 : Once the application is submitted successfully, You will get the 'Application No' & 'Temporary Register No'. Note down it. We need it to download the 'Application' & 'Challan'.
Step 10 : Go to 'Online Services' Portal home again. Click Here to Go to the Home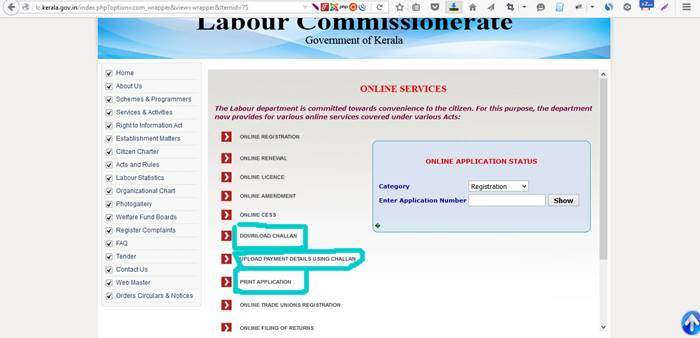 Step 11 : Click 'Print Application' and Enter the 'Temporary Register No' and then click 'Show' . There you can download the Application.
Step 12 : To Download the Challan, Repeat the Step No 10 & Click 'DOWNLOAD CHALLAN'. You can enter your temporary Register No to download it.
Step 13 : After Payment in the Treasury (Challan), You can update the Payment status in the same portal
Repeat the Step No 10 & click 'UPLOAD PAYMENT DETAILS USING CHALLAN' . Enter your temporary Register No. Now you will get an option to upload the 'Challan'. Click 'Browse' button & select the 'Challan' and Save.
You can check the status of your registration at any time by entering your 'Application No' and clicking the 'Show' button.
Kerala Labour Registration Renewal
Next year you can renew the registration in the same portal by clicking 'ONLINE RENEWAL' and entering your Registration Number. You can update your Establishment and Employee Details and Submit it.
If you like this Tutorial Post, Please share it with your Friends / Relatives
Save
Save
Save
Save
Save
Save
Save
Save
Related Post
Learn How to Register or Update Email id in SBI Savings Account Online. If you have registered your Email address with the SBI account, you ...
Learn How to register Mobile Number in SBI for balance Enquiry. Now you can easily check your SBI Bank account balance through a missed call...
Learn How to add Multiple Gmail Account in Android Phone. If you have more than one Gmail Account, you can easily add another Gmail Account ...