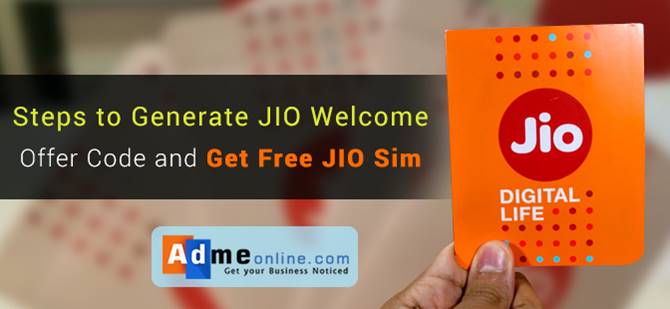 Steps to generate JIO Welcome Offer Code and get Free JIO Sim
Last updated on October 13th, 2016 at 01:33 am
Reliance JIO 4 G Internet is launched in India and with its amazing 3 months Free Data and Call offer, it is grabbing the attention of everyone in India. JIO SIM is available for all 4G enabled smartphones under JIO welcome offer. You will get unlimited internet, voice and SMS on your JIO connection till December 2016. In this post you can see the Steps to generate JIO Welcome Offer Code and get Free JIO Sim.[responsivevoice_button voice="Hindi Female" buttontext="Listen to This"]
JIO Welcome Offer Eligibility
JIO welcome offer is eligible for all 4G devices, iPhone, Lenovo,Samsung,Xiaomi,LG, Asus, Gionee, Lava, Micromax,Oppo, LYF, Motorola, Vivo, Huawei,HTC, Intex, Sony, Panasonic, Karbonn etc.
What are the Eligibility Conditions to get the JIO Welcome Offer…?
You need a 4G (LTE/VoLTE) Device Mobile or Tab
You device must be purchased from India. If your device is purchased from outside India, the coupon code cannot be generated from your device. Don'y worry, If you have another 4 G device, you can use that or use any of your friend's / relative's 4 G Mobile, to generate the coupon code.
To get your free SIM, you need to download MyJio App and generate code on your phone.
Steps to generate JIO Welcome Offer Coupon Code and Get FREE JIO SIM

Step 1 : Download MyJio app from Google Play store : https://play.google.com/store/apps/details?id=com.jio.myjio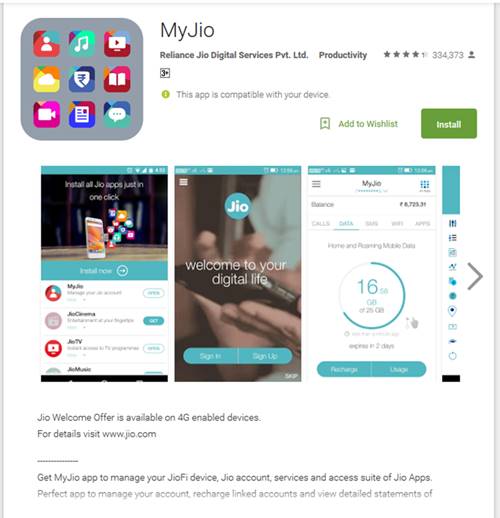 Step 2 : After installing the MyJio App, Open the App. Now you can see an option to enter your State and Location.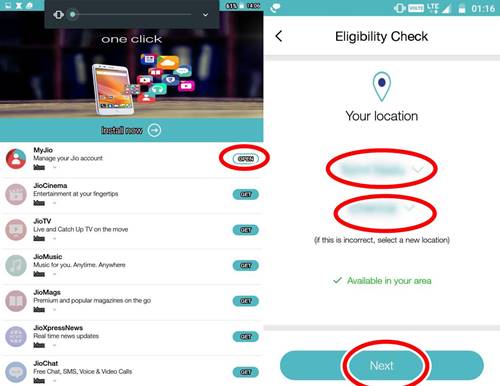 Step 3 : Then Click 'Next' button to open the Offer Code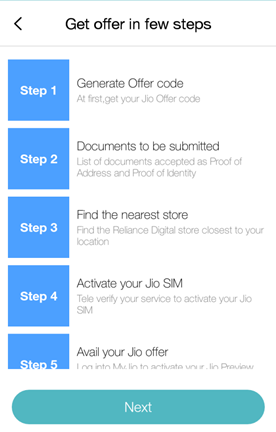 Step 4 : Now an Offer Code will be generated automatically. You can take a screenshot of the offer code. You have to show this offer code to the nearest Reliance centre to get the JIO sim with the Offer.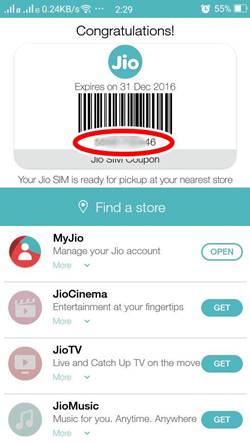 Step 6 : You can see the documents required to get the JIO Offer and Sim & in the next step. With an Aadhar you don't need any extra documentation and your sim will be activated within 3 to 4 hours.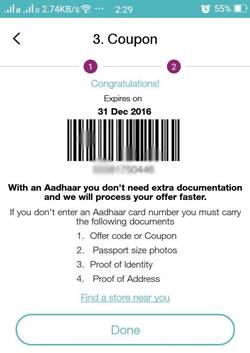 Step 7 : Click on the 'Done' button.Now you can go to any nearby Reliance Digital store and show them the JIO offer code image saved in your Gallery.
Tips :
Clik here to find nearest Reliance Digital store.

Please note that JIO sim will not lock your Mobile phone's sim slot.You can remove the JIO sim at any time and use other sim in the same alot.You need to put the JIO Sim in your device's primary 4G slot.But you cannot use your 2nd SIM (Eg : BSNL) data connection while using JIO sim in the other slot.

You can use the JIO sim in other 4G Mobile if required.ie; the JIO SIM with Welcome Offer works in other Mobile phones also. No need to use the SIM in the same Mobile or Device used for generating the Offer Code. This is useful if you cannot generate the offer code in your device.
You can enjoy 4 GB of FREE data OR Call per day till 31st December 2016.
If you have any Questions, Comment below.
If you like the post, please share it with your friends and follow us on Social Media.
Subscribe To Our Youtube Channel and Get More Great Tips :
Save
Save
Save
Save
Save
Save
Save
Save
Save
Save
Save
Save
Save
Save
Related Post
Bank details of SBI (IFSC Code, MICR Code) Find bank details of SBI using the SBI IFSC Code search option below. IFSC Code is required for t...
Last updated on September 24th, 2019 at 11:41 amGoogle pay for Business App just launched in India. Now any business in India can Sign up fo...
Last updated on September 8th, 2019 at 06:06 amFind Amazon Quiz answers Today . Get answers of all questions to Win the Prize –   Am...