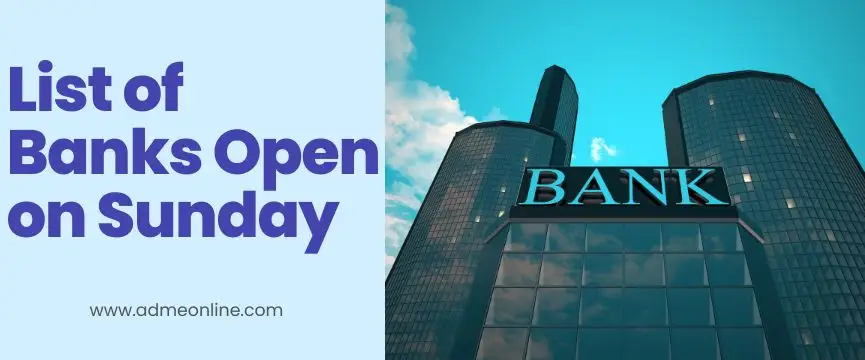 Which Banks are Open on Sunday in USA?
Last updated on August 9th, 2022 at 08:11 am
Find out which US banks and Credit Unions are open on Sunday by reading the information provided in this post. There are five working days each week for all banks, however recently, several banks and Credit Unions have also started opening on Saturdays and Sundays.
The hours of operation for banks on Saturdays in USA are from 10 am to 1 pm or 3 pm. On Saturdays, banking institutions will be open for a significantly fewer number of hours compared to their regular business days, and on Sundays, they will be closed.
Even though it is rare to come across financial institutions like banks and credit unions open on Sunday, you can still discover certain banks that are open on Sunday, so that you can take care of your banking business as normal.
The majority of bank branches that are located in retail stores and supermarkets remain open on Sundays.
It is most usual for banks that are open on Sunday to have branches located inside of places like grocery stores or retail sites, such as Walmart, ShopRite, Stop & Shop, or one of your area chains.
If you require banking services on a Sunday, you also have the option of going to the MoneyCenter at Walmart.
It's possible that you're confused as to why you should go to a bank or a Credit Union on a Sunday. The following are some instances in which going to a bank on a Sunday could prove to be beneficial.
Before going into a bank branch open on a Sunday, there are a few things that you need to be aware of first.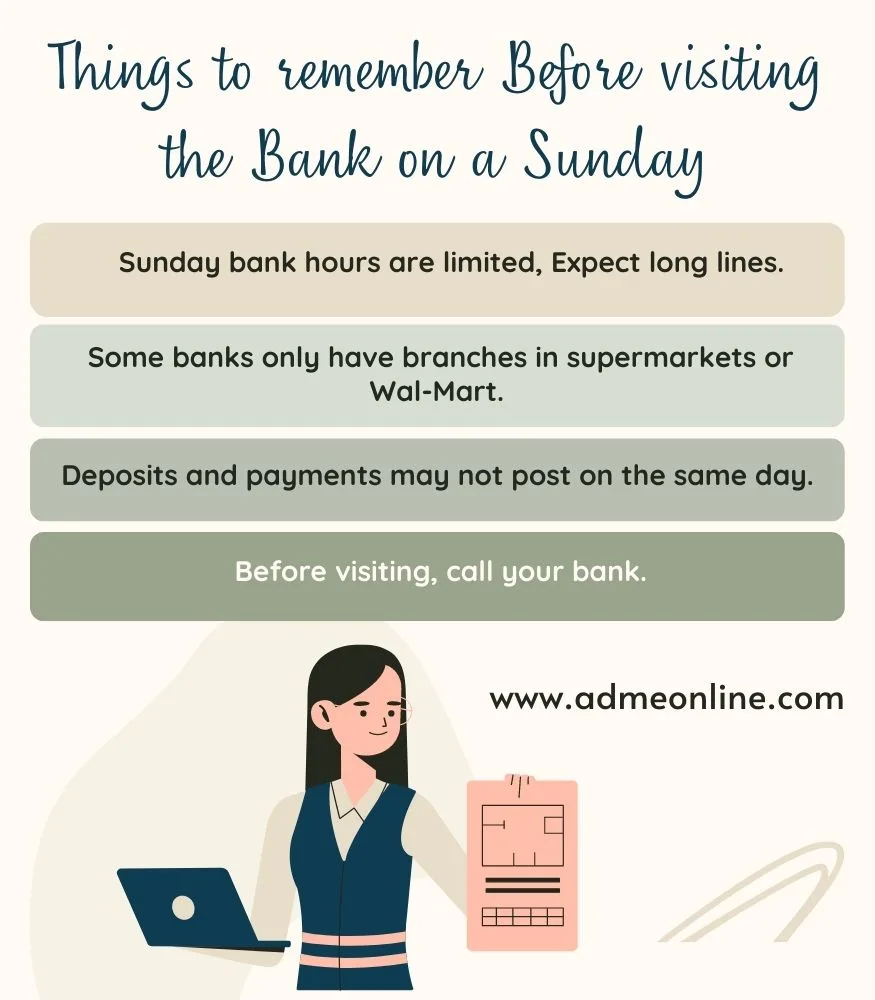 Sunday payments or deposits may not post to your account or bill the same day..
Some banks only have branches in supermarkets or Wall-Mart.
Call your bank first before going to any of the bank branches that are open on Sunday.
Many folks may be off work as it's the weekend. Expect long lines.
Only the drive-through or non-bank branches will be available.
Banks with Sunday Hours (USA)
At this point in time, all banks conduct banking transactions through electronic means. Despite this, the majority of financial institutions are closed on Sundays.
Even on Sundays, not a single financial institution remained open during its typical business hours over the weekend.
On the other hand, several financial institutions remain operational (Open) on Sunday, with hours ranging from approximately 10 a.m. to 1 p.m.
In addition, if you have a branch that is open on Sunday and the branch is situated in an area that has a high population density, you shouldn't be shocked to find that the branch is frequently congested on Sundays.
It's possible that Sundays are the only day of the week that many folks can make it to a branch.
The following is a list of the banking institutions that are open on Sundays, along with their operating hours:
What bank are open on Sunday (USA)
Bank Name
Bank of America
Chase
Dime Bank
Citizens Bank
Fifth Third Bank (Grocery Store Branches)
Huntington Bank
Academy Bank
Sterling National Bank
PNC Bank
Wells Fargo
Valley National Bank
TD Bank
Sterling National Bank
Academy Bank Midwest
East West Bank
Fifth Third Bank
IBC Bank
Huntington Bank
First Citizens Community Bank
First National Bank of Waterloo
First National Bank Texas
New York Community Bank
Republic Bank
Sunday Working Hours
10 a.m – 2 p.m or 3 p.m (Some locations)
9 a.m or 10 a.m – 2 p.m
10 a.m – 2 p.m
10 a.m – 3 p.m
11 a.m – 4 p.m
10 a.m – 3 p.m
11 a.m – 4 p.m
9 am -2 pm
9 a.m – 3 p.m
10 a.m – 3 p.m
10 a.m – 2 p.m
11 a.m – 3 p.m
9 a.m – 2 p.m
Walmart Locations 11 a.m – 4 p.m
10 a.m – 3 p.m
11 a.m – 4 p.m
noon – 4 p.m
10 a.m – 3 p.m
Noon – 4 p.m (Walmart)
11 a.m – 4 p.m (Walmart)
12 p.m – 4p.m
10 a.m. – 2 p.m
11 a.m – 4 p.m
Which Credit Unions are Open on Sunday
Sundays may have a varied schedule for working hours. So give them a call before you go.
Credit Unions Open on Sunday
Coastal Federal NC
KS (grocery store branches only)
St. Louis
MO (Walmart branches only)
USA Bank Transactions on Sunday: Things to keep in mind
It is important to keep in mind that some transactions, such as depositing checks, might not start getting processed on the weekend.
Because Sunday is not a typical day for businesses to be open for business.

It is recommended that you do not deposit a check over the weekend because the clearance process typically takes three business days.

Instead, the transaction might not start being processed until the following business day, most likely on Monday morning.
Banks in the United States do not treat Mondays as business days because so many government holidays fall on that day.
It should come as no surprise that this does not apply to all bank dealings.
This applies to any transaction that needs to be completed over the course of several days.
Additionally, the aid of a branch manager may be necessary for the completion of some services, such as the notary public services, medallion signature guarantee, and other similar services; however, the branch manager may not be available on Sundays.
Mobile Banking Availability on Sunday
The majority of banks in the United States offer Mobile Banking as a service to their customers.
Even on Sundays, clients can check the balance of their accounts, make rapid fund transfers, pay invoices, and do a variety of other banking tasks using their mobile banking apps.
Checks can also be deposited remotely using mobile banking apps, which just need the user to take a picture of the check.
Do national holidays also serve as bank holidays?
Yes, the majority of the United States adheres to the federal holiday calendar that is monitored by the Federal Reserve.
Some bank holidays, such as New Year's Day and Christmas Day, are based after more commonly observed holidays, while others are regulated by laws passed at the federal level.
The following is a list of bank holidays:

Christmas Day (December 25th)
New Year's Day: January 1st
Martin Luther King Jr. Day (Third Monday of January – Birthday of Martin Luther King Jr.)
Presidents Day (Third Monday of February)
Memorial Day (Last Monday of May)
Juneteenth
Independence Day (July 4th)
Labor Day (First Monday of September)
Columbus Day (Second Monday of October)
Veterans Day (November 11th)
Thanksgiving Day (Fourth Thursday of November)
On a very limited basis, some banks may choose to remain open during specific federal holidays, although with reduced hours of operation.
Is Good Friday and Easter a bank holiday in USA?
Good Friday and Easter Sunday are observed by a significant number of individuals all around the United States; nevertheless, the holidays are not officially recognized as the Federal Holidays.

It's possible that reading this will lead you to believe that your bank will be operating normally on Easter Sunday, But even if some of your bank's branches are open on Sundays, you should still check to see if the branch nearest you is open on Easter.
Do banks open on July 4th in USA?
Fourth of July, Independence Day is both a federal holiday and a bank holiday in the United States. As a result, federal government offices that are not considered essential will be closed, as will the majority of banks across the country.

In accordance with the holiday schedule that is followed by the Federal Reserve, the majority of banks will be closed on the 4th of July.
Why would you go to a bank on a Sunday?
Imagine that you have an important banking transaction that you need to complete on a Sunday, but the bank's online system or mobile app is down.
You dial the number listed for the customer service department of the bank.
On the other hand, they are not open on Sundays.
As a result, going to the bank and having a conversation with a teller is the most effective course of action for you to do.
You have to withdraw a lot of money.
Take for example that you wish to make a significant monetary transaction over the course of the weekend, such as purchasing a real estate property.
If you try to withdraw many thousand dollars from an ATM, you can run into some difficulties.
On the other hand, you should be able to withdraw the cash that you require from your bank on a Sunday if they are a good bank.
You are required to halt a payment.
It may possible that you'll get into a scenario in which you need to swiftly halt a payment.
If the event that you are unable to complete this transaction online, you will have to travel to the bank to order to complete it.
Related Post
How to Link Aadhaar With PAN Card Online | Pan Aadhar link Status In this post, learn How to Link your Pan Card with your Aadhar Card online...
In this post, you will learn how to scan the Google Pay QR Code from your Mobile Phone Gallery. These days, the majority of us are familiar ...
Last updated on October 28th, 2022 at 09:24 am This post will discuss the Indusind bank balance check number and IndusInd bank balance check...