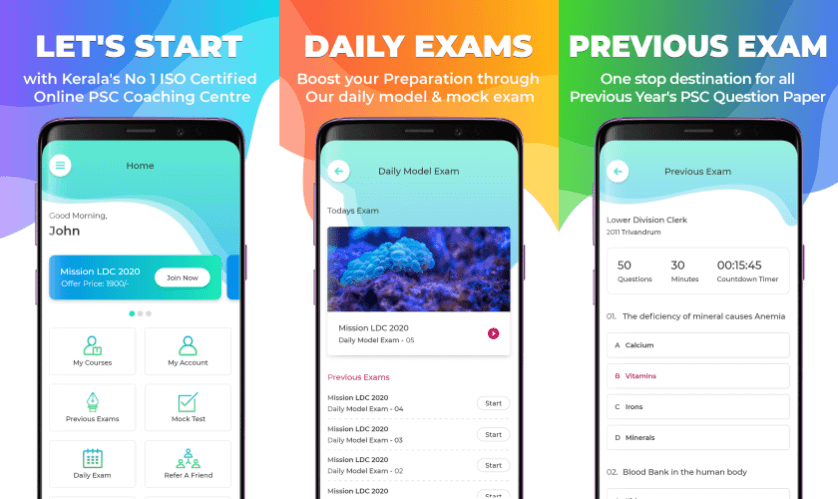 PSC Mock Test | PSC Question and Answer | Current affairs | PSC Exam Tips
Kerala PSC online application for lower division clerk
Kerala PSC has given a notification for the recruitment of Lower Division Clerk. Those Candidates who are interested in the vacancy details and completed all eligibility criteria can Apply Online using Kerala PSC Website.
Candidate must complete the PSC one time registration and then apply online to write the exam.
PSC will conduct the Lower Division Clerk (LDC) exams next year (2020).
Those who are working or Studying can use any PSC Exam Preparation Apps and study in your free time.
PSC Exam Tips – Kerala's Number 1 PSC Coaching Android App

PSC Exam Tips is the ultimate App for various competitive exams like Kerala PSC, SSC CGL, Railway RRB, NTPC, IBPS PO, IBPS Clerk, SBI PO, CTET etc.
PSC Exam Tips App is not just a learning app for competitive examination but also providing a Virtual Class Room to candidates and their aim is to give the candidates an edge over other candidate who faces the same test.
This App has been built on superior technology & instinctive user interface. It contains thousands of well researched questions for every kind of exams in both English and Malayalam.
PSC Exam Tips is the official App from OCTAGON BUSINESS SOLUTIONS, Developed by Webova Soft
This Free PSC Exam Tips Android app can be downloaded from Google Play Store.
Top Features of PSC Exam Tips:
More than Thirty (30) most outstanding teachers in the state are conducting the classes.
Yes, more than Thirty (30) outstanding teachers are leading the classes and out of them 22 are PSC experts.
Video, Audio & PDF Classes
It is one of the key features of PSC Exam Tips App. The students will get Video, Audio & PDF notes of the topic. It will help the student to study at any time, any place and even while doing anything. Through Audio, people who travel a lot have a great advantage of it as the time is utilized by studying or revising.
PSC Previous Year Questions and Answers

More than 10 years of previous exam questions with answers are available. Candidates can easily choose the Name of the Exam, Year of the Exam and practice as per their requirements.
A timer will start running and when the timer runs out; the Test will be automatically submitted and provide a details of the exam.
It is great for testing a candidate's ability to prioritize time when completing a task and gradually improving their speed.
They provide best study sources in the form of Mock tests for KPSC, SSC, IBPS, Bank Clerk & PO, RBI and Railway Exams.
Candidates can choose the category, sub category, language and also level of the exam (Below 10th Level, 10th level, degree level etc.)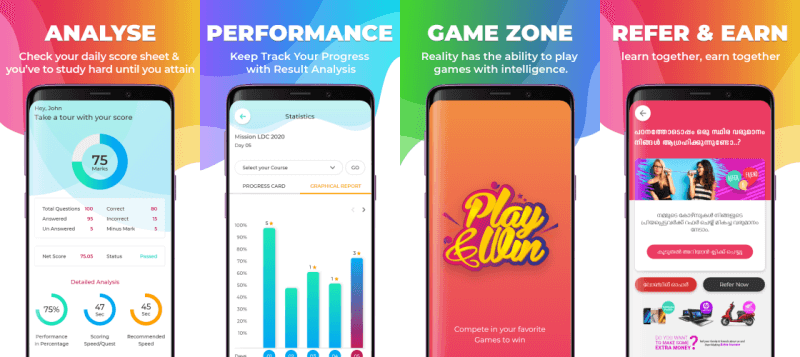 Daily Exams are conducted based on the topics given for studying. It will encourage students to reflect upon and study their coursework, thereby improving student retention of information.
It will build confidence and show you the real picture and tells you how much more you need to work.
Live question time feature helps the user to test their knowledge and can be raised their everyday score. It works in the form of quizzes which based on previous year repeated and important questions.
Live Quiz competition for a specific period of time and first few winners will get cash price, memento, Certificate of Appreciation.
Daily GK And Current Affairs
Keep yourself updated with articles and questions prepared by expert teachers specifically for government job exams.
As you may know that GK or Current Affairs is important for all types of competitive exams and it is one of the most useful feature of the app.
PSC EXAM TIPS App covers all subjects including Mathematics, English, Reasoning, GK, Current Affairs, Computers and many more.
EASY TO USE
PSC EXAM TIPS App is made keeping students in mind. You can bookmark questions for revision, track your score and improve in competitive exams.
24 HOURS CUSTOMER CARE SUPPORT
For assistance 24 Hours Customer Care Support is available. Here you will get technical support, if you are facing any issue with this App.
You can contact any of the below Numbers:
62359 66335 | 62359 77335 | 62359 88335 | 0477 29807 07 | 0477 27071 00
Email: info@pscexamtips.com
Which is the best app to study for Kerala PSC?
PSC Exam Tips is one of the best android apps for preparing for Kerala PSC exams. PSC Exam Tips is the ultimate App for various competitive exams like Kerala PSC, SSC CGL, Railway RRB, NTPC, IBPS PO, IBPS Clerk, SBI PO, CTET.
Related Post
Last updated on November 8th, 2019 at 12:46 pmWhatsApp Finger Print Lock feature released for android devices. To add an extra layer of secu...
Last updated on November 8th, 2019 at 01:47 pmSetting up SBCglobal email on android phone is very easy and you can set up with simple steps....
Last updated on November 8th, 2019 at 12:37 pmWhatsApp new feature (Storage Usage ) lets you Free up storage by deleting all type of stuff o...