KSEB online payment through SBI Debit Card,Net Banking, Credit Cards
TagsKSEB 13 Digit Consumer Number, KSEB Bill, KSEB Bill Payment, KSEB Bill Payment Online, KSEB Bill Payment through SBI Net Banking, KSEB Customer Care Number, KSEB Login, KSEB online bill payment, KSEB Online Payment, KSEB online payment through SBI, kseb online payment through sbi debit card, KSEB Quick Pay, pay KSEB bill online in Kerala
Last updated on July 19th, 2022 at 12:55 am
KSEB (

Kerala State Electricity

B

oard

) Online Payment through SBI Debit Card (Quick Pay) Step-by-Step Procedure
KSEB Online Payment is Quick and Easy. Learn How to pay KSEB (Kerala State Electricity Board) bills online using SBI, Federal Bank, HDFC etc Net Banking / Debit / Credit Card.
KSEB recently introduced 'KSEB Quick Pay' payment options, through which we can pay the KSEB Bill quickly with in 2 minutes, via KSEB Portal, if you know your Consumer Number and Bill Number. No more waiting in the KSEB office to pay the bills. 
With KSEB Quick Pay, you can easily pay the Bill even without knowing your Consumer Number, by using the Mobile Number.
Note: Your Mobile Number should be registered with KSEB to pay the bill without entering the consumer Number.
If you know your 13 Digit Consumer Number, then enter the Consumer number to pay the Bill.
Follow the below Steps for the electricity bill payment Online:
Click Quick Pay on KSEB Online Bill Payment Portal
Enter your 13 digit Consumer Number or KSEB Registered Mobile Number.
Click on 'Submit to see the Bill'
Select 'Consumer' to pay the Bill
Click on 'Proceed to Payment'
Select your Mode of Payment (By using State Bank Of India (SBI), ICICI Bank, South Indian Bank, Federal Bank etc direct Bank Internet Banking option, you can pay without any service charge.
Click on 'Pay Now' and complete the payment using the selected Payment Mode.
Kerala Electricity Bill Payment through SBI
Follow below steps to Pay KSEB bill payment online through SBI Net Banking.

Step 1: Visit bbps.onlinesbi.com
Step 2: Select Biller Category : Electricity from the options
Step 3: Select Biller as Kerala State Electricity Board Ltd (KSEB) from the options list
Step 4: Enter your Mobile Number registered with KSEB and optional Email address.
Note that, you can fetch the Electricity bill status through Bharat Bill Pay (BBPS) only if you have registered a Mobile Number with the Electricity Board.
If you have not registered your Mobile Number with KSEB, then use Quick Pay option in the KSEB Portal (See below the details)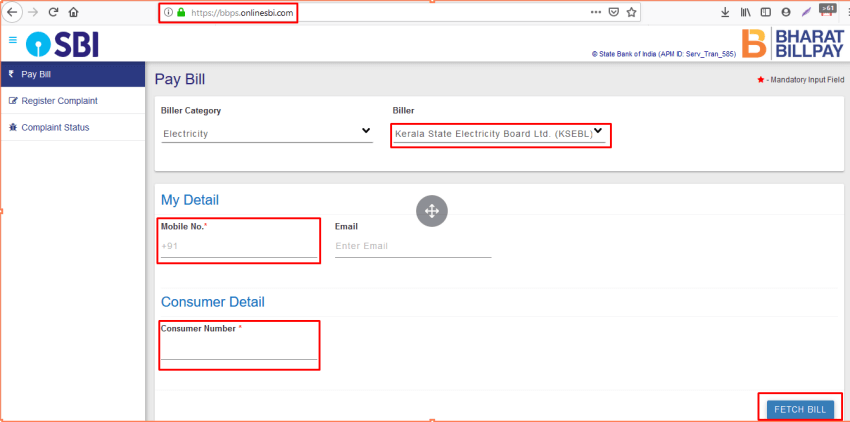 Step 5: Enter your 13 Digit Consumer Number. You can find your Consumer Number in the KSEB bill just below the barcode.
Eg: C#: 1146409012345
Step 6: Click on the 'Fetch Bill' button.
Step 7: Now you can see your KSEB Bill details, if the meter reading is recorded by the KSEB spot biller and the Bill is already generated.
Other wise you can see a message ' Payment received for the billing period for which no bill is due' – means bill is not yet generated for the current month.
Step 8: If you can see the Bill details in the next screen , when the Fetch Bill button is clicked, your KSEB bill is generated for the month.
You can proceed with the Payment.
Select 'Internet Banking' as the Payment Mode and then select 'Bill Amount' in the amount option selection box.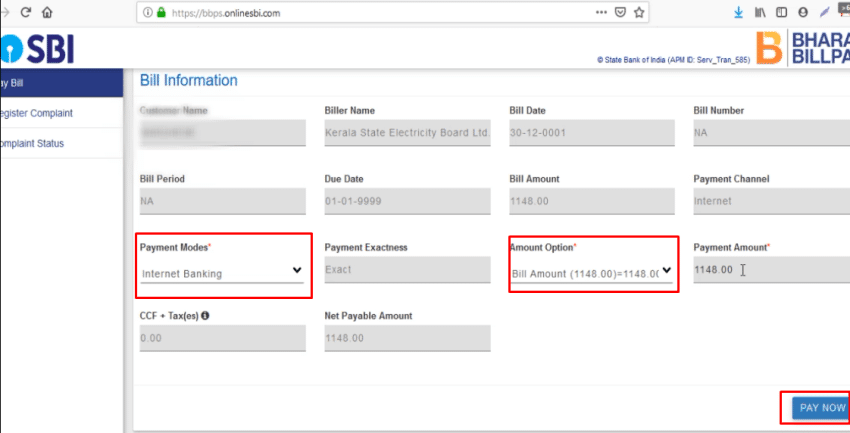 Step 9: Click on the 'Pay Now' button. Now you will be redirected to the SBI Net Banking (Internet banking) website onlinesbi.com login page.
Step 10: Login your SBI Internet banking account using your SBI User Name and Password and Complete the payment by entering the OTP.
Once the Payment is completed successfully, you will get a confirmation message in your Mobile Number and the receipt through Email (If you have given the Email address).
KSEB Online bill payment through SBI Internet Banking account is completed.
Please Subscribe Our YouTube Channel Click Here .

Watch How to Pay KSEB Bill Online (Video Tutorial):
KSEB Online Bill Payment through SBI Debit Card & Other Banks
KSEB Bill Payment Online
Step 1 : Visit KSEB Portal : http://kseb.in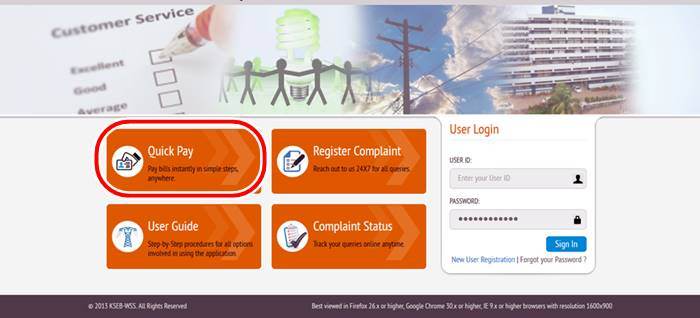 Step 2 : Click 'Quick Pay' and then Select your Electrical Section, enter your KSEB 13 digit Consumer Number and latest Bill Number. Click 'Submit to see the Bill'.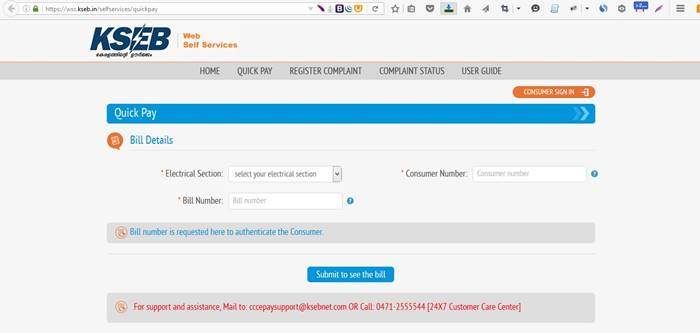 How to Find KSEB 13 Digit Consumer Number and Bill Number..?
You can find your 13 Digit Consumer Number and Bill no from the latest electricity bill received from KSEB. See the marked area in the below image.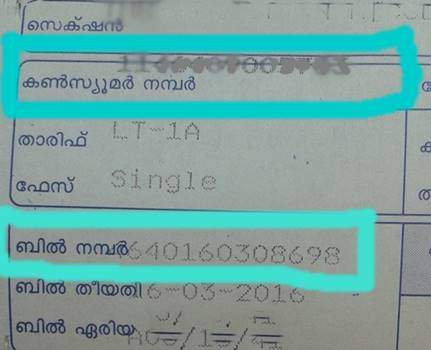 Step 3 : Now you can see your bill details like Customer Name, bill amount, due date etc You can also see your last transaction details.
Enter your Email Id and Mobile Number to continue with the payment. Email Id and Mobile No is mandatory. After the successful transaction, You will get the payment details as an email and SMS.
Click 'Proceed to Payment' button.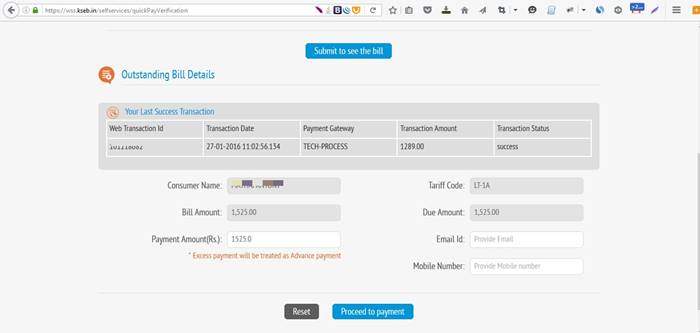 Step 4 : Select your payment method and click 'Pay Now'. You can easily pay Kerala Electricity Bill Payment (KSEB online Payment )through SBI, Federal Bank, HDFC Net Banking / Credit Card / Debit Card.

Note : If you have selected 'Net Banking' and your bank is not listed there, don't worry, you can still complete the payment by selecting 'For Other Banks – Tech Process'.
You can pay KSEB bill payment by selecting SBI Net Banking or Debit Card.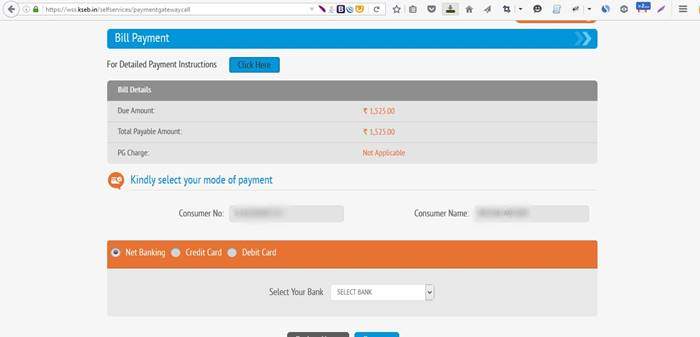 Step 5 : Complete the payment by using selected payment method.

Step 6 : After the successful payment completion, you will be redirected to the KSEB portal, where you can download the payment details as PDF or Print it. You will also get the receipt in your Email.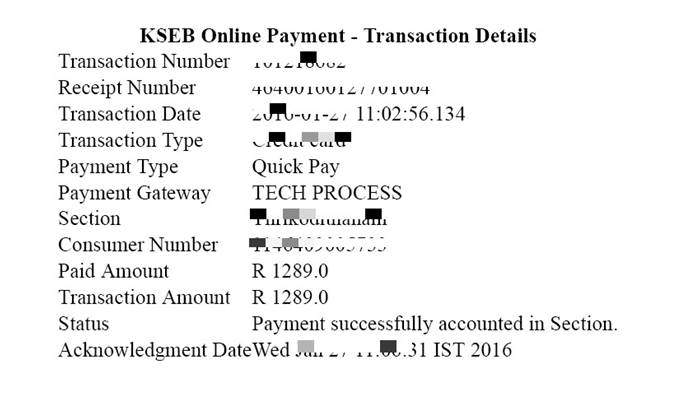 KSEB 24*7 Toll FREE Customer Care Number
If you have any complaints regarding the KSEB Bill, Online Payment or any other KSEB Services, you can contact the KSEB 24 * 7 Toll Free Customer Care Number.
KSEB Call Centre Number (Customer Care) : 1912 or 0471 2555544
If you have any questions regarding the KSEB bill online payment, feel free to post it as comment below.Also share this tutorial with your Friends. Please Follow us on Social Medias.
If you Like this Post, Please 'Like' and 'Share' it with your Friends.
Join Our Facebook Group : www.facebook.com/groups/admeonline
If you like this post and think it would be valuable to your followers, share the ish out of it for me, would you?
Save
Save
Save
Save
Save
Save
Save
Save
Save
Save
Save
Save
Save
Save