How to Pay LIC Premium Online using Net Banking | LIC Online Payment
Last updated on September 25th, 2018 at 11:50 pm
Learn how to Pay LIC (Life Insurance Corporation) Premium Online using Net Banking, Debit / Credit Card. With these simple steps, you can pay the premium at anytime from anywhere.
Don't wait again in the LIC office 'Queue' for the monthly / Quarterly / Yearly premium payment.
LIC Online Payment
LIC offers a number of channels via which customers can make premium payments for their LIC policies – Pay LIC premium online by using your credit/debit card or use Paytm option easily.
Easy payment by login or without login to LIC. Check how to pay Lic premium online through the LIC Portal.

Watch the Video Tutorial here :
Please Subscribe Our YouTube Channel Click Here

To Pay the LIC Premium Online, You need the Following :

Your Policy Number.
Premium Amount.
Date of Birth of the Policy Holder.
A Mobile Number.
Email Adddress.
Net Banking / Debit / Credit Card.
You can Pay the monthly / Quarterly / Yearly LIC  Premium Amount with registration or Without Registration.
We recommend you to register the LIC portal (Onetime registration) so that you don't have to remember the Policy number and other policy holder details, when you pay the premium online next time.
Let's check how to register the LIC portal and Pay the Premium.
Register the LIC Portal
Step 1 : Visit www.licindia.in (Click here or the image below to Visit the LIC Website)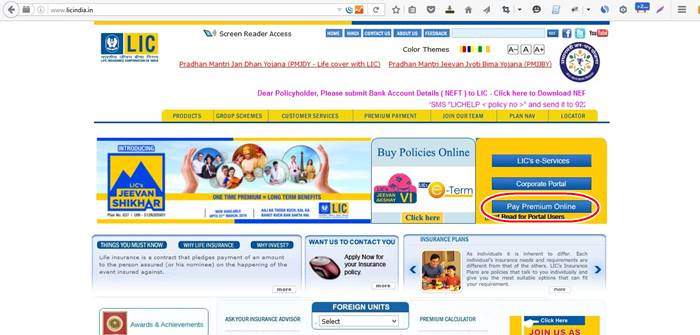 Step 2 : Click 'Pay Premium Online' . Now you can see 2 Options.
a) Pay Direct – Without Login.
b) Through Customer Portal.
Click 'Pay Direct' to pay the premium without registration.
Click 'Through Customer Portal to complete the one time registration and Pay the premium by Login as  'Registered User'.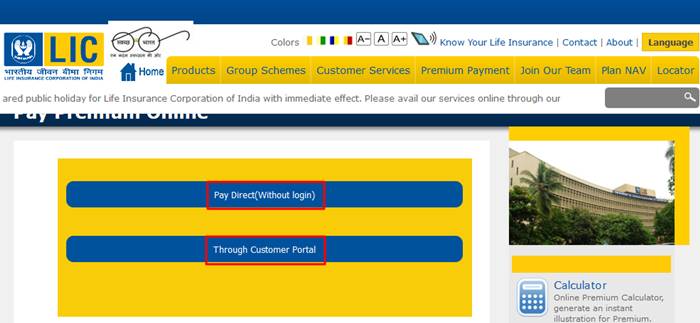 If you already have an LIC Login account, the you can login by entering the following details:
If you don't have an Account, you can create a new account by clicking 'Sign Up' link.
Read Also: How to Book Bharat Gas LPG Cylinder Online.
Step 3 : Now fill the registration form.
Enter your Policy Number,
Premium Amount without Tax,
Date of Birth of the Policy Holder,
Mobile Number,
Email address etc.
Gender etc
You can also enter optional fields like PAN Card, Adhar Card or Passport Number
Then select check box to accept the agreement.
then Click on 'Proceed' button.
Step 4 :  Now you can see your Policy details. You can create a Password for the portal login.
The password must have minimum 9 characters and at least one numeric character. (Eg : asdfrewq1).
After the successful registration, you will get the login details as an Email.
2. Login as Registered User to Pay the Premium Online.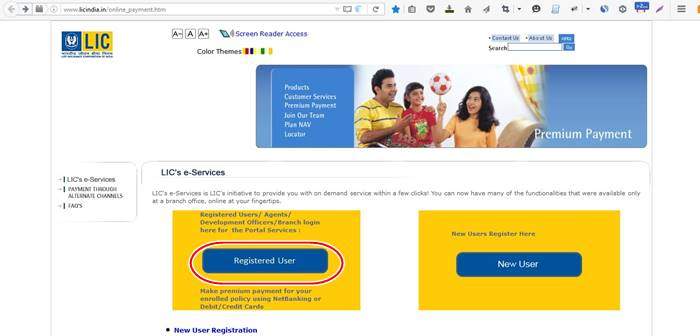 Step 1  : Click 'Registered User' and Login with your LIC Portal User Name and Password.
Select the 'Role' as customer
Enter a User ID (You can enter your Mobile Number/Email as a user ID)
Enter your LIC Login Password
Select your Date of Birth from the Calendar.
Click on 'Sign In'
In the dashboard, you can see your policy details.
Step 2 : Click 'Pay Premium Online' in the left side menu.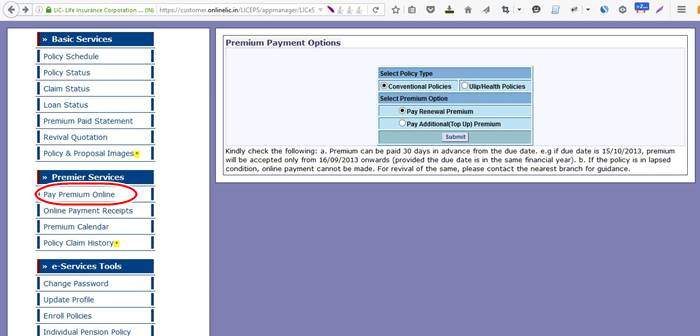 Step 3 : Select Policy Type and Premium options. Then click 'Submit'.
Now you can see your Policy Number, Premium Amount etc. Select check box under the column 'Pay PM'. And click 'Submit'.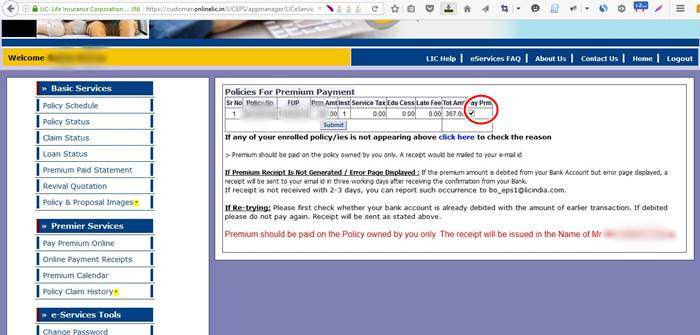 Step 4 : Now  you can 'Confirm Premium Payment' and select (Billdesk Gateway) the Payment Gateway.Then Click 'Yes'.

Step 5 : Select the Payment Mode and Click 'Submit'. You can select from 'Internet Banking, 'American Express', RuPay Cards, 'Wallet / Cash Card'.
Select 'Internet Banking' if you have a Net Banking Account and then click 'Submit'.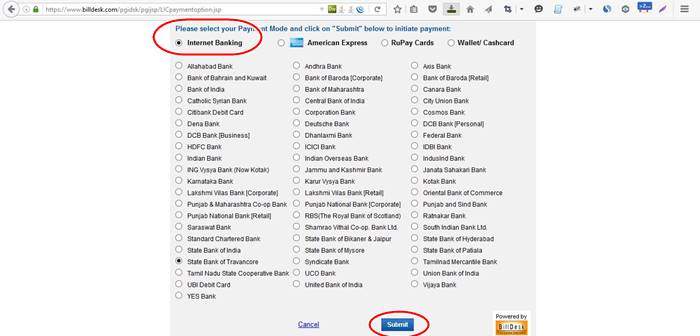 Step 6 : Complete the payment using the selected 'Payment Gateway'.
After the successful transaction, you can download the 'Payment Acknowledgement'.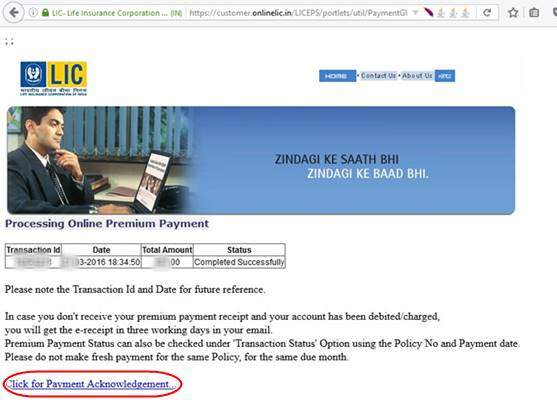 Now you will get the payment confirmation Email and SMS.
Find:  Online SBI Banking Tutorials
If you have any questions regarding the LIC Premium Online Payment, feel free to post it as a comment below. Also, share this tutorial with your Friends.
If you liked this article, then please subscribe to our YouTube Channel for more How to Video Tutorials. You can also find us on Twitter and Facebook.
If you Like this Post, Please 'Like' and 'Share' it with your Friends.
Join Our Facebook Group : www.facebook.com/groups/admeonline

Save