How to book Bharat gas LPG cylinder Online
Last updated on July 6th, 2018 at 07:03 pm
Bharat Gas Online Booking
Bharat Gas Online Booking is simple and Easy. With step by step instructions and Video, learn How to book Bharat gas LPG cylinder Online. If you have a Mobile or Computer with an internet connection, you can Book the Gas Cylinder Online. Don't wait for the IVRS or Send SMS to book the cylinder again!.
Please Subscribe Our YouTube Channel Click Here OR Click on the 'Subscribe' button below (Click on Subscribe button in the YouTube Channel Page).

Watch the video:

How to book Bharat gas LPG cylinder Online?
Step 1 : In order to book the Bharat Gas cylinder Online, Register the portal www.ebharatgas.com

For the Registration you need the following details :
Your Bharat Gas LPG Consumer Number
Registered Mobile Number
Let's check the eBharat Gas Portal registration Procedure.
Step 1 : Visit www.ebharatgas.com Click Here to visit the website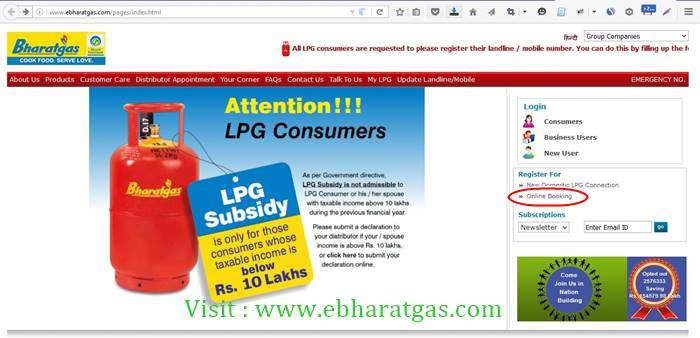 Step 2 : Click 'Online Booking' under 'Register For' ( See marked area in the above image)
Step 3 : Enter your Bharat Gas Consumer Number and Registered Mobile No, then click the 'Continue' button.

Step 4 : Click on 'Generate OTP' . A One Time Password will be sent to your registered Mobile Number to confirm the registration. Enter the OTP and Click Continue.

Step 5 : Enter your Preferred Login Id and Password. Note the Login ID (User Name & Password.) you need this login details to book the cylinders online.

2 : Login (my bharat gas) and Book the Gas cylinder Online

 After the successful registration, you can login the portal using your user name & password just created in the previous step.
Step 1 : Click here to Login to Book the Cylinder.

Step 2 : After the successful login, You can see your Consumer Number and other details in the 'Customer Console'
Now Click 'BOOK CYLINDER'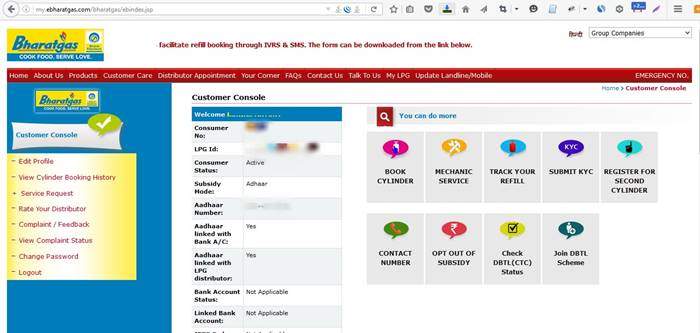 Step 3 : Place your order by clicking 'Book Now'. You can select 'Online Payment' or Cash On Delivery.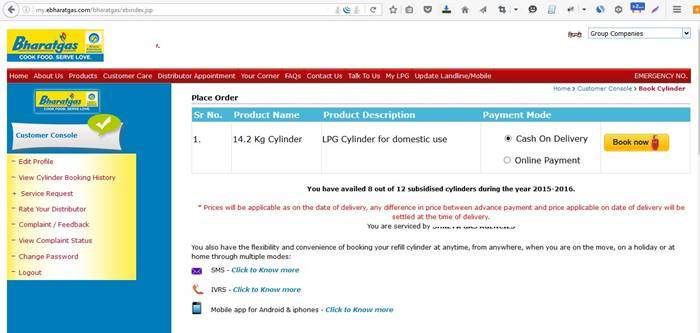 Step 4 : Now you will get the Booking reference Number with order confirmation. You can save the 'Booking Reference Number'.

 Step 5 : You can check the 'Cylinder Booking Status' by clicking 'Track Your Refill' in the Customer Console.

With online Booking it is easy for us to Book the Bharat Gas LPG Cylinder and Track its Status.
How to book Bharat gas LPG cylinder through Mobile Application?
Hit the play button to see how it's done:
If you have any questions regarding the Bharat Gas LPG Cylinder Online Booking, feel free to post it as comment below. Also share this tutorial with your Friends. Please Follow us on Social Medias.
Related Posts:
Related Post
Last updated on July 19th, 2018 at 02:47 amFind the Step by step process to Enable or Disable Hibernate in Windows 10. Hibernation is a feat...
Last updated on July 19th, 2018 at 02:26 amLearn How to get SBI account statement Online. State Bank Of India provides many options to check...
Last updated on July 12th, 2018 at 08:04 amLearn How to Track SBI ATM Card delivery status Online. If you have applied for the new SBI ATM C...