How to book Bharatgas LPG cylinder Online [2023]
Last updated on November 5th, 2023 at 05:30 pm
In the digital age of 2023, the convenience of online services is at our fingertips, even when it comes to essential household chores like booking Bharatgas LPG cylinders. With the ever-evolving landscape of technology, Bharatgas offers multiple avenues for online booking, from their dedicated app, "eBharatgas," to WhatsApp booking services and the convenience of a toll-free booking number.
In this blog, we'll delve into the various methods, ensuring you're well-versed in online Bharat Gas booking, whether you're a seasoned user or a newcomer looking to make life easier. Let's explore the world of gas booking online!
Bharat Gas Online Booking Login
Bharat Gas Online Booking is simple and easy. With step-by-step instructions and Video, learn How to book Bharat gas LPG cylinder Online. If you have a Mobile or Computer with an internet connection, you can Book the Gas Cylinder Online. Don't wait for the IVRS or Send an SMS to book the cylinder again!
Bharat Gas customers can register online, Book, Refill cylinders and Pay Online through ebharat Gas website. Bharat Gas Online Booking Registration and Login is easy.
Bharat Gas LPG cylinders can be booked through Mobile Apps also. The Bharat Gas Booking app can be downloaded from the Google Play Store And App Store.
Bharat Gas Online Booking Registration
You can access the online refill booking service at https://my.ebharatgas.com/bharatgas/BookCylinder/Index, where you can initiate your refill order by logging in with your account details. If you are a first-time user, you will be prompted to create an account. During the registration process, you will need to provide your LPG consumer number and phone number to establish your user credentials.
Follow the below steps to complete Bharat Gas Online Booking Registration:
Visit eBharatGas.com and click on 'My LPG' top Menu or My Account.
Click on 'New User' on the top right. You will get the Registration Page.
Now Enter your eBharatGas 'Consumer Number' and 'Registered Mobile Number'.
You will get an OTP in your registered Mobile Number. Use the OTP to complete the Bharat Gas Online Booking Registration.
You can create a Login User Name and Password and use it for my Bharat Gas Online Booking.
Please Subscribe to Our YouTube Channel Click Here OR Click on the 'Subscribe' button below (Click on the Subscribe button on the YouTube Channel Page).

Watch How to book Bharat gas LPG cylinder Online (Step-By-Step Video) :

How to Book Bharat Gas LPG Cylinder Online
Bharat Gas Booking Online and Payment can be done with a single click if you already have Bharat Gas Online Booking Login details. Find below the process to Book an LPG  Gas cylinder Online.

Login to ebharatgas.com (

Bharat Gas Booking Login

) with your User Name and Password (Click 'My Account' to get the Login Window). Enter the Captcha to complete the Login.
In the Customer Console, Click on 'Book Cylinder'.
in the 'Place Order' window, Click on the 'Book Now' button.
Note down the 'Booking Reference Number.
Let's check the Bharat Gas LPG Online registration and Booking procedure step-by-step with screenshots.
Step 1: In order to book the Bharat Gas cylinder Online, Register the portal www.ebharatgas.com

For the Registration, you need the following details :
Your Bharat Gas LPG Consumer Number
Registered Mobile Number
Let's check the eBharat Gas Portal Registration Procedure.
Step 1: Visit www.ebharatgas.com Click Here to visit the website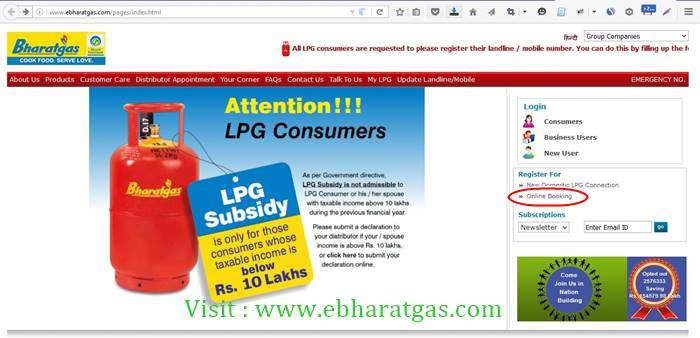 Step 2: Click 'Online Booking' under 'Register For' ( See marked area in the above image)
Step 3: Enter your Bharat Gas Consumer Number and Registered Mobile No, then click the 'Continue' button.

Step 4: Click on 'Generate OTP'. A One Time Password will be sent to your registered Mobile Number to confirm the registration. Enter the OTP and Click Continue.

Step 5: Enter your Preferred Login ID and Password. Note the Login ID (User Name and password. You need these login details to book the cylinders online.

2: Login (my Bharat gas) and Book the Gas cylinder Online

 After the successful registration, you can log in to the portal using your username & password just created in the previous step.
Step 1: Click here to log in to Book the Cylinder.

Step 2: After the successful login, You can see your Consumer Number and other details in the 'Customer Console'
Now Click on 'BOOK CYLINDER'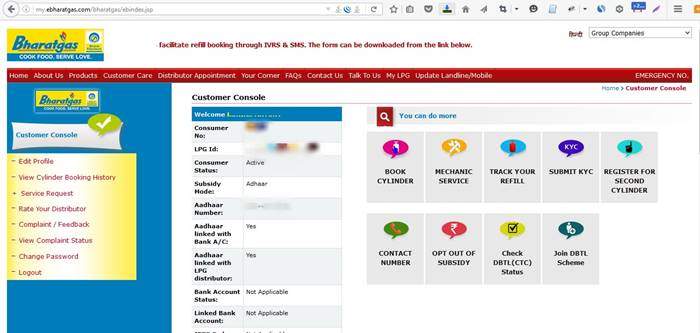 Step 3: Place your order by clicking Book Now. You can select 'Online Payment' or Cash On Delivery.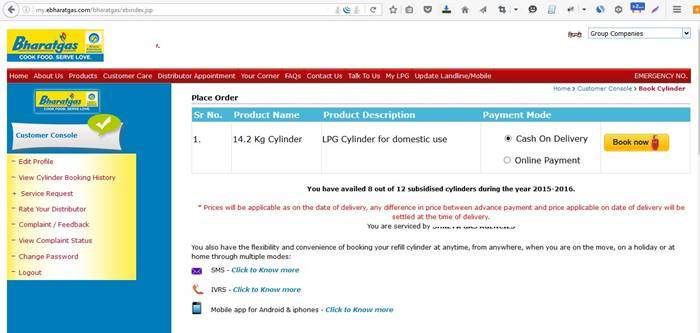 Step 4: Now you will get the Booking reference Number with the order confirmation. You can save the Booking Reference Number.

 Step 5: You can check the 'Cylinder Booking Status' by clicking 'Track Your Refill' in the Customer Console.

With online Booking, it is easy for us to Book the Bharat Gas LPG Cylinder and Track its Status.
How to book Bharat gas LPG cylinder through a Mobile Application?
Hit the play button to see how it's done:
Bharat Gas Booking Mobile Number change
If your Bharat Gas registered Mobile Number is lost or the number is not with you right now, you can download the Bharat Gas Booking Mobile Number Change / Update form (Click here to Download).
Once the Mobile Number change form is downloaded, You can print it and fill it by entering your 'Consumer Number', Consumer Name, Mobile Number, Land Line Number (Optional) etc.
Don't forget to put a signature at the end of the application form. You can submit this form to your Distributor.
Once the Bharat Gas Mobile Number is updated, you will get a notification in your newly registered Mobile Number.
You can use this Mobile Number to Book the Cylinder by Sending an SMS or Calling the Bharat Gas IVR booking system.
If you have any questions regarding the Bharat Gas LPG Cylinder Online Booking, feel free to post it as a comment below.
For more Tips and Tricks Join Our Facebook Group:
www.facebook.com/groups/admeonline
Please support us by subscribing to our YouTube channel.
Follow us on Other Social Media
If you Like this Post, Please 'Like' and 'Share' it with your Friends. 
Please Follow us on Social Media.
Related Post
Please ShareIf you've forgotten your SBI YONO login password, don't worry! You can easily reset it using the following steps How...
Please ShareThe State Bank of India (SBI) is one of the largest banks in India, with over 24,000 branches and ATMs across the country. If yo...
Please ShareLast updated on November 17th, 2023 at 05:14 am In an age of digital transactions, safeguarding your financial assets is paramou...