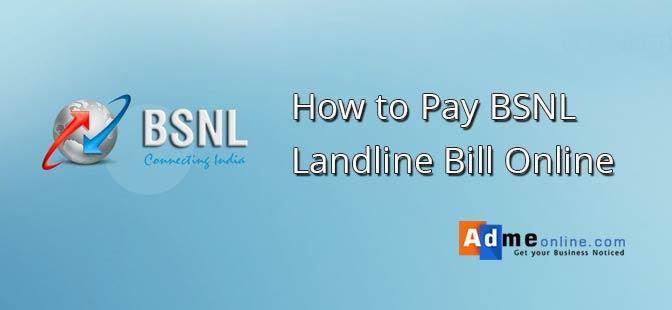 BSNL Landline and Broadband Bill Online Payment Procedure
How do you pay your BSNL broadband and landline monthly Bills…? If you are still paying your BSNL bills by waiting in line in a BSNL Customer Care office or in a Post Office, this tutorial is for you.Check below tutorial to learn How to Pay your BSNL Landline Bill Online.
Now BSNL with its advanced portal, allows its customers to pay the Land Line and Broadband bills online at anytime from any where, even the last date for the payment is passed. No need to wait in a queue or arrange your busy schedule to pay the bill!.
For BSNL Landline and Broadband online bill payment, you need an active Online Banking account / Debit Card / Credit Card and a smartphone or a computer with an internet connection.
 Watch the Video Tutorial :
Let's see the step by step Procedure to Pay your BSNL Landline and Broadband Bill Online
Step 1 : Go to BSNL Portal : http://portal.bsnl.in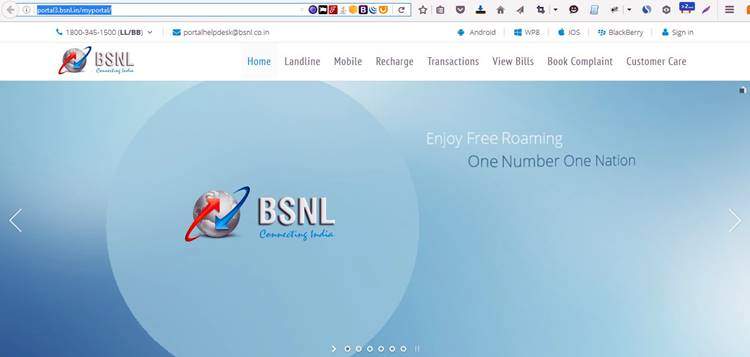 Step 2 : Click 'Landline' menu, 'Individual/ FTTH Bills' payment option will be selected by default.
Enter the Landline No, a Mobile Number and an Email address to receive the payment details.
Step 3 : Enter the verification Code shown there, No action required in the option 'would you Like to remember above information ? ' because by default, the Phone number and Contact details will be saved. So you don't have to enter it again when you pay the bills online next time.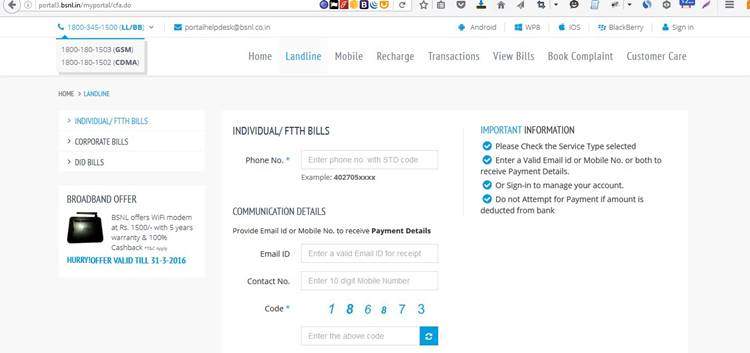 Step 4 : Click the 'Submit' button. Now you can see the Bill details, including Customer Name, Amount, Due date, BSNL Account Number etc.
Step 5 : Verify the details and Click 'Pay Now'. Now you can select the Payment Method. You can pay the bills by using Net Banking, Debit Card, Credit Card or Cash Card.
Step 6 : Select the payment method (Select the bank name, if you want pay by using the Net banking), else select your  Credit or Debit Card type.
Step 7 : After selecting the payment method, select the payment Gateway from Bill Desk & Tech Process. (In this demo I've selected Bill Desk & SBT Online Banking)
Step 8 : Complete the payment with the selected payment method (If you have selected Net Banking, then login your Net banking Account and complete the payment, If you have selected Credit / Debit card, then enter the Card No and CVV Code, Card expiry date etc and complete the payment.
Step 9 : Once the payment is completed, you will get a Payment confirmation Email and SMS. Now you can download or print the payment details if required.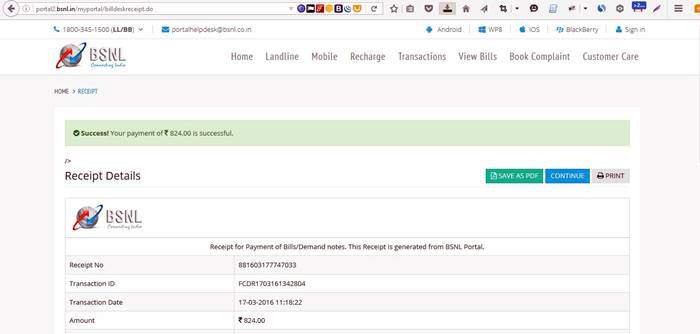 Next time, when you pay the BSNL bill online, you can complete it with in 3 minutes because your details already saved in the BSNL portal.
If you have any questions or doubts regarding the BSNL online bill payment, feel free to comment below. Also share this video tutorials with your friends and family members.Please Follow us in Social Medias.
Subscribe to Our News Letter
Never miss an update. Enter your Email address below to get tutorials and tips in your Inbox.
Save
Save
Related Post
Learn How to Track SBI ATM Card delivery status Online. If you have applied for the new SBI ATM Card, SBI will dispatch the Debit card throu...
Learn How to Register or Update Email id in SBI Savings Account Online. If you have registered your Email address with the SBI account, you ...
Learn How to register Mobile Number in SBI for balance Enquiry. Now you can easily check your SBI Bank account balance through a missed call...