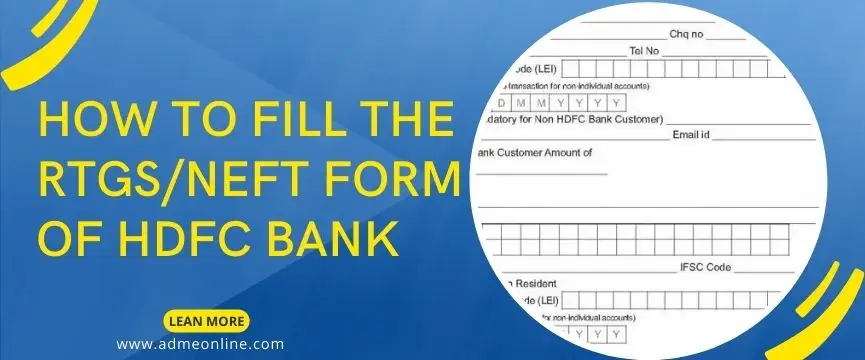 HDFC NEFT/RTGS Form | How to Fill the RTGS form for HDFC Bank
Last updated on August 8th, 2022 at 02:44 pm
In this post find the RTGS/ NEFT form of HDFC bank. Also find how to transfer the money using HDFC RTGS/NEFT form through the branch and Online. RTGS and NEFT timing, Transaction charges, etc can be found in this blog post.
HDFC NEFT / HDFC RTGS Form Download
HDFC RTGS/NEFT forms can be found on the HDFC Bank website at v1.hdfcbank.com. You can also get the form from the HDFC Bank branch closest to you. You can download the NEFT / RTGS form of HDFC bank in the PDF format from the download link below.
NEFTS stands for the National Electronic Fund Transfer System (NEFT)
The Reserve Bank of India is in charge of NEFT, which is short for the National Electronic Funds Transfer system (RBI).
It is a method of monetary exchange.
This enables individuals, firms, and corporations that hold accounts with any member bank to electronically transfer money to any other individual, firm, or corporation inside the country that has an account with any other bank in the country.
The NEFT, or National Electronic Funds Transfer, is a form of electronic money transfer that customers of participating financial institutions can use to move money from one account to another.
It does not impose any limits on money transfers.
RTGS stands for Real-Time Gross Settlement
The RTGS transfer is a real-time money transfer, which means that the money is sent to one's account just as quickly as if it had been handed over in person. There is no wait.
The HDFC Bank Real-Time Gross Settlement Technology (RTGS) is a system that enables the transfer of funds in real time or in bulk.
Filling out the RTGS form of the bank from which the transaction is to be conducted is required in order to permit the use of an RTGS transfer mechanism. For RTGS transactions, HDFC offers an application form that is not overly complicated.
HDFC NEFT / HDFC RTGS Form Download
You can perform an HDFC NEFT/RTGS transfer offline by downloading and filling out the HDFC NEFT/RTGS form above.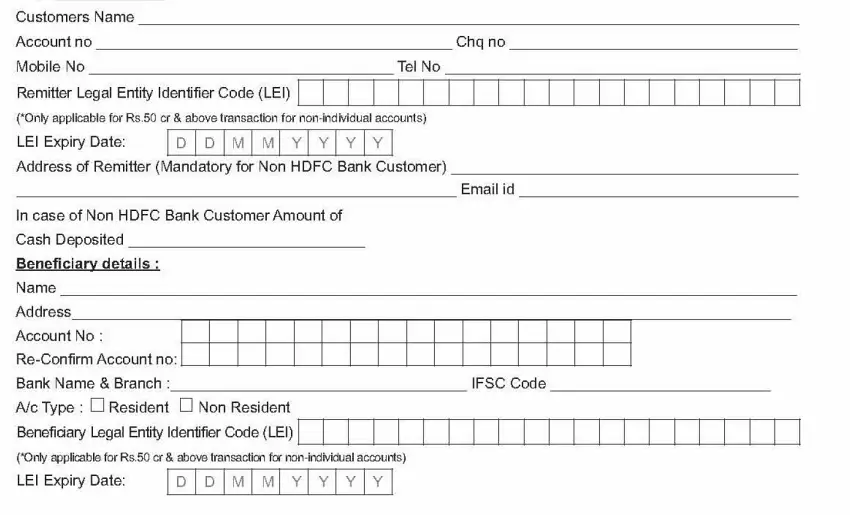 How to Fill the RTGS form for HDFC Bank
Enter the Customer (Remitter) Name, Account Number, Mobile Number etc
If you are using a cheque for the HDFC Bank RTGS/NEFT transfer, then enter the Cheque Number.
If you are not already a customer of HDFC Bank, then you will need to fill out the required information regarding your address.
Then enter the Beneficiary Name, Address, Bank Name, Branch Name, IFSC Code etc
Enter the Beneficiary Account number, and then enter it again to verify that it is correct.
Also select the beneficiary Account Type
Then enter the Amount to be Credited in figures and words.
Sign the HDFC RTGS/NEFT form and submit it to the bank cashier along with the Money and ID proof (If you are not an HDFC Bank customer)
Note: PAN card is mandatory for transactions above Rs 50,000.
HDFC NEFT Timing (Online and Offline)
You can transfer money at an HDFC Bank branch from Monday through Saturday (except for the second and fourth Saturday of the month) between the hours of 10 AM and 3:30 PM (As per Branch working Hours).

To transfer NEFT money through HDFC Bank, you must download and fill out the above HDFC NEFT/RTGS form.

Online NEFT Timing: There is also the option to use HDFC Net Banking to make payments. NEFT transactions will be processed around the clock (24*7), 365 days.
The payment to the beneficiary will be made in accordance with the RBI batches.
HDFC RTGS Timing (Online and Offline)
If you are transferring money via RTGS at an HDFC bank, you have the option to do it between the hours of 10 a.m. and 3:30 p.m., Monday through Saturday (except 2nd and 4th).

To begin, you will need to download the HDFC RTGS form and then fill it out.
Bring the money and a proof of identification to the cashier at the bank, together with the form that has been properly filled out, and submit it.

Documents Required for Submitting the HDFC NEFT/RTGS Form through the Branch
In order to conduct NEFT or RTGS payments with HDFC Bank, you only need a few documents.

Download the HDFC NEFT/RTGS form in PDF format, print it out, fill it out completely, attach the documents that are listed below, and then take it to the HDFC Bank location that is most convenient for you to hand it in.
Please note that a valid PAN card is required for any transaction that exceeds Rs 50,000.

HDFC RTGS/NEFT Application Form
 Cheque leaf (If you are paying through Cheque)
 Your PAN Card
 Any other valid Identity proof such as Aadhaar, Voter's ID, etc.

HDFC NEFT Transaction Charges
Online HDFC NEFT transactions can be completed at no cost.
Listed below are the fees associated with NEFT transactions conducted at HDFC Bank branches.
| | |
| --- | --- |
| Transaction Amount | Charges |
| Upto Rs 1,00,000 | Rs 2 + Applicable GST |
| Above Rs 1,00,000 | Rs 10 + Applicable GST |
HDFC Online NEFT Transaction Limits
7 am to 7 pm on Normal working day : The maximum amount that can be transferred is determined by the customer's daily TPT limit (Maximum upto Rs.50 Lakhs).
From 7pm – 7am on working days & all holidays (including 2nd & 4th Saturdays and Sundays) : Subject to the TPT limit, the maximum amount that can be sent in a single transaction is Rs.2 lacs.
(In multiples of 200,000 up to the TPT maximum that the customer has selected.) Maximum upto Rs. 50 Lakh)
New Beneficiary addition (online): During the first twenty-four hours after adding a new beneficiary, you are only allowed to do transactions totaling a maximum of Rs.50,000/– (in full or portions inclusive of failed attempt).
HDFC RTGS Transaction Charges
Online RTGS transactions are free of charges.
If you perform an RTGS transaction offline at an HDFC Bank branch, you will be charged Rs.15 in addition to any applicable GST.
RTGS Transaction Limits
Minimum – Rs. 2 Lakh
Maximum—RTGS transactions conducted through branches— No upper limit
When doing an RTGS transaction via NetBanking, the maximum amount of money that can be transferred in a single day is determined by the customer's TPT limit (Maximum upto Rs. 50 Lakh)
Related Post
How to Link Aadhaar With PAN Card Online | Pan Aadhar link Status In this post, learn How to Link your Pan Card with your Aadhar Card online...
In this post, you will learn how to scan the Google Pay QR Code from your Mobile Phone Gallery. These days, the majority of us are familiar ...
Last updated on October 28th, 2022 at 09:24 am This post will discuss the Indusind bank balance check number and IndusInd bank balance check...