How to Apply for Voter ID Card Online Kerala
Last updated on November 16th, 2019 at 01:04 am
India is the largest democratic country in the world. To become a part of the election process, you need a Voter ID Card and your name in the latest Electoral Rolls. In Kerala, India, enrollment in Electoral Rolls, corrections of data and transposition of the entries in electoral roll are now being done completely online. Indian citizen residing abroad can also enroll online as overseas elector.
In this tutorial, we will learn how to apply online for Voter ID Card.
Voter ID Card Online Registration, you need the following details :
Date & Place Of Birth of the applicant
Voter ID Card Number of your family member/nearest neighbor included in the current electoral roll of the new place of residence
Address & Contact details of the applicant
A passport size Photograph (Uploading photograph is not mandatory for the time being. Provide your recent passport size photograph to your Booth Level Officer at the time of enquiry.)
How to Apply for Voter ID Card Online : Watch the Video Here:
Voter ID Card Online Registration Procedure

Step 1 : Visit Chief Electoral Officer Kerala Website : http://www.ceo.kerala.gov.in/eregistration.html
Step 2 : Select your mode of registration ( See Image)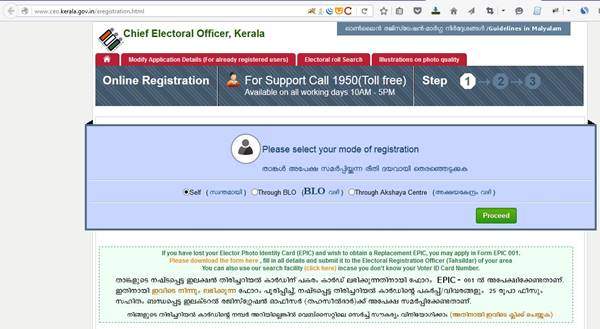 Step 3 : Select District & Date of Birth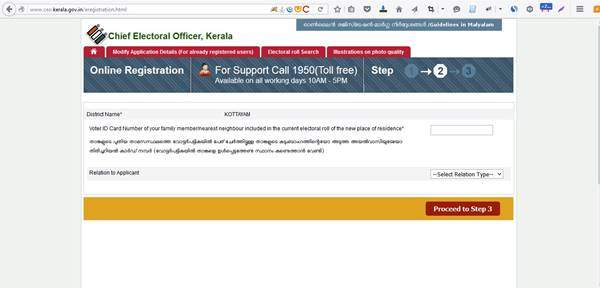 Step 4 : Enter Voter ID Card Number of your family member/nearest neighbor included in the current electoral roll of the new place of residence
Step 5 : Enter Applicant Address, Contact No, Place of Birth, Details of Father/Mother/Husband/Relative etc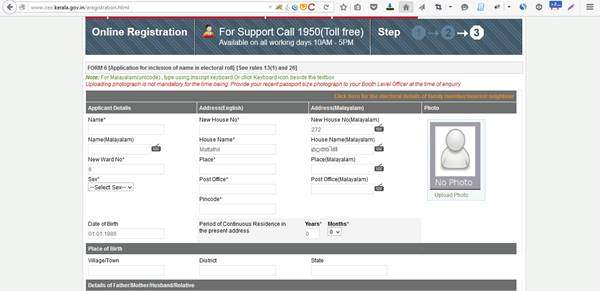 Step 6 : Read & Accept the affidavit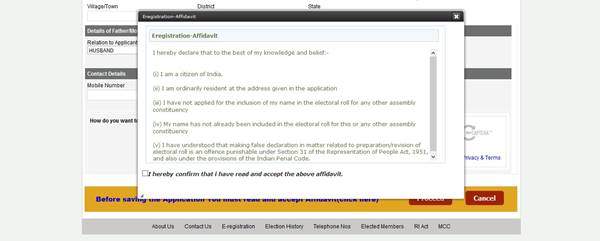 Step 7 : Click Proceed.
Applications received online will be handed over to the Booth Level Officer (BLO) of the concerned Polling Station for field verification.
The Electoral Registration Officer (ERO) will dispose of the applications on the basis of the reports of the BLO.At the time of registration and disposal of applications, the applicants will get SMS informing the status.
After enrollment the Elector Photo Identity Card (EPIC) will be issued to the electors through the BLO or by post or from the Taluk Office concerned depending on the choice of the elector.
A person need not visit any office either for enrollment in the Electoral Roll or obtaining the EPIC. Service is made available at the citizen's door step.
If you have any questions, feel free to post it as a comment below. Also, share this tutorial with your Friends.
If you liked this article, then please subscribe to our YouTube Channel for more How to Video Tutorials. You can also find us on Twitter and Facebook.
If you Like this Post, Please 'Like' and 'Share' it with your Friends.
Join Our Facebook Group : www.facebook.com/groups/admeonline

Related Post
ലോകത്തിലെ ഏറ്റവും കൂടുതൽ ആളുകൾ ഉപയോഗിക്കുന്ന മെസ്സ...
ഇന്ത്യയിൽ ഏറ്റവും കൂടുതൽ ആളുകൾ ഉപയോഗിക്കുന്ന മെസ്സ...
Last updated on November 12th, 2021 at 04:07 amവാട്ട്‌സ്ആപ്പ് മെസ്സേജിങ് ആപ്പ് എ...