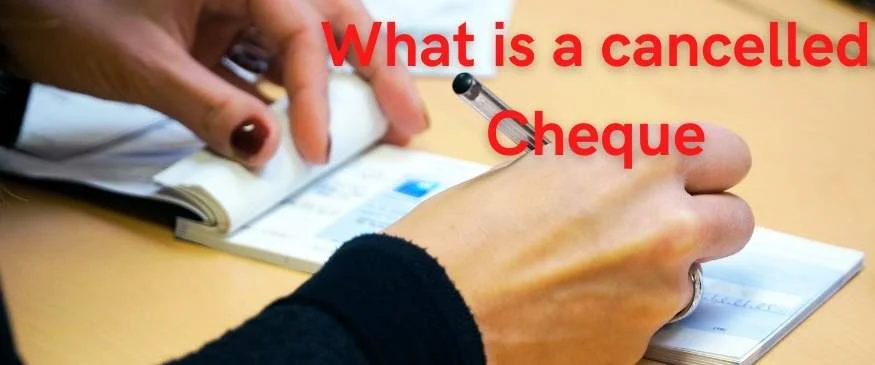 What is a cancelled Cheque | Example of Cancelled Cheque
Last updated on July 1st, 2022 at 01:08 pm
In this post find What is a cancelled cheque and Examples of Cancelled cheque.
What is a Cancelled Cheque Leaf
A check that has been cancelled is one that has been written across the layout with two lines that are parallel to one another.
Between these lines, you must also write the word "CANCELLED," as this step is essential.
You can prove that you have an account with a specific bank by presenting the cancelled check as proof. In many instances, you will be required to provide a cancelled check in order for the details of your bank account to be validated.
What is cancellation cheque?
You are not required to sign the check that has been cancelled.
The voided check will be utilized in order to collect information such as the account number, the name of the account holder, the MICR code, the bank name and branch name, and the IFSC code.
It is important to keep in mind, however, that the line or the word "CANCELLED" that appears on your cancelled check should not obscure the details of the check.
This cancelled check is not valid and neither you nor anyone else will be able to withdraw money using this check because it is the only proof that you have an account.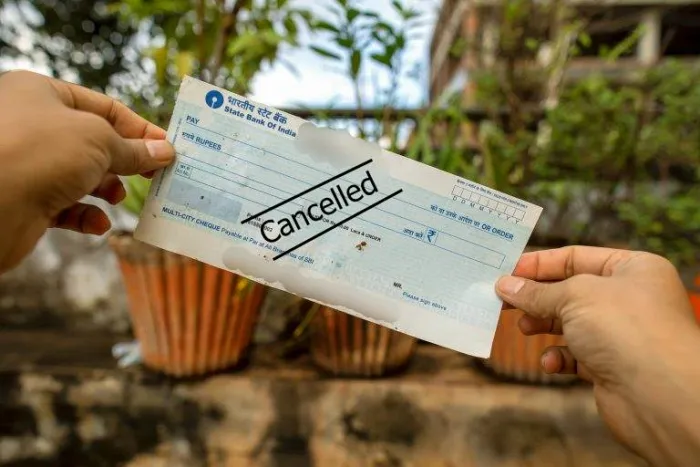 ie; The cancelled check is safe and secure and is the only proof that you have an account.
How do I write a check that has been cancelled?
It is not difficult to write a check that has been cancelled. It is not necessary to provide any specific details.
If you want to write a check that has been cancelled, you need to keep in mind the following points:
1) Please use a fresh cheque.
2) You are not permitted to write any information on the check, including the recipient's name, the amount, or their signature.
3) Write the word "CANCELLED" in all capital letters between two lines that are parallel to one another.
4) Ensure that the parallel documents do not conceal any vital pieces of information, including the account number, IFS code, MICR code, account holder name, bank name, and location.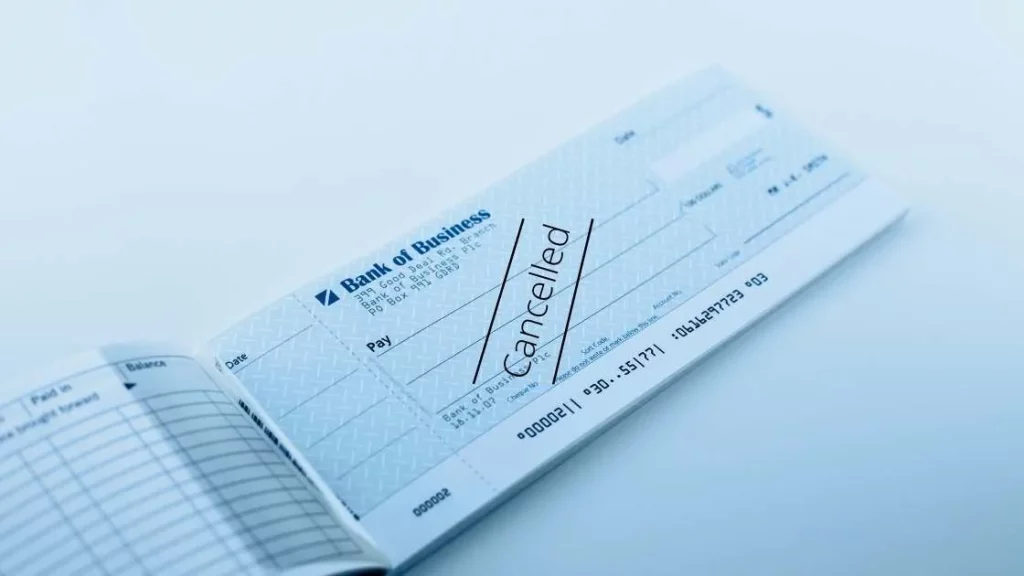 When do you need a cancelled cheque?
In the following circumstances, you might be required to submit a cancelled check:
EMI : When it comes to paying for a high-priced item or a technological device, the most popular method of doing so is through equivalent monthly instalments, or EMI for short.
Even on loans such as mortgages, car loans, student loans, and personal loans, individuals are required to make monthly payments in the form of instalments.
In order to initiate the process of making monthly payments, you are required to present a cancelled check as evidence that you have a bank account.
Mutual Funds: In order to invest in either the stock market or mutual funds, you will need to open a Demat account.
When opening an account with the company, you might be asked to provide a copy of a cancelled check, as a means of establishing ownership over the bank account that will be used to make deposits.
In accordance with Know Your Customer (KYC) guidelines, a cancelled check is required.
Provident Fund Withdrawal: When you want to withdraw money from your EPF, companies typically require that you provide a cancelled check.
Electronic Clearance Service (ECS): An electronic clearance service for any transaction that you decide to carry out.
Every month, there will be a cash withdrawal taken out of the account, and in order for the bank to process it, you will need to provide the institution with a cancelled check.
In this scenario, you will need to establish a system that provides electronic clearance.
Insurance Policies : When selecting an insurance policy, certain organizations demand a cancellation check from the individual who is willing to purchase such a policy.
By submitting a check that has been cancelled, you can make certain that your bank account will not be accessed fraudulently by anyone else. Your bank account number, the name of the account holder, the IFSC code, the MICR code, and the name of the bank are all still on the cancelled check.
Always make sure that your signature is not affixed to the cancelled check; if it is, it may be easy for fraudsters to get their hands on your money. Nevertheless, if a signature on the check leaf is required, a statement or declaration should be made in support of this requirement.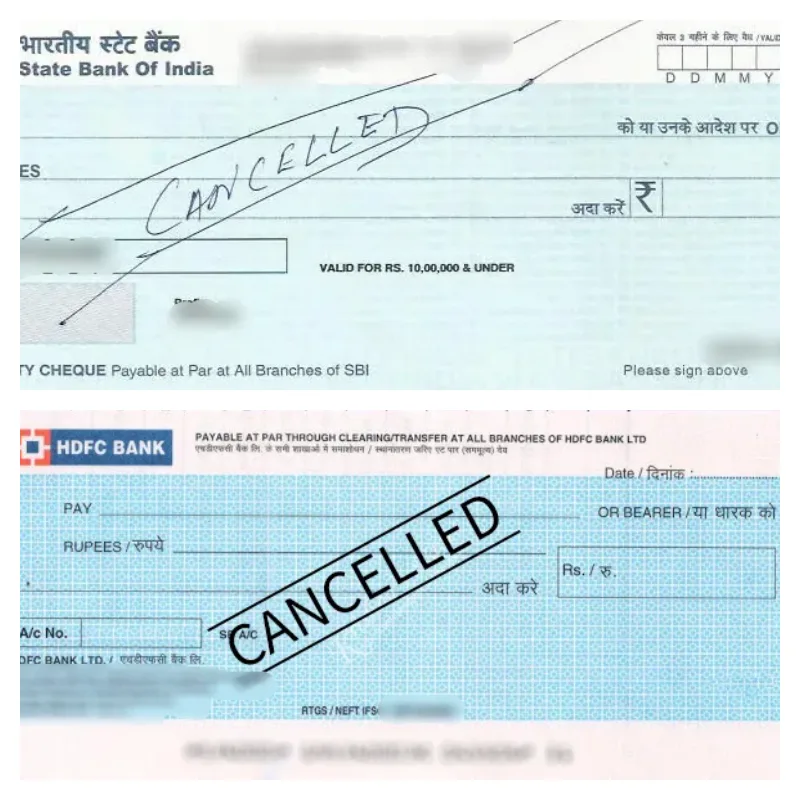 How to write someone a Check
This tutorial will demonstrate how simple it is to write a check by walking you through each step in detail.
Date: Date and time of today should be written in the upper right-hand corner.
The date of today should be used in the majority of situations because doing so enables both you and the recipient to maintain accurate records. You also have the option of postdating the check, although the results of this action are not always what you anticipate they will be.
Payee: In the space designated for "Pay to the order of," write the name of the individual or organization that is receiving payment from you.
Because it is imperative that this information be correct, if you are unsure of what to write, you may find it necessary to inquire as to "Who do I make the check out to?"
Amount expressed as a number: Fill out the amount of your payment in the little box that is located on the right-hand side of the page. Put your first letter as far to the left as you can when you start writing.
 Amount in words: To prevent fraud and misunderstanding, the amount should be written out using words.
This will be the final amount that you are responsible to pay. If the numeric form of the amount that you entered in the previous step is different from the amount that you wrote with words, the amount that you wrote with words will be considered the amount of your check for legal purposes.
Employ only capital letters, which are more difficult to change.
Signature: Make sure that your signature is legible and placed on the check in the bottom-right corner.
Keep your name and signature consistent with what the bank has on file. This step is essential because a check that does not have a signature attached to it will not be valid.
Memo (or "For") line: Feel free to include a note if you'd like. This step is entirely discretionary and will have no bearing on how the bank processes your check.
If you need to remind yourself of the reason you wrote the check, the memo line is a good place to do so. It is also possible that this is the space in which to write information that your payee will use in order to process your payment (or find your account if anything gets misplaced).
What is a cancelled cheque used for?
A cancelled check can serve as evidence that you have an account at the specified financial institution. These might be necessary when applying for a loan, investing in mutual funds, establishing an electronic clearance service, purchasing an insurance policy, or performing any number of other activities that are functionally equivalent. They want to ensure that you have a legitimate account, so they will ask you for a copy of a check that has already been cashed. This will prove to them that you have a valid account.
Does signature required in cancelled cheque?
No. It is necessary to obtain information from the cancelled check, such as the account number, the name of the account holder, the MICR code, the bank name and branch name, and the IFSC code. Signature is not required in the Cancelled cheque.
For more updates, Follow us on Facebook and YouTube.
Related Post
Please ShareIf you've forgotten your SBI YONO login password, don't worry! You can easily reset it using the following steps How...
Please ShareThe State Bank of India (SBI) is one of the largest banks in India, with over 24,000 branches and ATMs across the country. If yo...
Please ShareLast updated on November 17th, 2023 at 05:14 am In an age of digital transactions, safeguarding your financial assets is paramou...