ICICI RTGS Form / NEFT Application Form PDF Download | RTGS/ NEFT Timing and Limits
Last updated on March 28th, 2022 at 02:32 pm
Are you looking for the ICICI Bank RTGS/NEFT Application form in PDF format to download? The ICICI Bank RTGS/NEFT PDF form can be downloaded directly from the link provided below.
ICICI RTGS / NEFT Application Form
The ICICI Bank RTGS Form, which can be downloaded from icici.com, is an online application form for RTGS transactions. The ICICI RTGS / NEFT application, which is an offline application form for the RTGS and NEFT transactions, can be filled and submit to the ICICI bank to complete the RTGS transactions.
This form can be used by both individuals and businesses in India to send money through the RTGS service. The form can only be filled out in English, Hindi languages. The other two languages (Tamil, and Telugu ) are offered on a limited basis.
ie; The ICICI RTGS Form PDF is a downloadable file that can be used to fill up the form on a computer or mobile device before submitting it to the bank.
This is helpful for those who are unable to visit a branch and complete the paperwork in person.
Download ICICI Bank RTGS/NEFT PDF form
ICICI RTGS Transaction Limit
The RTGS system is mostly used for transactions with a high cash value. The minimum amount that can be sent using RTGS is Rs 2 lakh. The maximum daily limit is Rs 10 lakh.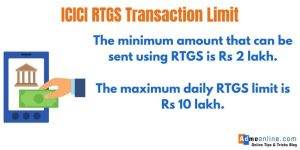 The ICICI RTGS form is a document that is used to transfer funds from one account to another. It is important for the users to fill out this form correctly, as it helps in the smooth functioning of the bank's RTGS system.
How to Fill ICICI Bank RTGS/NEFT Form?
This PDF contains all of the necessary information needed for an individual who wants to make an an RTGS / NEFT transaction offline. This includes the instructions on how to fill up and submit the application form along with all of its required documents.
The ICICI Bank RTGS form comes with instructions, and each section must be filled out one at a time to make sure the information is correct.
Step 1: Fill the General Details
Fill the general details such as the Branch Name, Date, Amount to be remitted to the beneficiary account(in words also), Transaction Mode (Choose from Cheque, Cash, Debit from Account).
Note: Only cheque is allowed for the RTGS transaction.

Step 2: Fill the Details of Remitter (Applicant)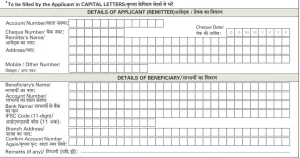 Fill the Remitting customer's Account number, which is to be debited
Cheque Number and Cheque Date which is mandatory for the RTGS transactions. Cash is allowed only for the NEFT transaction of  small amounts. Nowadays, almost all RTGS transactions require a cheque because of the RBI rule on cash transactions.
Then fill the Remitter Address and Mobile Number.
Step 3: Fill the Details of the Beneficiary (Recipient)
 Now, fill in the Beneficiary Account (Account information of the person who is going to get the money) details such as Beneficiary Name,
Beneficiary Bank Name,
Beneficiary Bank IFSC Code and Branch Address,
Beneficiary Account Number etc.
Note: Make sure that you have entered the correct beneficiary account number and IFSC Code. To complete the RTGS transaction, Banks uses only the given Beneficiary Account Number and IFSC Code.
Banks will not take any responsibility if you have entered the wrong account number.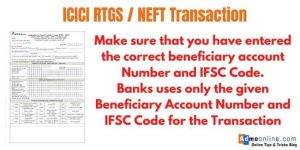 The form must be submitted to the ICICI bank branch where you have an account after it has been completely filled out and all necessary papers have been attached.
RTGS/NEFT Transaction using ICICI Bank Online Banking
ICICI bank account holders with an Online Internet Banking account holders can login their online banking account through the ICICI Bank Mobile App or Online Banking portal and make the NEFT / RTGS transactions easily.
BENEFITS OF ICICI RTGS NEFT THROUGH ONLINE
Online NEFT / RTGS helps make fund transfers faster, cheaper and more convenient for customers.
You don't have to worry about being ripped off or your money stolen since all the transaction is done online.
Businesses can run more efficiently now thanks to the ease of transferring money among each other.
| Transaction Charges | NEFT |
| --- | --- |
| Cash up to ₹ 10,000 | ₹ 2.25 + Applied Taxes |
| Sum between ₹ 10,000 and ₹ 1 lakh | ₹ 4.75 + Applied Taxes |
| Sum between ₹ 1 lakh and ₹ 2 lakh | ₹ 14.75 + Applied Taxes |
| Sum between ₹ 2 lakh and ₹ 5 lakh | ₹ 24.75 + Applied Taxes |
| Sum between ₹ 5 lakh and ₹ 10 lakh | ₹ 25 + Applied Taxes |
Find below the RTGS charges for outward transactions initiated at any of ICICI branches:
For amounts above ₹2 lakh up to ₹5 lakh: ₹20 + applicable GST
For amounts above ₹5 lakh up to ₹10 lakh: ₹45 + applicable GST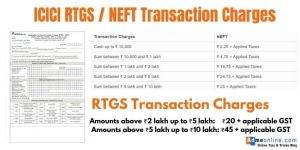 Note: You can use the online modes such as Internet Banking, iMobile app, Mera iMobile app, and Pockets app to carry out RTGS and NEFT transactions to avoid the service charges.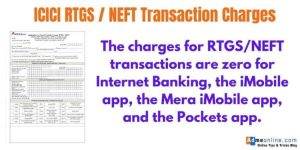 RTGS is available 24*7*365
ie; ICICI Bank customers can use the RTGS facility at any time in a day.
ICICI RTGS Transactions Timings through Internet Banking
| Transaction Limits/Timing | 01:00 hours – 19:00 hours | 19:00 hours – 00:00 hours and 00:00 hours – 01:00 hours | 2nd and 4th Saturday, Sunday and Bank holidays |
| --- | --- | --- | --- |
| Minimum | Rs 2 lakh | Rs 2 lakh | Rs 2 lakh |
| Maximum | Rs 10 lakh or Rs 1 crore (based on customer segment) | Rs 10 lakh | Rs 10 lakh |
RTGS Transaction through iMobile App Timings and Limits
<div
Transaction Limits/Timing
01.00 hrs – 19.00 hrs
19:00 hours – 00:00
and
00:00 hours-01:00 hours
2nd and 4th Saturday, Sunday and Bank holidays
Minimum
₹ 2 lakh
₹ 2 lakh
₹ 2 lakh
Maximum
₹ 20 lakh
₹ 10 lakh
₹ 10 lakh
NEFT (Internet banking and iMobile) – Timings and Limits
Transaction Limits/Timing
01.00 hrs – 19.00 hrs
00.00 hrs – 01.00 hrs
and
19.00 hrs – 00.00 hrs
2nd & 4th Saturday, Sunday & RTGS Holidays
Minimum
₹ 1
₹ 1
₹ 1
Maximum
₹ 10 lakh or ₹ 1 crore (based on customer segment)
₹ 2 Lakh
₹ 2 Lakh
Join Our Facebook Group : www.facebook.com/groups/admeonline

Subscribe Our YouTube Channel: Youtube.com/admeonline
Related Post
How to Link Aadhaar With PAN Card Online | Pan Aadhar link Status In this post, learn How to Link your Pan Card with your Aadhar Card online...
In this post, you will learn how to scan the Google Pay QR Code from your Mobile Phone Gallery. These days, the majority of us are familiar ...
Last updated on October 28th, 2022 at 09:24 amThis post will discuss the Indusind bank balance check number and IndusInd bank balance check ...