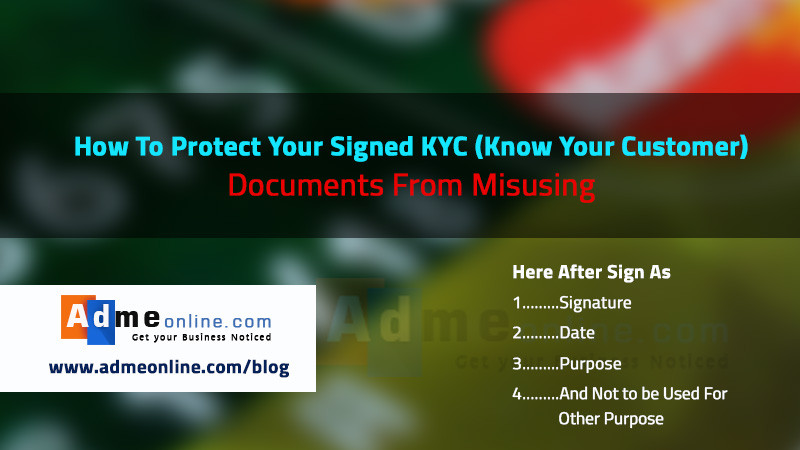 How to prevent misuse of your KYC Identity proof, Tips to Prevent Identity Theft
Last updated on May 12th, 2018 at 10:39 am
Hello, Today  I would like to draw your attention to something that is really worth it.Tips to prevent Identity Theft, misuse of your Identity and address proof (KYC Documents).We often issuing and submitting our KYC documents (Identity and Residential proofs such as copies of Adhar Card,Election ID Card,PAN card, electricity bill etc.) to various purposes in everyday life from getting Phone Connection, Open a Bank Accounts, Car or Home loans etc.They accept those documents that are the self-attested i.e. signature on those documents.
Beware! Your self-attested KYC (Know Your Customer) papers may be misused by someone else to open a new Phone connection, Bank account or getting a loan!. KYC Documents in SIM card sellers often misused.Misusing of documents can also result in identity theft. Identity theft is when someone uses your identity to apply for credit or loans. It is really serious!
How to Prevent Identity Theft
To prevent misuse of your Identity proof, inculcate a 'HABIT' of writing the date and purpose for which you are submitting the self-certified KYC Documents so that those documents cannot be used again.It's very important to write the date and purpose, which we never do while submitting KYC documents.
Here after Sign as
1………Signature
2………Date
3………Purpose
4………and not to be used for other purposes.
Here are some other steps that should be taken care off:
Do not Share Your DOB (Date of Birth) along with Name and Mobile Number to participate in any lucky draw or contest as Date Of Birth is the most important information for Identity Theft.
When submitting your ID Proof and Address proof online, make sure that the purpose, date etc is written on it.For that, you can get a Photocopy of your ID/Address proof and write the Date, Purpose etc and scan the document or use your Mobile camera to take a picture of it. You can also use any Image Editor program in your PC or Mobile for writing the above details in the soft copy of the same.
Always Keep your documents in a safe place and if your documents are lost, file a police complaint.
We often save our ID Proof/Address proof copies or important information like PAN Card, Bank Account numbers, passwords etc in our Mobile Phone.When you change your Mobile, do not forget to delete all saved documents and uninstall programs.Mobile should be restored to factory settings.
Do not share any ID/Address proof copies in Social Media websites. Check your CIBIL Score at least once in a year. Banks always check your CIBIL Score before approving your loan application. By keeping an eye on your CIBIL Score, you can easily identify any wrong entries and correct it as early as possible.
Please pass this message to as many people you can.
Subscribe To Our Youtube Channel and Get More Great Tips :
Save
Save
Save
Related Post
Last updated on July 19th, 2018 at 02:47 amFind the Step by step process to Enable or Disable Hibernate in Windows 10. Hibernation is a feat...
Last updated on July 19th, 2018 at 02:26 amLearn How to get SBI account statement Online. State Bank Of India provides many options to check...
Last updated on July 12th, 2018 at 08:04 amLearn How to Track SBI ATM Card delivery status Online. If you have applied for the new SBI ATM C...