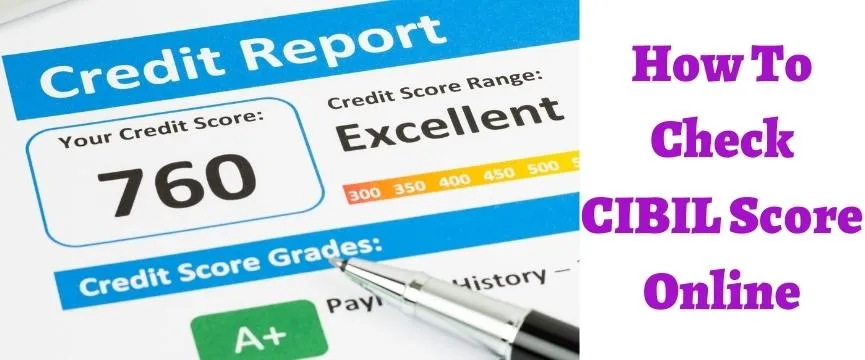 How To Check CIBIL Score Online Free, What Is CIBIL Score And How To Calculate It?
Last updated on July 12th, 2022 at 12:50 pm
In this blog post find out How To Check CIBIL Score Online.You can check your CIBIL score online Free. Your CIBIL score is an important factor when applying for loans or credit cards. Find out what your CIBIL score says about you and what it implies for your future!.
CIBIL is one of India's most trusted financial services companies. CIBIL scores help lenders decide whether they should give you a loan.
You are able to have a free look at your CIBIL score online. The decision of whether or not to lend money to you can be influenced by your CIBIL score.
Simply navigate to cibil.com in order to view your CIBIL score on the website. Learn more about this score and the significance it holds here.
It is a corporation that manages and maintains the credit records of a variety of clients, including individuals, companies, and institutions, on the basis of which financial institutions provide loans.
CIBIL receives the information needed to construct CIBIL Score from financial institutions such as banks and other lending institutions. CIBIL scores are used as an indicator of your creditworthiness.
CIBIL has over 1 million members across India. SIBIL scores are available for both individuals and businesses.
If your CIBIL score is relatively near to 900, then it is regarded to be an excellent score, and it should not be difficult to obtain permission for a loan or debt.
On the other hand, your credit score is considered to be poor if it is around or equal to 300, and it will be tough for you to obtain any type of loan.
Therefore, it is essential to examine and keep track of your CIBIL score on a consistent basis.
How CIBIL Score is calculated?
CIBIL is a corporation based in India that offers information pertaining to consumer financing in the country. The amount of money that a bank is willing to lend to a consumer is directly related to their CIBIL score.
CIBIL scores are determined by a number of parameters, including but not limited to income, employment history, record of loan repayment, credit card repayment, etc. Scores on CIBIL are updated on a monthly basis.
Your payment history, current debt level, age, income, work status, and other factors are taken into account when determining your CIBIL score.
Your ability to make payments is one factor that is taken into consideration when looking at your CIBIL score. If your CIBIL score is good, it means that you have a history of making on-time payments for your debts.
If your CIBIL score is poor, it indicates that you have missed some of your payments. If your CIBIL score is low, you will be required to make additional payments on top of what you already owe.
If your CIBIL score is high, you can anticipate paying a lower amount than what you are currently obligated to pay back.
Your Equated Monthly Installment (EMI) is another factor that is taken into consideration when your CIBIL score is being determined.
Only your ability to repay debts is taken into consideration when calculating your CIBIL score.
How often cibil score is updated
After completing an application, your CIBIL score will typically be determined within the following twenty-four hours. CIBIL scores are normally calculated anywhere from two to three months after a loan application has been submitted.
In most cases, CIBIL scores are only calculated once every calendar year. When you apply for a new loan, CIBIL scores are frequently calculated as part of the process.
The CIBIL score for your loan will be reassessed anytime there is a change made to it.
Banks, NBFCs, housing finance companies, and other businesses use CIBIL scores. The CIBIL score is based on information from different places, like bank statements, credit card bills, pay stubs, etc.
Summary
There are three digits in a CIBIL score.
The range of CIBIL scores is from 0 to 900. Most of the time, a CIBIL score is given after 3 years of making payments.
Every month, the CIBIL score is changed.
Only people who want to borrow money can get a CIBIL score.
CIBIL score is not mandatory.
For some loans, you need a CIBIL score. The CIBIL score is not required for some loans.
Difference between CIBIL Score and Credit Score
CIBIL Score
A consumer's credit profile can be understood by their CIBIL score, which is a three-digit numeric summary of the consumer's credit history.
On the other hand, CIBIL is a credit bureau that keeps records of all the credit-related actions of businesses and individuals. These records can be accessed by anybody.
One of the four most important credit bureaus in India is called CIBIL.
Equifax, CRIF Highmark, and Experian are the names of the other three credit bureaus. The Reserve Bank of India has issued licenses to each of India's four credit bureaus (RBI).
The credit rating that is determined by CIBIL and given a number is referred to as the CIBIL score.
What exactly constitutes a credit score?
Your credit score is a numerical representation of how creditworthy you are as a prospective borrower.
Your credit score is determined by taking into consideration your credit history, which includes the total amount of debt, the number of credit accounts, credit card bills, credit utilization information, and payback history, among other factors.
When determining your credit rating, another factor that is considered is the number of times you have requested information about your credit history, such as when you applied for a credit card or a loan.
The credit rating company TransUnion developed the CIBIL Score, which is a numerical representation of a consumer's creditworthiness.
A credit score obtained from any one of the four major credit agencies is just as reliable as the others. However, the vast majority of financial institutions favor CIBIL scores.
When looking for financing, the only thing that matters is your TransUnion CIBIL credit score because it is the gold standard of credit scores. Even though there are a great number of credit bureaus out there that offer credit scores, CIBIL is the one that banks put the most stock in.
A credit score, also known as a credit rating or FICO score, is a three-digit number that indicates the quality of a person's credit history.
A CIBIL score can range anywhere from 300 to 900 in India; however, having a CIBIL score of 750 or more will result in a quicker approval process for loans or credit cards.
Before moving forward with any kind of credit application, the lending institution will check both your credit score and your credit history.
Difference between CIBIL Score and CIBIL Report
Your CIBIL report is a report created by CIBIL that contains information about your CIBIL score as well as your debt accounts and the payments made on those accounts.
It includes specifics such as the loans that you may have taken out in the past, the dues on your credit cards, and other financial obligations, as well as how you repaid them. Your CIBIL score is determined with the assistance of all of this information that is provided to CIBIL.
In addition to the specifics regarding your financial obligations, it also contains your personal information, such as your name, address, Permanent Account Number (PAN), contact details, and so on.
How to check the cibil score online
You can check your CIBIL Score online by visiting the official CIBIL website https://www.cibil.com
Keep in mind, however, that in order to obtain limitless access to the CIBIL dashboard or to obtain customized loan offers, etc., you will need to subscribe to a plan, which will cost you a minimum of 550 Indian Rupees for a month.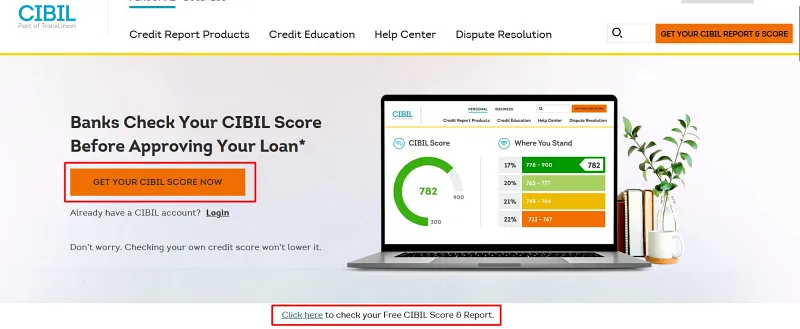 Now you will be redirected to a page where you have to fill your personal information to create an account.
Enter your Name, Email ID and Password and attach an ID Proof (Driver's License Number, Passport Number, PAN Card, Aadhaar or Voter ID). Also enter your zip code, date of birth and Phone number.
Now Click on 'Accept and continue' option
You will receive an OTP on your given Mobile Number . Enter the OTP and select to 'Continue'
Select 'Go to dashboard' option and check your credit score
Now you will be redirected to myscore.cibil.com
Click on 'Member Login'
Once you log in, now you can see your CIBIL score.
Minimum CIBIL score to get Personal loan and Home loan
In order to qualify for a personal loan, a CIBIL score of at least 750 is required. In order to access more functions, you should have a CIBIL score that is close to 900. If your score is lower than 750, you will need to work on improving it.
A CIBIL score between 650 and 749 is required as a bare minimum to qualify for a mortgage loan. Any score higher than 750 is regarded to be satisfactory.
How to maintain good CIBIL score
The following are some easy steps that can be taken to keep your CIBIL score in good standing.
By making on-time payments of your installments, you can keep a solid record for yourself.
Take responsibility for your credit card use and make purchases up to the limit at all times.
If you are unsure about your ability to repay a debt, you should steer clear of co-signing for one.
Avoid obtaining too much debit.
Find below the Cibil Score and it's value

| | |
| --- | --- |
| CIBIL Score | Range |
| 300-579 | poor credit |
| 580-669 | fair credit |
| 670-739 | good credit |
| 740-799 | very good credit |
| 800-900 | exceptional credit |
If a potential borrower in India has previously applied for credit cards or taken out loans, they should check their CIBIL score on the organization's official website before submitting an application for a new loan.
This is because a CIBIL score might affect the interest rate that a lender offers.Check the minimum required credit score for the borrower, and only apply for the loan if you have a score that meets or exceeds the minimum.

If there is any chance that your credit report does not meet the necessary standards, you should make an effort to raise your credit score before asking for a new loan. This will increase the likelihood that your loan request will be approved.
For more updates, Follow us on Facebook and YouTube.
Also Read Other Banking Related Posts
Related Post
Please ShareIf you've forgotten your SBI YONO login password, don't worry! You can easily reset it using the following steps How...
Please ShareThe State Bank of India (SBI) is one of the largest banks in India, with over 24,000 branches and ATMs across the country. If yo...
Please ShareLast updated on November 17th, 2023 at 05:14 am In an age of digital transactions, safeguarding your financial assets is paramou...