How To Enable And Disable Two-step Verification On WhatsApp
in Blog, WhatsApp Tips
Tagsforgot two step verification in whatsapp, how to login whatsapp without verification code, how to reset two-step verification in whatsapp without email, two step verification in whatsapp, two-step verification gmail, two-step verification reset password, two-step verification whatsapp, two-step verification whatsapp forgot password, two-step verification whatsapp forgot pin and email, why does whatsapp ask for two-step verification periodically
Last updated on March 29th, 2022 at 07:55 am
WhatsApp Two-Step Verification is an optional feature that increases the security of your WhatsApp account. Two-Step Verification helps to protect your account information by requiring you to enter a second step verification code.
When you enable this feature, you'll be prompted to create and confirm a one-of-a-kind PIN that will be required to access your account.
In contrast to the 6-digit registration code you receive via SMS or phone call, the two-step verification PIN requires you to enter two additional steps.
End-to-end encryption, as well as multi-platform usage, are already supported by WhatsApp, the most popular messaging platform on the planet, which is owned by Meta.
Listed below is the procedure for enabling two-step verification on WhatsApp.
Two Step Verification WhatsApp Meaning
WhatsApp  two-step verification is an optional feature that improves the security of your WhatsApp account by preventing unauthorised access to your messages and conversations.
Because WhatsApp accounts can now be accessed from computers, laptops, tablets, and smartphones, the likelihood of being targeted by cyber criminals has increased.
As a result, users should take all necessary precautions to keep their WhatsApp accounts secure.
The option to enter your email address is provided when you enable two-step verification. It also enables WhatsApp to send you a reset link via email in the event that you forget your PIN, which helps to keep your account secure.
What is the procedure for enabling two-step verification on WhatsApp?
Follow the below Steps:
Open the WhatsApp application on a smartphone by tapping the three dots on top right.
Now select the Settings menu from the list.
Navigate to the Accounts section at the top of the page.
Locate and tap on the Two-step verification option on the screen.
It says on the Two-step verification page, "for added security, enable two-step verification, which will require a PIN when registering your phone number with WhatsApp again," when you click on it.
Select 'Enable' from the drop-down menu at the bottom of the screen.
Following that, WhatsApp will prompt the user to create a 6-digit PIN.
Enter your PIN and then tap on the next button at the bottom of the screen.
Tap on the next button after entering the PIN number a second time.
Fill out the form on the next page with your email address, which will be used to reset your PIN. Confirm your email address on the next screen.
We recommend you to enter your email address so that we can reset the 6 digit verification Pin if we forgot it.
Now click on the 'SAVE' button
WhatsApp will display the message "Two-step verification is enabled" once all of the steps have been completed.
At the bottom of the screen, press the Done button.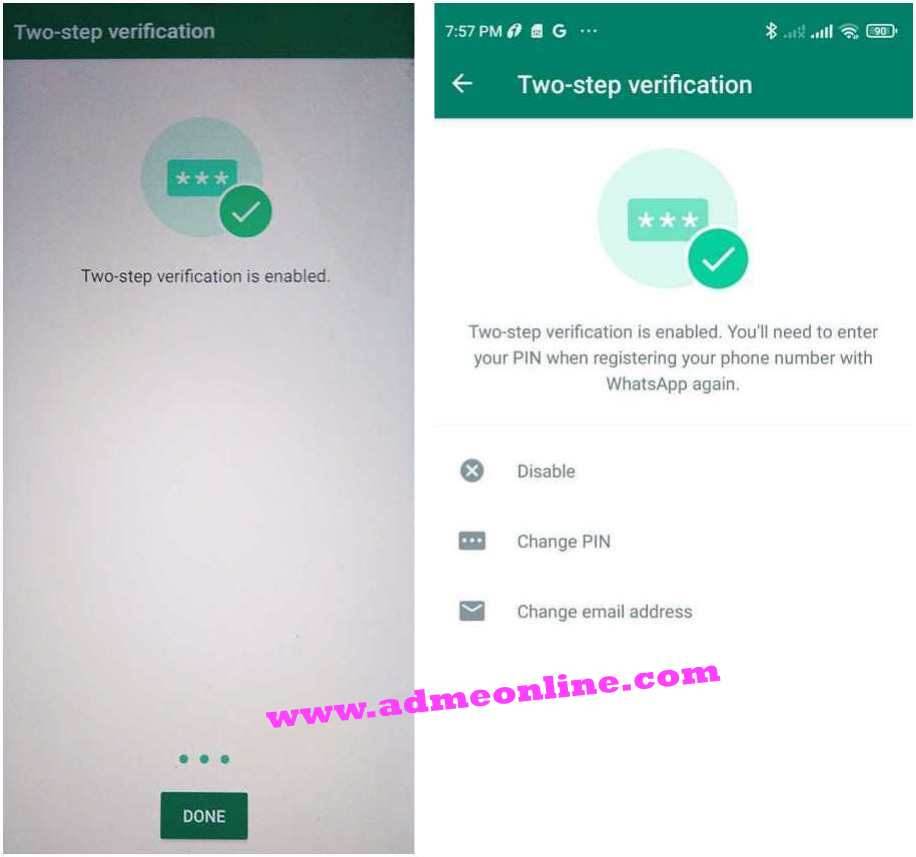 After successfully completing the steps outlined above, two-step verification should be enabled on the device used by the user.
You will need to enter the six digit Pin when registering the phone number with WhatsApp again.
Why does WhatsApp ask for two-step verification periodically?
To help you remember your PIN, WhatsApp requests two-step verification (WhatsApp will prompt you to enter the PIN ) on a regular basis, once every seven days.
Unfortunately, there isn't a way to turn off this feature without also turning off the two-step verification feature as well.
WhatsApp two-step verification Forgot Password?
You can Change the WhatsApp 2 step Verification PIN Number and Email address by selecting the appropriate option from the Settings-> Accounts-> 2 step verification section.
If you forgot WhatsApp 2 step verification PIN then follow the below steps:
Tap Have you forgotten your PIN? Send a message via email.
Now you will receive an email with a link to reset your password at the address you provided.
Then, open WhatsApp and select 'Forgot PIN?' from the drop-down menu.
How to disable WhatsApp two-step verification?
Users can turn off two-step verification on WhatsApp by going to the same menu as before: Settings > Account > Two-step verification > disable.
The PIN and the email address can also be modified from this menu, if necessary.
If you Like this Post, Please 'Like' and 'Share' it with your Friends.
Join Our Facebook Group : www.facebook.com/groups/admeonline

Subscribe Our YouTube Channel: Youtube.com/admeonline
Related Post
Please ShareIf you've forgotten your SBI YONO login password, don't worry! You can easily reset it using the following steps How...
Please ShareThe State Bank of India (SBI) is one of the largest banks in India, with over 24,000 branches and ATMs across the country. If yo...
Please ShareLast updated on November 17th, 2023 at 05:14 am In an age of digital transactions, safeguarding your financial assets is paramou...