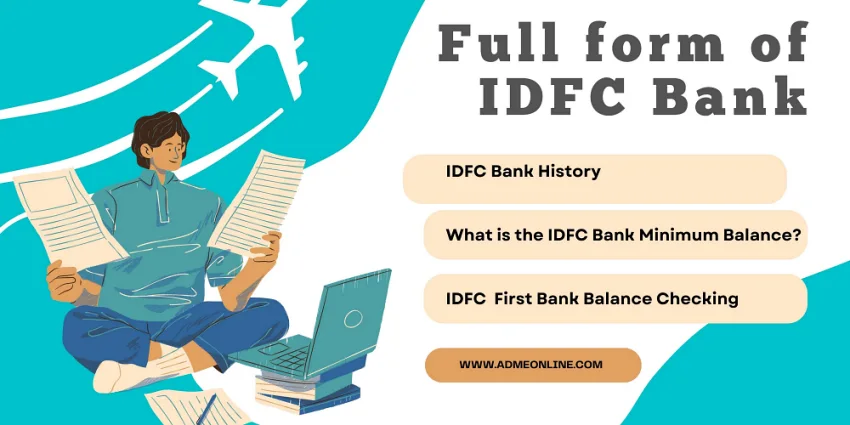 Full form of IDFC Bank | IDFC Bank History | IDFC Balance Check
Last updated on August 30th, 2022 at 10:10 am
In this post find the Full form of IDFC Bank. Also find the IDFC Bank History, Wha is IDFC first Bank? How to check the balance in your IDFC bank account, and other related questions. 
It is an Indian financial agency that provides investment banking, infrastructure, and wealth management firms with financial and advisory services.
In April of 2014, the RBI gave its nod of approval to two commercial institutions out of a total of 25 applicants. One of the institutions selected was the non-banking financial institution IDFC.
The Reserve Bank of India (RBI) granted IDFC Limited approval in principle in 2014 to establish a new private sector bank. With this in mind, IDFC Limited has transferred its assets and liabilities in the field of infrastructure finance to a brand-new company called IDFC Bank.
The IDFC Ltd, underwent a de merger in November 2015, which resulted in the establishment of the bank. On October 19, 2015, IDFC Bank began conducting business activities.
IIDFC was established on October 19, 2015, and IDFC Bank currently operates 23 branches across the states of Maharashtra, India, as well as in the cities of Mumbai, Delhi, Bangalore, Hyderabad, Pune, Ahmedabad, Chennai, and Kolkata.
IDFC Bank and Erstwill Capital First made the announcement of their relationship in January of 2018. IDFC First Bank was established as a new financial institution on December 18th, 2018, following the merger of IDFC Bank and Erstwhile Capital First.
Mr. V. Vaidyanathan, the bank's founder and current Chief Executive Officer, was also the first Managing Director of IDFC First Bank, which merged with IDFC Bank and Capital First in December 2018. This merger occurred in 2018.
IDFC FIRST BANK is a global bank that has its headquarters in Mumbai. It is a bank that aims to set a new standard in user experience while also providing customers with a variety of financial solutions through the bank's local branches, internet banking, and mobile banking.
Its mission is to establish a new standard in user experience. It accomplishes this goal by using cutting-edge technology and adopting an approach that is centered on customer service in order to provide banking that is not only convenient but also open at all times and from any location.
Products and Services offered by IDFC Bank in India
Personal banking,
corporate banking,
investment banking,
treasury management,
trade finance,
asset management,
Insurance,
wealth management,
Retail banking,
Credit cards,
Debit cards,
Internet banking,
Mobile banking, and more are all types of banking services offered by IDFC First bank in India.
How to open an IDFC Savings Account Online
The following is a list of the actions that need to be taken in order to open an online savings account with IDFC FIRST Bank.
Step 1 : Visit IDFC First bank Savings Account Online Application link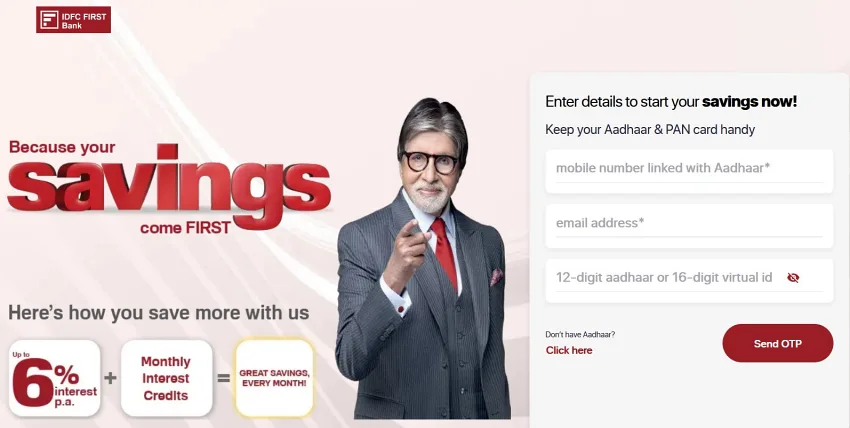 Step 2:Enter your Aadhar Linked Mobile Number and PAN
Step 3: Then Enter your Email Address and 12 digit Aadhar Number or Virtual Id
Step 4: Click on 'Send OTP' button
Step 5: Now you will get an OTP on your given Mobile number to verify the Aadhar.
Step 6: Enter the OTP and Complete the Aadhar KYC verification.
Step 7: Now enter your Professional and Personal details like Occupation, Source of Income etc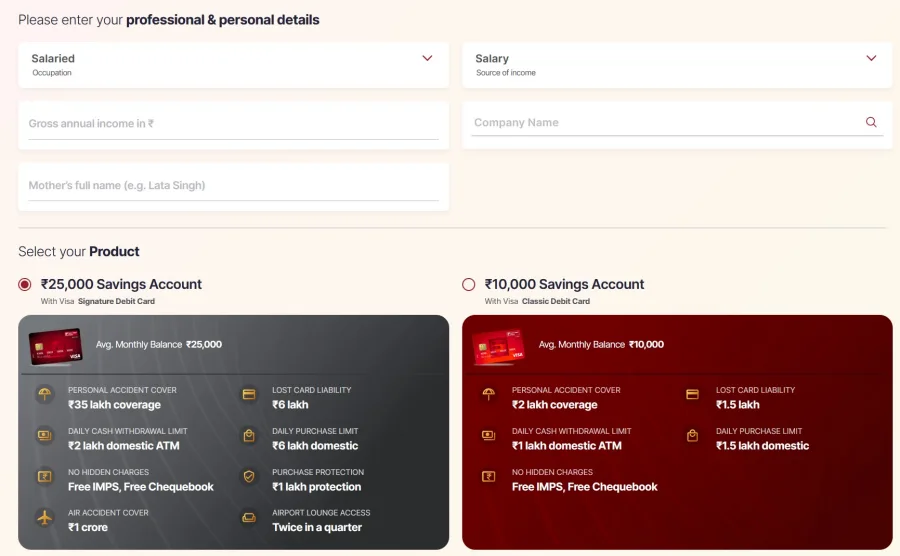 Step 8: Now select the Savings account you want to open.
There are two products with Rs. 25,000 or Rs.10,000 Savings account.
On that page, you'll be able to view the features that come with each account.
Step 9: Accept the Terms and then click on the button 'Proceed to Open Account'.
Your customer ID, account number, and IFSC Code will be sent to you by email and SMS as soon as your account has been set up.
The IDFC FIRST Bank will present you with a welcome package. It includes everything that is necessary to manage a bank account successfully.
What are the Eligibility Requirements to Create an Account with the IDFC Bank?
The following are the requirements to become eligible for an account with the IDFC Bank:
The applicant must be an Indian citizen
Lives in India
You are required to abide by the standards established by the Government of India if you are a foreign national currently living in India.
The account should have a minimum average monthly balance of Rs. 25,000 or Rs.10,000, depending on the type of savings account it is.
Documents required to open IDFC Bank account
You will simply need your Aadhaar number, your PAN number, and the mobile number that is linked to your Aadhaar in order to register an account online with IDFC FIRST Bank.
IDFC BANK MINIMUM BALANCE PER MONTH:
The minimum account amount that must be maintained in an IDFC FIRST Bank Savings Account on a monthly basis is different depending on which savings account you choose.
How to check IDFC Bank account Balance?
IDFC First Bank is working on providing a better experience for its customers. As part of this effort, the bank has created multiple channels through which customers may check their Account Balance, Mini Statements, Most recent transaction, Account statements, and more.
Also, be aware of how to check the balance of your IDFC account using the various banking modes such as:
Mobile Banking
 Internet Banking
 SMS Banking
 IDFC Bank ATM
 Bank's Toll-Free Number
IDFC Bank Balance check through IDFC Mobile Banking:
The IDFC Mobile Banking App is available on the Play Store for download and installation on mobile devices running Android and iOS.
It is extremely user-friendly, in addition to being convenient and safe.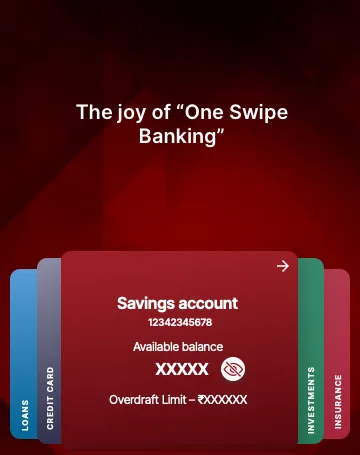 Customers are able to check their account balances, make RTGS or NEFT transfers, view account summaries, pay bills, recharge, and a variety of other banking functions by logging in to the IDFC app.
IDFC First Bank Balance Check through Internet Banking
Customers of IDFC First Bank do not need to go to a branch in order to check their balance, make fund transfers, view mini statements, or inquire about loans because internet banking makes all of these services available.
Customers of IDFC First Bank have access to an internet banking facility that is simple to operate.If you are a new user, you have to register for the IDFC First Bank internet banking account.
After that, in order to access the dashboard, you will need to enter the login credentials, which are comprised of the username and the password.
After you have successfully logged in, you will be able to view the current balance on your dashboard.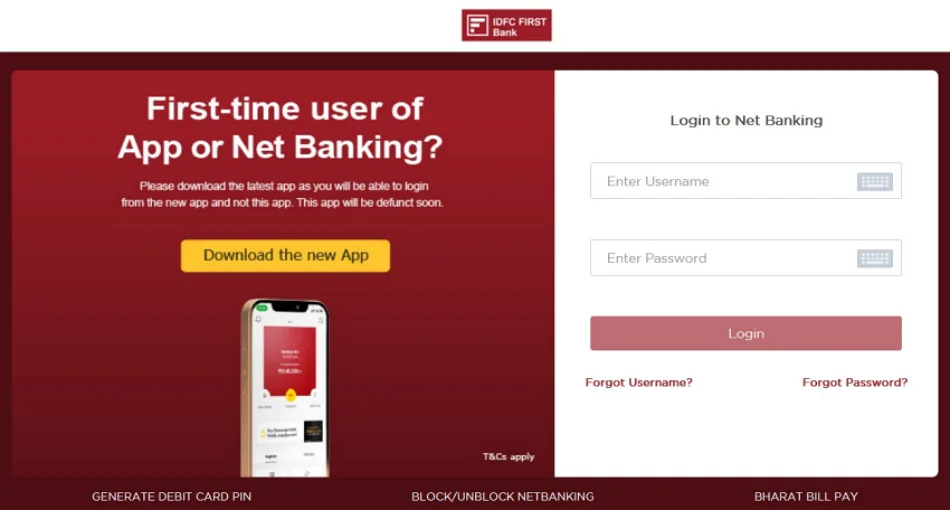 E-Statement: Electronic statements are available as an additional feature of internet banking.
Customers who use e-statement have the option of receiving their statements on a monthly or yearly basis via email sent to an address that has been verified as active by the bank.
This electronic statement includes the transaction history of the account as well as the current balance of the account.
IDFC First Bank Balance through SMS
Customers of IDFC First bank also have the option of using the convenient SMS banking service that is made available by the bank in order to check their account balance.
In order to use the option to check your balance through SMS, your mobile phone number has to be registered with the bank.
If your mobile phone number is not associated with your account, you should go to the branch that is closest to you and have them update the mobile number.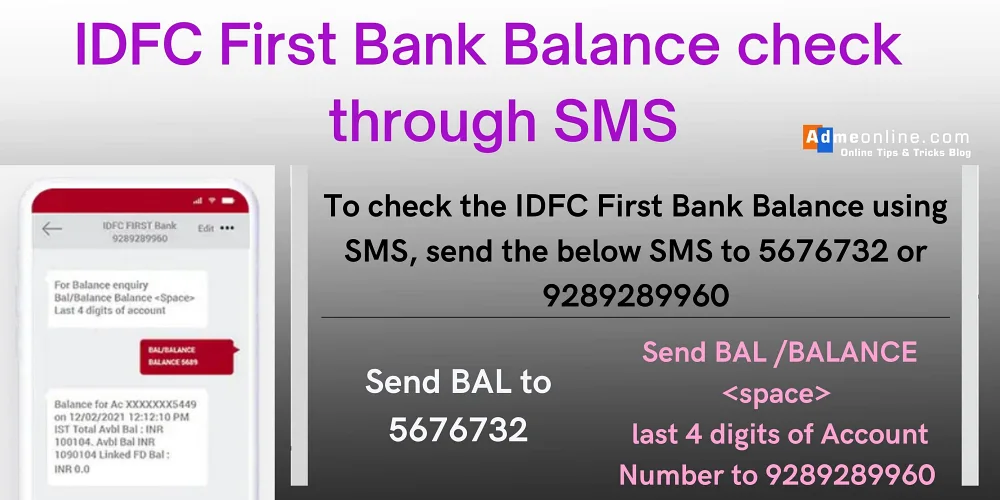 The following services are also available to be used with the IDFC First Bank SMS banking service.
View last 5 transaction details (Mini Statement)
Block your Debit Card
Request a new Cheque Book
Cancel a Cheque Book request etc
After you have registered your mobile number, you will be able to send an SMS to the number 5676732 or 9289289960 with the transaction code for the service that you wish to make use of.
In a very short period of time, they will get back to you with a response.
Balance check through WhatsApp Banking
Simply sending a "Hi" message on WhatsApp allows the user to monitor all of your IDFC First Bank transactions in real time.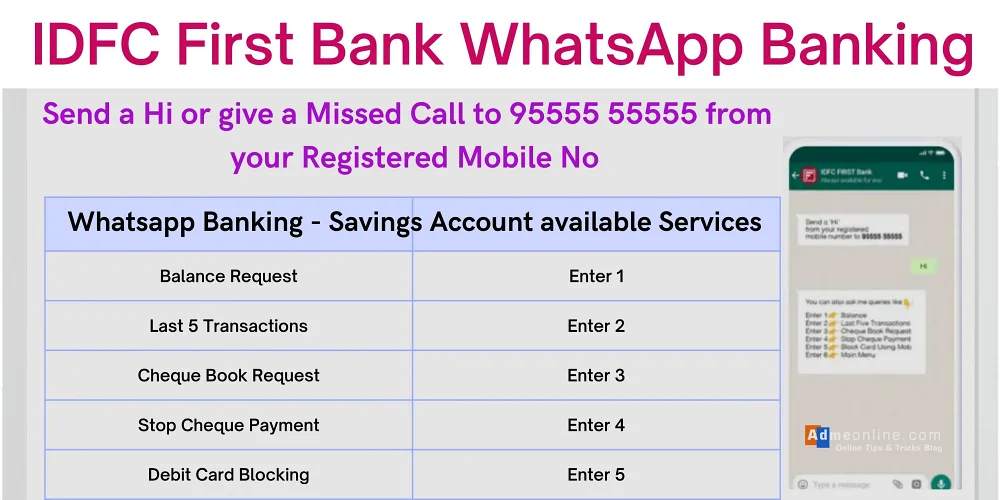 Whatsapp Banking – Savings Account available Services
Enter 1

–

Balance Request

Enter 2

–

Last 5 Transactions

Enter 3

–

Cheque Book Request

Enter 4

–

Stop Cheque Payment

Enter 5

–

Debit Card Blocking
IDFC Balance check through Watch Banking
The following electronic gadgets are compatible with IDFC FIRST Bank's Watch Banking service:
Apple Watch Series 2.0 and higher, along with iOS 10 or later.
Android Wear OS 2.0 and versions 23 and higher of the Android operating system
After you have created the MPIN and downloaded the IDFC FIRST Bank App onto your watch, you will be able to use it to monitor things like your account balance, the most recent 10 transactions, and more.
You can use it to pay bills, transfer funds, and do a variety of other things as well.
IDFC Balance check through ATM
Account Balance in IDFC First Bank Make sure you check at the IDFC First Bank ATM that's closest to you.
All account holders are required to have a functional ATM/debit card and a 4-digit ATM PIN.
Insert the ATM/Debit Card into the appropriate slot at the ATM, and then enter your 4-digit PIN.
To get the account summary and Balance, tap on the Balance checking option.
Instantaneously, your available account balance will be displayed on the screen.
For more updates, Follow us on Facebook and YouTube.
Also Read Other Banking Related Posts
Related Post
How to Link Aadhaar With PAN Card Online | Pan Aadhar link Status In this post, learn How to Link your Pan Card with your Aadhar Card online...
In this post, you will learn how to scan the Google Pay QR Code from your Mobile Phone Gallery. These days, the majority of us are familiar ...
Last updated on October 28th, 2022 at 09:24 amThis post will discuss the Indusind bank balance check number and IndusInd bank balance check ...