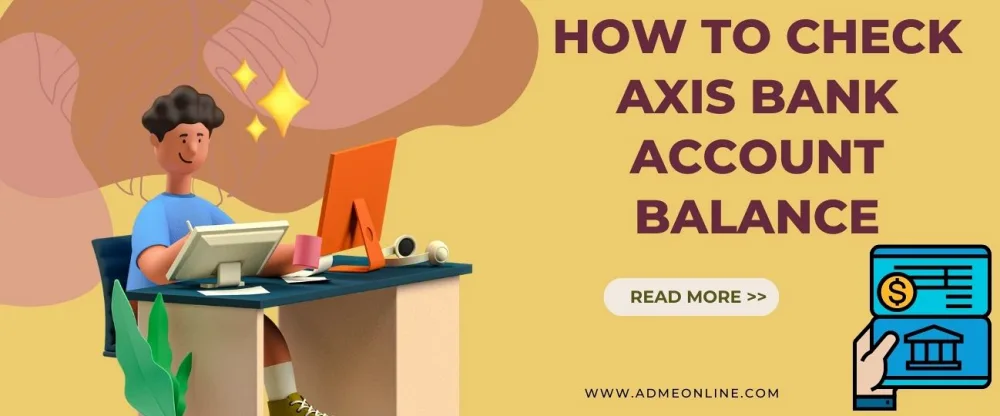 7 Easy ways to check Axis Bank balance [2022]
Last updated on August 30th, 2022 at 10:18 am
In this post find the Axis Bank Balance checking No. Also find other easy ways to check the Axis bank balance. Customers of Axis Bank can check the balance of their accounts using either the Mobile banking platform or the Internet banking platform that Axis Bank makes available to its customers.
The option of Axis Missed call banking as well as the facility of SMS banking are both available to account holders as additional options for checking the balance at any time.
Mobile Banking Account holders who want to check the balances of their accounts on their cellphones can do so by downloading the Axis Banking or UPI apps.
Axis Balance check No, SMS Banking, Net Banking, Mobile Banking, etc
Axis bank account holders can easily check their bank account balances by calling Axis Bank's missed call balance check no. There are many more ways to request the Axis Bank balance check. You are free to pick a range of options such as internet banking, SMS banking, or Mobile Banking etc.
How to Check Axis Bank Account Balance without visiting the Branch?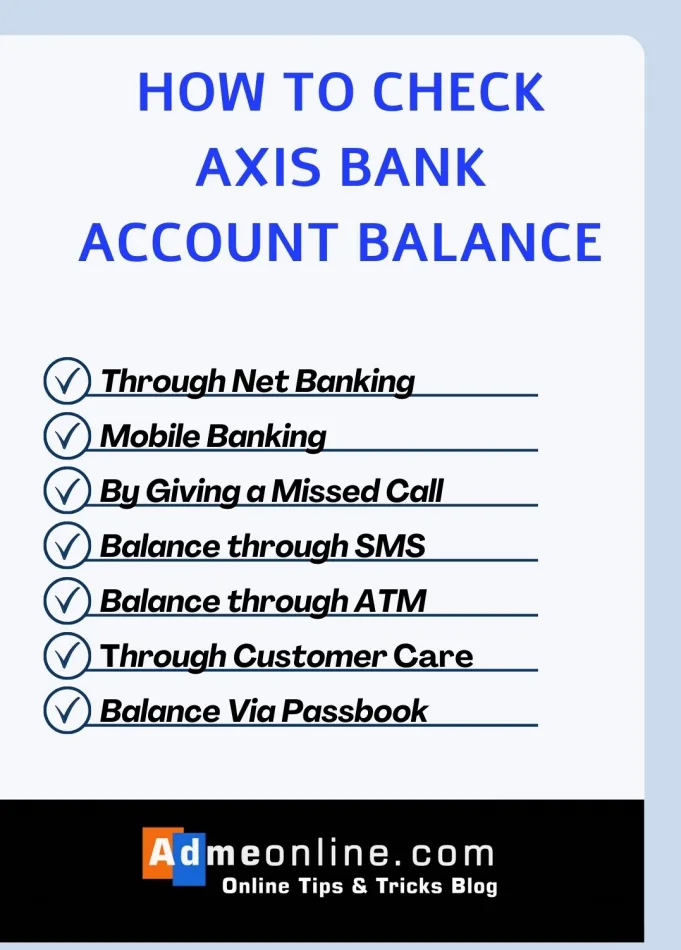 The accounts need to be reviewed on a regular basis in order to guarantee that the balance between our expenditures and our savings remains unaltered. In the event that it is essential, we are able to examine our account and look for fraudulent activities.
Find below Axis bank balance check options:
Check Axis Bank Account Balance through Net Banking:
Axis Bank account holders can check their account balances through the Axis Bank Net Banking facility.
Firstly, You can log in through net banking with your user id (Customer ID) and password
After you have successfully logged in, navigate to the "Account Balance" tab that is located on the dashboard. There, you will find that you can select the account number to view or download the statement, as well as the account balance.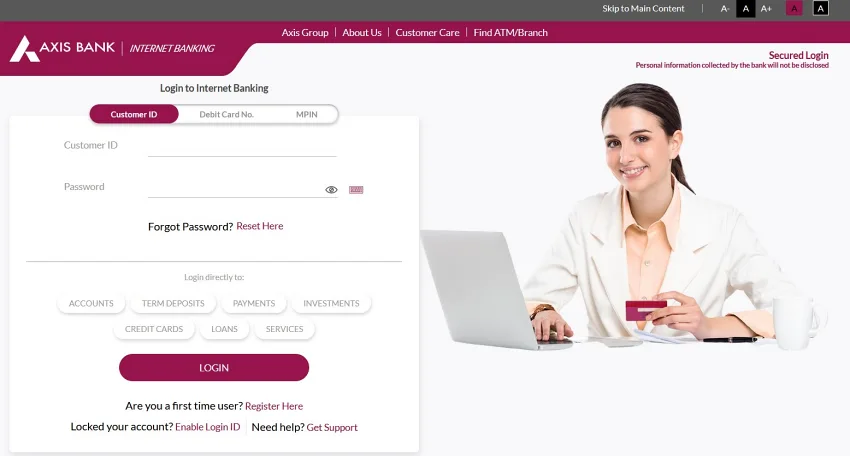 To check the current balance of the account, go to Accounts and then pick Operative Account.
Check Axis Bank Account Balance through Mobile Banking:
Axis Bank account-holders need to download Axis Mobile Banking UPI apps on their smartphones to check their account balance.
Customers of Axis Bank can check their account balances at any time using any of the following mobile applications (Apps).
Axis Mobile,
BHIM Axis Pay,
Axis OK,
Axis Merchant App,
and Axis Netsecur
Axis Mobile Banking App is available on Google Play Store, Once you download the app, follow the below steps to check the account balance:
Log in to the UPI app linked to your Axis Bank account.
Tap on the account and go to the 'Balance Check' option.
Next, verify the transaction using the MPIN to display the account balance.
Axis Bank Account Balance through SMS
To check Axis Bank account balance for single account, account holders can send
You will get the balance of your primary axis bank account.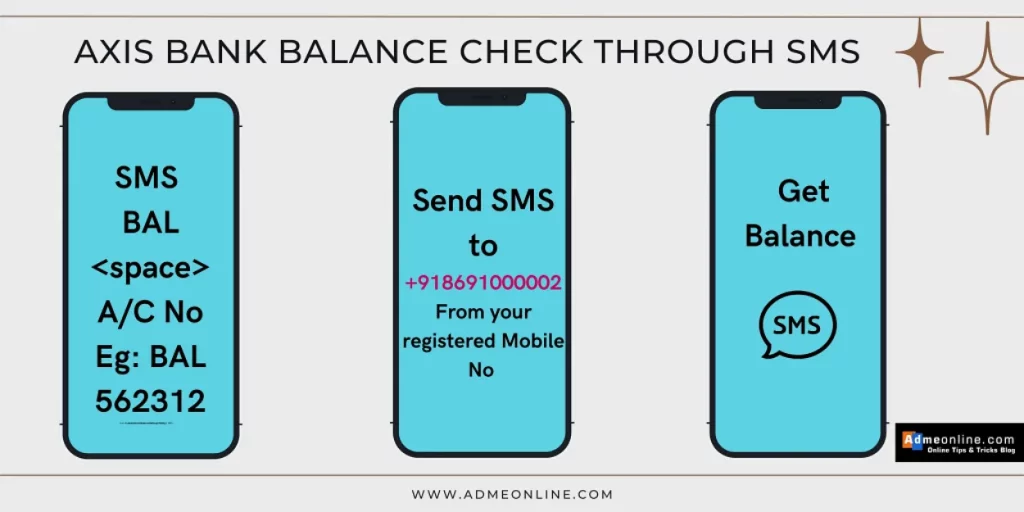 Send the text message along with the account number if you have multiple bank accounts in the Axis Bank with the same registered mobile number.
Balance for multiple accounts,
Send SMS 'BAL<space>last 6 digits of account number" to
+
918691000002
from the registered Mobile Number.
You will get the balance of the given account number.
For NRI Customers- Send the SMS request to +919717000002 to know the axis bank account balance.
Axis bank Mini Statement through SMS
To get the Axis bank last 3 transaction details as a Mini statement SMS, follow the below steps:
Axis Bank Account Balance through Balance Enquiry Number
Advantages of the Missed Balance Checking Service: The Missed Call service provided by Axis is simple, safe, quick, trouble-free, and available at no charge whatsoever.
The missed call service can be used even in the absence of an active Internet connection and is offered in both Hindi and English.
Note: to use the Missed call balance checking option, your Mobile number must be registered with the bank.
To check your Axis Bank account balance, Call 1800 419 5959 from your registered number or give a missed call, and Axis Bank will send a mini bank statement with balance details to your registered mobile number.
How to use Axis Bank Missed Call Balance checking?
You can check your account balance by calling 1800 419 5959.
To obtain your Mini Statement, please call 1800 419 6969.
You may check your account balance in Hindi by dialing 1800 419 5858;
You can receive your mini statement in Hindi by calling 1800 419 6868;
You can recharge your mobile phone immediately by calling 08049336262;
Dial 9073919191 to be removed from the Do Not Call list maintained by Axis Bank (Do Not Call)
Simply typing in ACT and sending it to 56161600 will allow you to activate the mobile recharge service through missed calls (a one-time activity).
E.g., ACT 123456 Airtel.
After activation, you will be able to both recharge your phone and give a missed call from the mobile number you entered.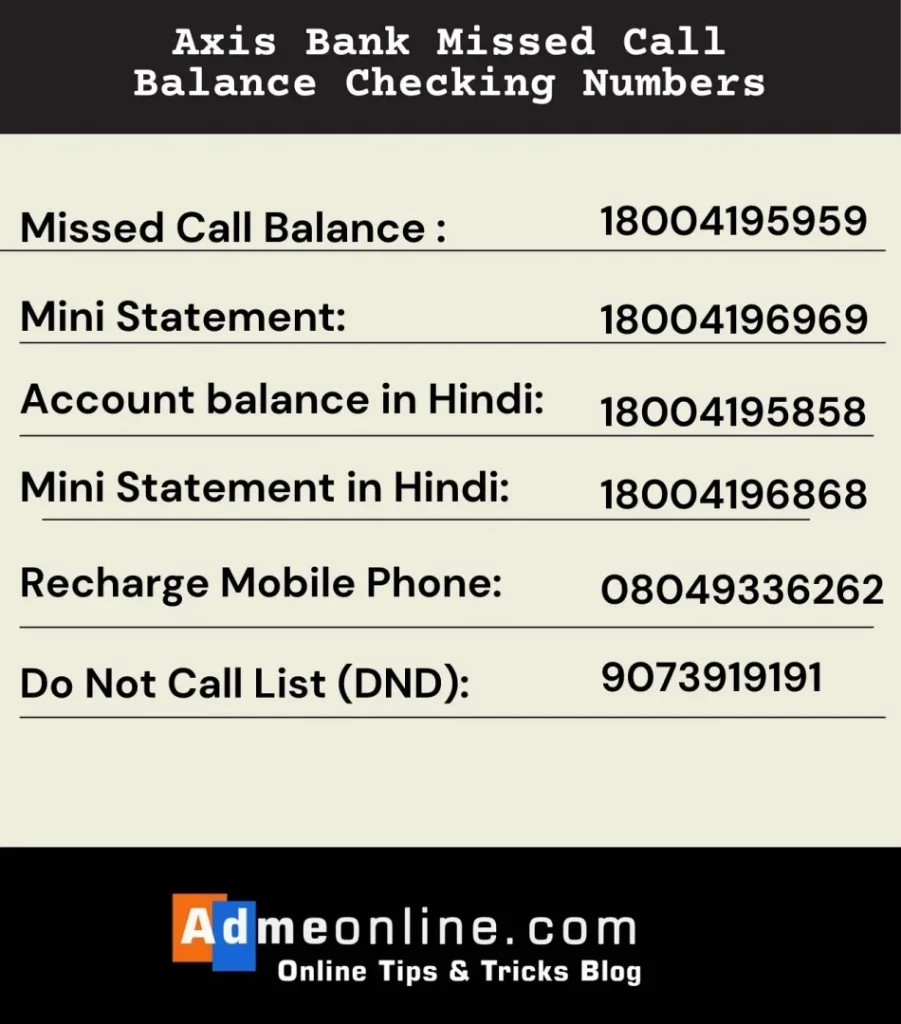 How to check Axis Bank Balance Via Passbook
Axis bank passbooks are sent out to clients who create new banking accounts with the bank. Axis Bank branches make it possible for customers to check the balance of their accounts, make changes to their passbooks, and update their passbooks.
The passbook provided by Axis Bank is an all-inclusive record of the credit and debit transactions that have been carried out by account holders. In addition, Axis Bank allows customers to check their balances over the phone or online.
Check Axis Bank Balance through ATM:
You can easily check your axis bank balance via ATM, follow the below steps
Customers who have an Axis Bank account can check their account balance by going to any ATM that accepts their valid Axis Bank ATM card and entering their account Pin number.
Insert your Axis Bank ATM card.
When prompted, enter the Personal Identification Number for the ATM.
Then, choose the "Balance Enquiry" option.
Now, the balance will be displayed on the ATM screen.
How to check the Axis Bank balance through phone banking IVR?
Axis Bank provides IVR (telephone banking services) which allows you to get your details on call. Customers can call the following numbers:
Axis IVR services are available 24*7.
1-860-419-5555 – (Charges applicable as per the service provider)
1-860-500-5555 – (Charges applicable as per the service provider)
+91-22-67987700 – (For customers living outside India)
When you call the above numbers to check your axis bank balance, the automated system will ask some questions, which you will need to navigate through.
Follow the steps below.
Dial the Axis IVR number
Then Choose the Language
Select the' Banking' option
Enter the authentication details for the customer verification
Then select the Balance Checking option
Now, you will get your account balance.
How much Minimum Balance required in Axis Bank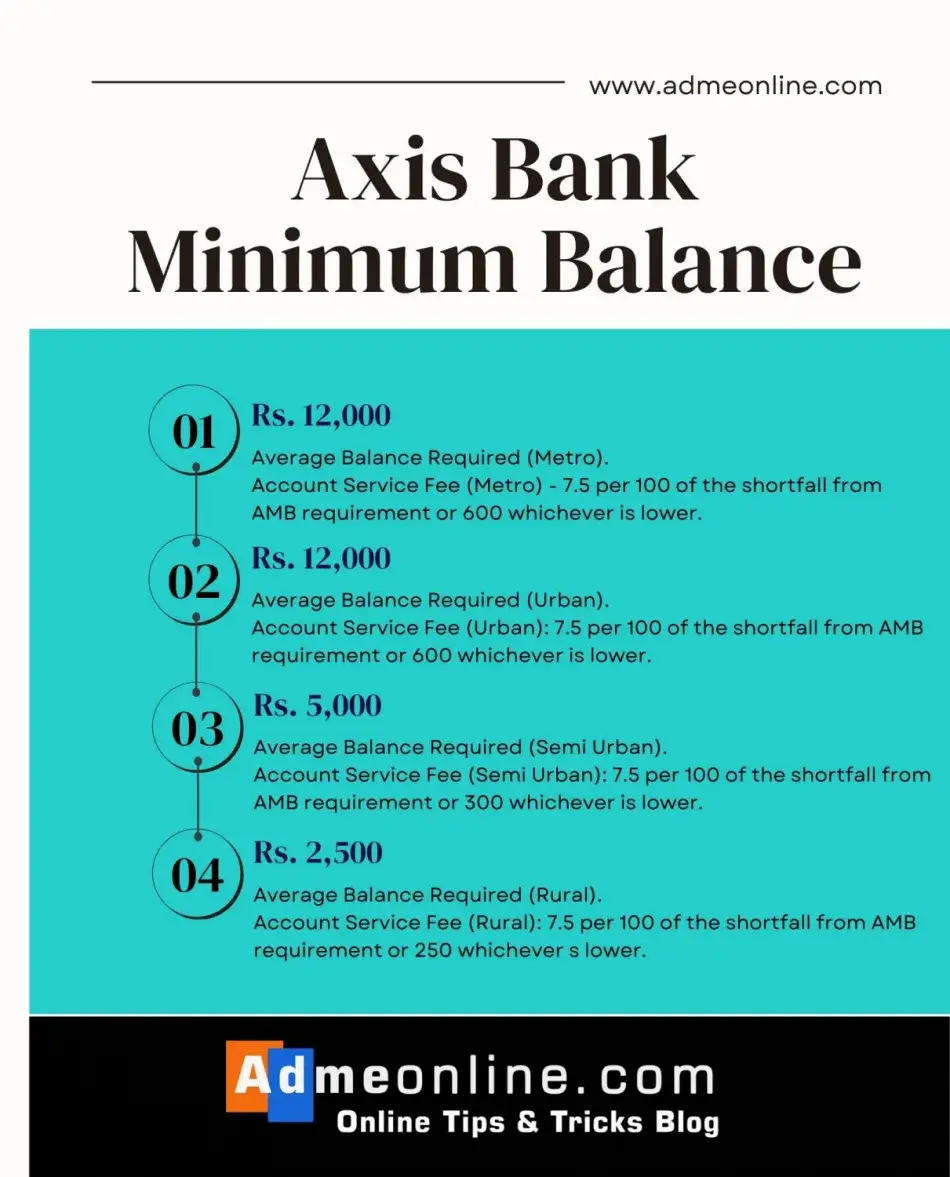 Average Balance Required across all locations:
Metro – Rs. 12,000,
Urban – Rs. 12,000,
Semi Urban – Rs. 5,000,
Rural – Rs. 2,500
Account Service Fee (Metro):  7.5 per 100 of the shortfall from AMB requirement or 600 whichever is lower.
Account Service Fee (Urban): 7.5 per 100 of the shortfall from AMB requirement or 600 whichever is lower.
Account Service Fee (Semi Urban): 7.5 per 100 of the shortfall from AMB requirement or 300 whichever is lower.
Account Service Fee (Rural): 7.5 per 100 of the shortfall from AMB requirement or 250 whichever is lower.
How to get Axis Bank Mini Statement
The following are numbers to call to get Axis Bank mini statement:
By Using Missed Call:
To get your bank Mini statement in English give a missed call to 1800419 6969
To get your bank Mini statement in Hindi to give a missed call on 1800 419 6868
Now you will receive an SMS with the last 3 transaction details.
By Using SMS:
Send a text message to the number 8691000002 or 56161600 with specified keywords (Eg: BAL)
Now you will get the account balance via SMS
For the last 3 transactions: text <MINI XYZ> (XYZ is your bank account number)
How can I check my mini statement in the Axis Bank app?
In order to log in to the Axis Mobile & Axis OK app, you will want both the password and the username. Choose the accounts tab from the dashboard, then choose account information from the drop-down menu. Please click the box labelled "View Mini Statements." The most recent transaction will be displayed on the screen that follows.
Axis Bank is widely acknowledged as one of the leading Indian banking organizations. Axis Bank is the fourth largest bank in India that offers a vast array of banking services. Headquarters is in Mumbai, Maharashtra. It has 4800 stores, 17,000 ATMs, 4.917 Cash recycling centers in its network, 9 international office locations, and 37,000 branch locations.
FAQ's on Axis Bank Balance Check
Tell me the best way to check Axis Bank balance?
Because they can be used whenever and wherever, even when there is no internet connection, the Missed Call Balance check option and the SMS balance checking option are the finest choices for checking the balance of an Axis bank account. Simply send the missed call to the number 1800 419 5959 using the mobile number you registered with the bank. You will receive a quick text message informing you of the balance.
How does Axis Bank balance check through Net Banking?
Checking your Axis bank balance with Net Banking is a pretty simple process. Simply enter your User Name and Password to log in to the online banking system. After that, to view your current account balance, select the Account Balance tab from the menu.
How can I register my mobile number for Axis Bank Balance Enquiry using Missed Calls?
In order to use the ability to check your missed call balance, you will first need to register your mobile number with your Axis bank account. Account-holders should visit the nearest ATM in the Axis banking network in order to register their mobile numbers for SMS banking. If you do not have any number registered in any Axis bank branch, you will not be able to use SMS banking. You also have the option of using the internet banking portal in order to register your mobile number for the missed call banking service.
How can I check my Axis bank balance through IVR or Customer Care?
The best option is to call the Axis Bank customer service. You can speak with a live representative and access the information you need Make sure you have the Account Number handy. Most customer service numbers will guide you through an automated system that either tells you your balance automatically or gives you the option to listen to your balance before you reach out to a representative. Verify your identity. they will ask you questions to verify your identity. If you're connected to an automated service, you'll need to enter answers to the questions using buttons on your phone. Indicate that you called to know your balance. An automated system helps you for achieving your balance. You will be asked to input numbers on your keypad to indicate the choices you have selected. If you speak with a representative, they can share your balance with you and answer any other questions you may have.
Axis Bank Balance through SMS
Users who do not have access to internet banking and do not have a significant amount of technical experience will receive SMS alerts for their bank balance. Account holders at Axis Bank have the ability to check the balance of their Axis Bank account through SMS by sending a message to the number 918691000002 from the mobile number that is associated to their Axis Bank account along with the code BAL Account Number.
For more updates, Follow us on Facebook and YouTube.
Also Read Other Banking Related Posts
Related Post
How to Link Aadhaar With PAN Card Online | Pan Aadhar link Status In this post, learn How to Link your Pan Card with your Aadhar Card online...
In this post, you will learn how to scan the Google Pay QR Code from your Mobile Phone Gallery. These days, the majority of us are familiar ...
Last updated on October 28th, 2022 at 09:24 amThis post will discuss the Indusind bank balance check number and IndusInd bank balance check ...