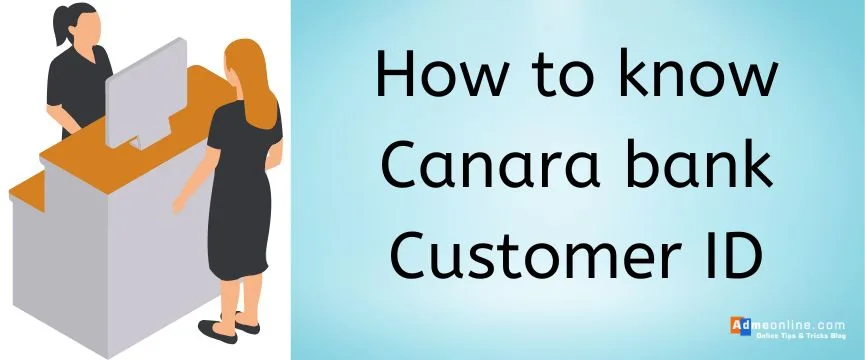 What is Customer ID in Canara Bank | 5 ways to find Canara Bank Customer ID
In this post, find What is Customer ID in Canara Bank and 5 easy ways to find Canara Bank Customer ID. In order to identify customers better, Canara Bank has introduced an innovative customer identification system called 'Canara Bank Customer ID' or CID.
Using your customer ID, you are also able to check the history of your transactions. Checking your account balance at Canara Bank requires the use of your customer id.
Read on to know more about it!
To access Canara Bank's online services, you must first log in to your Internet Banking account. You'll need a customer ID to sign up for the Net Banking service.
Your account is easily referenced with the help of this unique number known as your Customer ID.
It makes it easier for the bank to avoid mismatching the information or confusing consumers whose names are similar.
The RBI regulatory body has granted power for clients to have a single customer id that can be used for several accounts. Additionally, the customer identification number is required in order to transfer your bank account from one branch to another. It can be easily retrieved using the methods listed below, most of which are manual.
Customer ID is useful for a variety of purposes, including the easy access it provides to telebanking and internet banking services.
Some of the different uses of Customer ID are listed below:
You need the customer ID number when placing new requests for Cheque Book, Debit/Credit Card, Pass Book, Change of address or calling the Customer Care, etc., because it makes things move more easily.
By using the customer ID, Bank Customer Care or staff members can readily obtain more details about your bank account, including your account number, which enables them to provide a simple solution.
A customer ID Number is more useful in activating Internet Banking for your account.
Canara bank customer request letter (Cheque Book, ATM/Debit Card etc ) can be downloaded from here.
Your Canara Bank Customer ID can be located with the following items.
You'll need one of the items listed below in order to locate the Canara Bank customer ID associated with your account.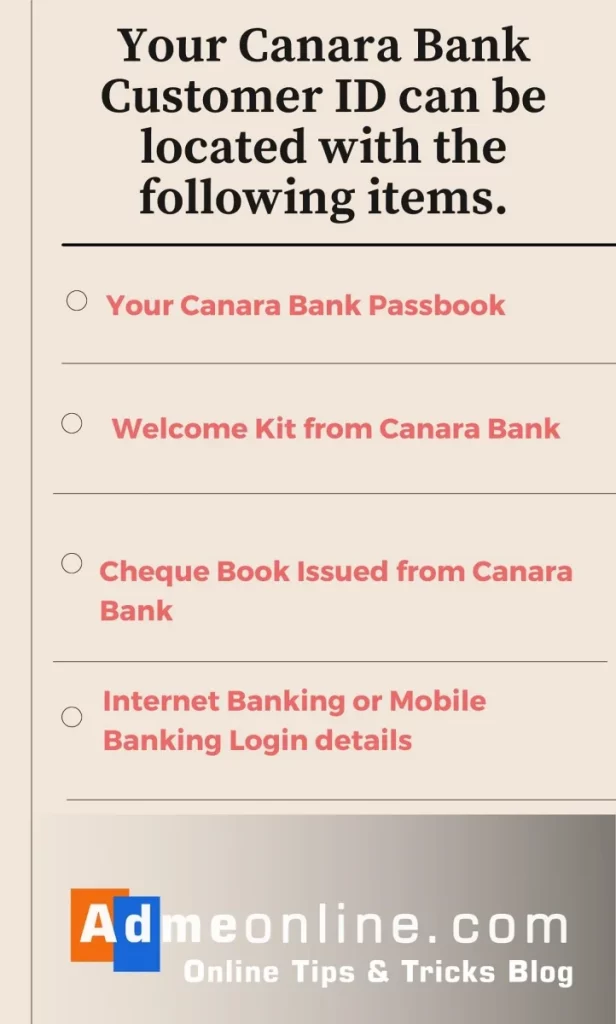 Your Canara Bank Passbook
Welcome Kit from Canara Bank
Cheque Book Issued from Canara Bank
 Internet Banking (Net Banking) or Mobile Banking Login details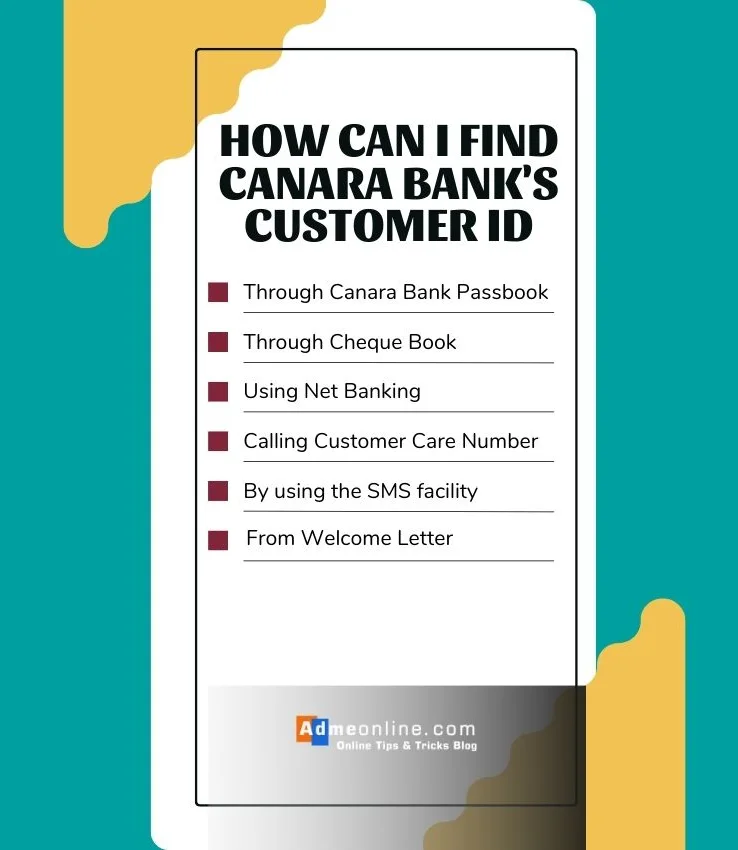 How can I find Canara bank's customer ID ?
If you are a customer of Canara Bank (account holder) but do not know your Canara Bank customer ID, you can use any of the following options to find your Customer ID:
Through Welcome Letter
Find Canara Bank Customer ID through Net Banking
Via Canara Bank Cheque Book
Find Canara Bank Customer ID in Passbook
Through Canara bank Customer ID SMS
By Calling Customer Care Number
In order to access the banking system and make use of Internet Banking, you will be required to submit a customer identification number.
The customer is required to use an ID number from Canara Bank for a variety of different financial transactions. The procedures for determining the Canara Bank Customer IDs are going to be covered in this post.
Easy to find Canara Bank customer ID: Using Net Banking
To find the Canara Bank Customer ID Number through Net Banking, follow the below steps:
Customers of Canara Bank have access to a feature on the internet banking platform that makes it simple for them to access their accounts and locate their Customer IDs.
You will be asked to log in to your net banking account by providing the correct credentials in order to proceed.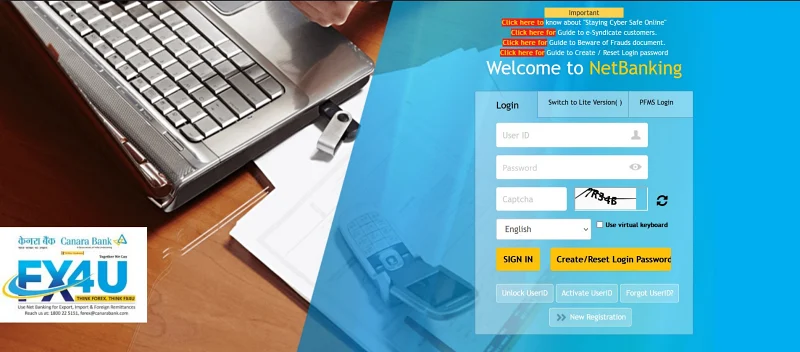 Move to Canara Net banking official portal https://netbanking.canarabank.in.
Log in with your User id and Password
Once login, go to the bank account statement option
The customer identification number and the bank account number are both displayed on the initial page of the bank statement..
Other ways to find Canara Bank Customer ID
In the event that you have misplaced your customer identification number, there are several different ways to locate it; some of these techniques are listed below:
Find the Canara Bank Customer ID from your Passbook
The vast majority of consumers are unaware that their Canara Bank passbook copy contains the account customer id for their bank.
Here is how you can check your customer id that is printed on the actual copy of your bank passbook.
Take a look at the passbook associated with your account at Canara Bank. Look around for the passbook for the Canara Bank that you should have received after opening an account there.
The Canara bank provides its customers with a passbook function at no additional cost, and this service is available for all of their accounts.
If you haven't received your passbook yet, go to the Canara bank branch that is most convenient for you and ask for it. On the first page of your Canara bank passbook, you will find all the information about your account, including your customer ID.
Locate Canara Bank Customer ID from your Cheque Book
Customers who have the cheque book for their Canara bank account can simply locate their Canara bank user ID. Alongside the bank account number and the name of the account holder, the customer id printed on the first page of the cheque.
Find Canara Bank Customer ID by using Bank Account Statement.
In the case that you do not have any bank statements, you can either use Internet Banking on your phone or download the Mobile Banking app. At the very top of the statement is where you'll see your Customer ID displayed.
By using Customer Care number
If you call the Canara Bank customer service Number, which is 1800-425-0018, and speak with a Customer Care executive, they will find your Customer ID.
The operator will be able to take your call as soon as the connection is made. It would be helpful if you could inquire about your Customer ID.
The operator will ask about a few details from you, such as your date of birth, registered mobile number, account number, account holder name, and so on.
Following that, your Customer ID will be sent to the mobile number that you registered with.
Customer ID through Welcome Letter
A welcome letter and ATM/debit card are among the first things you'll receive from your bank after opening an account for the first time.
The bank will print the customer id in each and every welcome letter that they send out.
Please proceed as outlined below after you have got it:
When the bank's welcome letter arrives, read it. The client ID will be printed on the first page. Your customer id can be found on the page that has the ATM attached to it.
Visit nearest Branch
If you do not have any of the documents and information listed above, you will need to go to the Canara bank location that is closest to you to obtain your customer ID.
There, the manager of the bank or the officials can assist you in finding your Customer ID.
Canara Bank was established by the government of India to provide banking and financial services. After SBI and ICICI Bank, Canara Bank is one of the largest public sector banks in India. It was established in July 1906 in the city of Mangalore, which is located in the state of Karnataka.
During his tumultuous banking career, there were a great number of noteworthy occurrences. Canara bank has developed into a significant player in India's competitive banking business in recent years.
For more than 20 years, the Bank has worked to strengthen its position in the market, and today it is the most successful financial conglomerate. The Bank also has ten subsidiary and sponsored institutions.
Over 10.1 million people use the Canara Bank network, which includes 8953 branches and 12221 automated teller machines and recycling facilities located throughout India.
FAQs about Canara bank Customer ID Number
What is Consumer ID in Canara bank?
Customer ID, also known as Consumer ID at Canara bank, is a one-of-a-kind number that is used to identify the owner of a bank account. The bank employees will be able to readily identify all of the information associated to your account by utilising this ID number, including your account number and the mobile number that is registered to your account.
Why is customer ID important?
Customer ID Checks allow for simple verification of whether or not a customer's given name and address coincide with the information found on their bank account. The bank will find it much simpler to avoid incorrectly matching the information or confusing customers whose names are similar thanks to this feature.Customer ID can be put to a variety of functions, including making it simpler to access services like tele banking and online banking.
How do I know my bank customer ID?
In both the welcome letter and the chequebook, the Customer ID has been clearly printed. Additionally, it is indicated on the pages of the Passbook as well as the account statements.
What is a bank customer ID?
A person can utilize this one-of-a-kind identification number at the financial institution where they have it. This code is part of the welcome package that was sent to you when you created your account. It is printed on the back of your checkbook. The values differ from one bank to the next.
Where do I find Canara bank customer ID for the passbook?
Checking your customer id on the physical copy of your bank passbook can be done in the following ways: You can get your passbook for the Canara bank from the bank. Turn to the first page and open it up. On the first page, you will be able to view a variety of facts, including your account number, the ifsc code, your name, and, most importantly, your customer id.
How to find Canara Bank Customer ID from Cheque Book?
You have the choice of having the customer ID associated with your Canara bank account written on your cheque book. If you have opened your account with the cheque book facility, then you should get your cheque book ready. Turn to the first page of your cheque book and open it. Along with the account number and the IFSC code, the customer identification number is written on the first page.
Can I get the Canara Bank Customer ID by calling the customer care number?
Of course, you get your customer id number.Call Canara Bank customer care number 1800-425-0018, customer care executives are available 24*7. In order to determine your customer id, you can use the toll-free offline calling option that is accessible. The bank made available a toll-free number that customers may call to obtain their customer id. But before you call, make sure you have your account number with you and that you are calling from the mobile number that is registered with the account.
Related Post
How to Link Aadhaar With PAN Card Online | Pan Aadhar link Status In this post, learn How to Link your Pan Card with your Aadhar Card online...
In this post, you will learn how to scan the Google Pay QR Code from your Mobile Phone Gallery. These days, the majority of us are familiar ...
Last updated on October 28th, 2022 at 09:24 amThis post will discuss the Indusind bank balance check number and IndusInd bank balance check ...